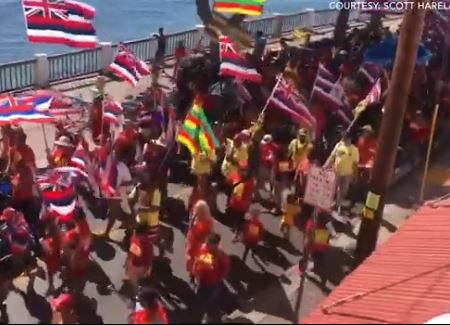 Few issues divide the state of Hawaii like this one. Building a giant telescope on Mauna Kea, Hawaii's tallest mountain, has met fierce opposition from protesters who consider the mountain sacred.
Organizers estimated 3,000 attended an anti-Thirty Meter Telescope (anti-TMT) demonstration this weekend on Front Street, according to Maui Now. It's the latest in a series of marches since July when construction began.
However, these demonstrations are racking up a hefty fee for the state and various counties of Hawaii, which spent at least $7.7 million on law enforcement for TMT protests, reported the Star Advertiser.
Proponents of the TMT project argue that the telescope will provide valuable educational and economic opportunities, according to Maui Now. The Civil Beat found that out of Hawaii's 76 state legislators, 22 supported the project and only two opposed it. Other legislators declined to comment, or didn't take a side because of the ongoing conflict.
As the impasse persists and neither side seems to be backing down, Lawrence announced that she and other activists plan to continue marches in the future to protect Mauna Kea and its significance to native Hawaiians.
AsAmNews has Asian America in its heart. We're an all-volunteer effort of dedicated staff and interns. Check out our new Instagram account. Go to our Twitter feed and Facebook page for more content. Please consider interning, joining our staff or submitting a story