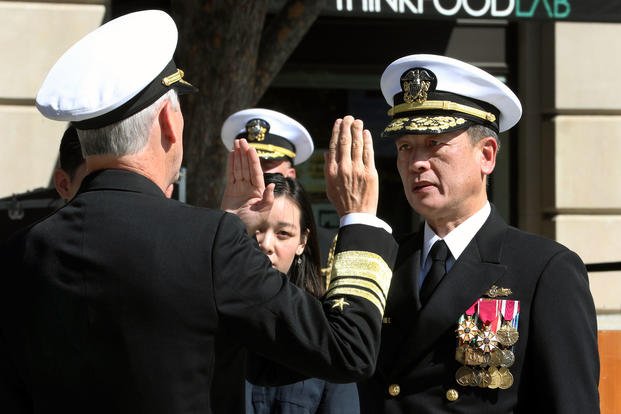 The Navy promoted its first Vietnamese American admiral in a Washington, D.C. ceremony. Huan Nguyen, 60, will serve as the deputy commander for cyber engineering at Naval Sea Systems Command (NAVSEA) in Washington, D.C.
"I am tremendously humbled to become the first Vietnamese American to wear the flag's rank in the U.S. Navy," Nguyen said after Thursday's ceremony, according to Task and Purpose. "The honor actually belongs to the Vietnamese American community, which instilled in us a sense of patriotism, duty, honor, courage and commitment to our adopted country."
According to Connecting Vets, Nguyen was born the son of an armor officer in the Army of the Republic of Vietnam. When he was nine, his parents and siblings were killed by the Viet Kong. Nguyen survived and eventually fled Vietnam with his uncle when he was 16.
"I was one of those refugees, apprehensive about an uncertain future, yet feeling extremely grateful that I was here at all," Nguyen said in a statement. "The images that I remember vividly when I arrived at Camp Asan, Guam, now Asan Beach Park, were of American sailors and Marines toiling in the hot sun, setting up tents and chow hall, distributing water and hot food, helping and caring for the people with dignity and respect."
After a U.S. Air Force colonel and his wife sponsored his uncle's family, Nguyen was able to come to the United States. He said the sailors from Guam later inspired him to serve in the United States Navy.
Nguyen received a Navy direct commission through the Reserve Engineering Duty Officer program in 1993. According to Naval Sea Systems Command, he has served a number of operational tours and been awarded numerous medals for his service. He said that to him, this country is a "beacon of hope" because of the opportunities it offers.
"This is our America," Nguyen said. "A country built on service, kindness and generosity, opportunity–the freedom to hope and dream. These values are what inspired me to serve. And what a great honor and privilege it is to serve our Navy, to serve our country, to support and defend our Constitution."
AsAmNews has Asian America in its heart. We're an all-volunteer effort of dedicated staff and interns. Check out our new Instagram account. Go to our Twitter feed and Facebook page for more content. Please consider interning, joining our staff or submitting a story.