Congressional leader and moral icon Rep. Elijah Cummings passed away Thursday at the age of 68 after suffering from a long history of health problems, the Baltimore Sun reported.


Maya Rockeymoore Cummings, the widow of the late congressman, issued a statement saying that he "worked until his last breath."
"Congressman Cummings was an honorable man who proudly served his district and the nation with dignity, integrity, compassion and humility. He worked until his last breath because he believed our democracy was the highest and best expression of our collective humanity and that our nation's diversity was our promise, not our problem," Rockeymoore Cummings, the chairwoman of the Maryland Democratic Party, said.
"It's been an honor to walk by his side on this incredible journey. I loved him deeply and will miss him dearly," she added.

Cummings was the son of sharecroppers, and rose to become one of the most powerful Democrats in Congress. He was born in 1951 to parents from South Carolina who moved north as part of the Great Migration, hoping to improve their lives and provide better opportunities for their family.
Cummings, who was told in high school that he would not succeed academically, defied expectations from an early age.
He ultimately earned a political science degree from Howard University in Washington, D.C., where he was student government president. He then earned a law degree from the University of Maryland and was a practicing attorney.

Cummings had become one of the most visible House Democrats in recent years, given his committee's broad power to conduct oversight investigations against the Trump administration. As chairman of the House Oversight and Reform Committee, he was a leading figure in the Trump impeachment inquiry.

Last summer, Trump attacked Cumming's Baltimore district as "disgusting" and "rodent infested," prompting bipartisan outrage.
During his tenure in Congress, Cummings welcomed and mentored new Congress members of color, including AAPI politicians who remembered the Congressional leader with fondness and pointed out his impact on their careers.
"The passing of Congressman Cummings is a devastating loss for the Congress, Maryland and the nation. Congressman Cummings served with passion for the rule of law and always governed in a respectful manner, even when dealing with some of the most critical and controversial issues facing Congress," said Rep. Bobby Scott, the Filipino American House member whose district next to Cummings' district.
"I have known Elijah since we were both state legislators and had the honor of working with him in Congress on many issues including legislation to expand the civil rights protections of interns in the federal workplace, preserving the independence of Administrative Law judges and writing legislation to ensure everyone has a fair shot at employment. He has been an invaluable leader in the fight for civil rights and fundamental fairness, and I was proud to call him a friend," said Scott.

It wasn't just politicians who expressed their sentiments of sympathy and respect. Celebrities from the entertainment world, journalists and activists who were inspired by Cummings also were affected.

Former President Barack Obama and former First Lady Michelle has this to say:
"Michelle and I are heartbroken over the passing of our friend, Elijah Cummings. As Chairman of the House Oversight Committee, he showed us all not only the importance of checks and balances within our democracy, but also the necessity of good people stewarding it. Steely yet compassionate, principled yet open to new perspectives, Chairman Cummings remained steadfast in his pursuit of truth, justice, and reconciliation. It's a tribute to his native Baltimore that one of its own brought such character, tact, and resolve into the halls of power every day. And true to the giants of progress he followed into public service, Chairman Cummings stood tallest and most resolute when our country needed him the most. May his example inspire more Americans to pick up the baton and carry it forward in a manner worthy of his service. Our deepest sympathies and abiding love go to his wife, Maya, his three children, and all those whose lives he touched."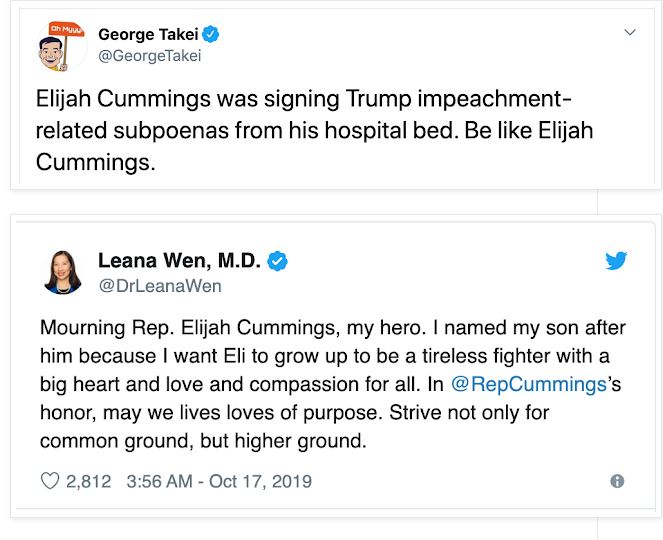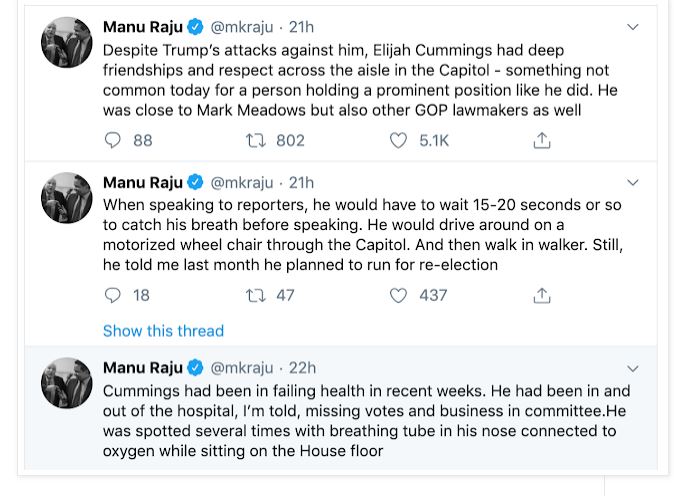 AsAmNews has Asian America in its heart. We're an all-volunteer effort of dedicated staff and interns. Check out our new Instagram account. Go to our Twitter feed and Facebook page for more content. Please consider interning, joining our staff or submitting a story