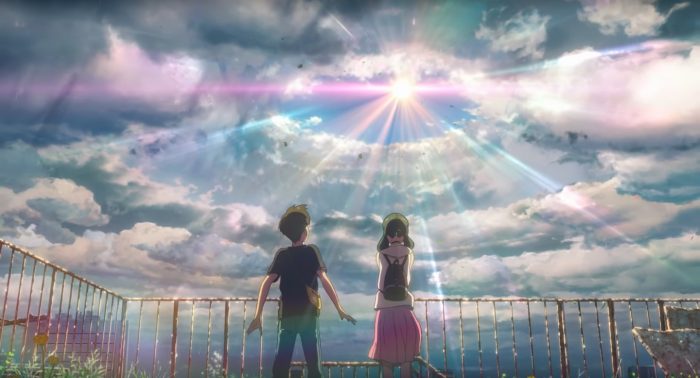 By Jana Monji
In its third year, Animation Is Film opened yesterday at TCL Chinese Theatre in Hollywood (6801 Hollywood Blvd.) with Makoto Shinkai's Weathering With You. Two Asian films worth seeing are: Children of the Sea and White Snake.
Weathering With You sold out both screenings. Released in Japan in July of this year, it is scheduled to screen again at the Asian World Film Festival in Los Angeles in November and will be released in January 2020.
Children of the Sea which screened on Saturday also sold out. The adaptation of a manga magazine series that was published from 2007 to 2012, the film is an uneven portrayal of one girl's fantastical relationship with two boys, Umi (sea) and Sora (sky), who were raised by dugongs and are now under the care of an aquarium where the girl's father works. Daisuke Igarashi wrote and illustrated the original manga series that includes things atypical in Japan: totem poles and a tropical climate.
Japan also includes the Ryukyu Islands; Okinawa is probably the best known of them and dugongs were once found in those islands as well as Taiwan.
In the beginning, we are told:
This is the story of the seeds of the stars,

The children of the stars, and the birth of stars.

From the stars, from the stars,

The sea is the mother.
This is a story that draws parallels between the unknown world of the deep sea and outer space that are not totally convincing, but does force one to remember that even if we don't live on an island, space is still limited and we are all children of this universe and need to consider the balance of nature. Even scientists can agree, life is drawn from the waters. The sea is mother and surely we should take care of her.
Just as imaginative, but more evenly animated is, White Snake, the first computer 3D animated feature film by directors Amp Wong and Zhao Ji and writer Damao who won the Jury Award for Best Animated Feature at the Beijing Student Film Festival.
Please, be sure to stay until the end of the credits for the last scene which sets up the sequel. White Snake is the prequel for the Legend of the White Snake. In this version, an emperor who wants to live forever has sent his general to hunt snakes. The emperor extracts the vital essence of the snakes to help prolong his own life. Two sisters, White Snake and Green Snake, can transform into women. In the film, they're named Blanca and Verta (in Chinese Xiao Bai (小白) and Xiao Qing (小青) respectively).
After a battle, Blanca (voiced by Zhe Zhang) takes a precious jade hairpin and loses her memory. Found by a snake hunter, Xuan (Tianxiang Yang), she wakes up and slowly discovers she has special powers. Blanca and Xuan travel together to uncover the mystery of her identity, but are attacked by a snake. Blanca defends Xuan and Xuan discovers that Blanca is, at times, a snake.
With her own people believing she has betrayed them, Blanca is on their hit list, but Verta (Tang Xiaoxi) has three days to find Blanca and save her. Blanca is also pursued by the general's henchman, Little General (Boheng Zhang), and seeks help from the morally ambiguous literally two-faced Foxy Boss (Xiaopu Zheng).
White Snake is gorgeously animated at a level that rivals the best of Disney 3D animation and gives the main stage to fully realized female characters. In Mandarin Chinese with English subtitles.
White Snake screened Sunday as part of the Film Is Animation Film festival and will be released in select theaters on Nov. 29, 2019.
AsAmNews has Asian America in its heart. We're an all-volunteer effort of dedicated staff and interns. Check out our new Instagram account. Go to our Twitter feed and Facebook page for more content. Please consider interning, joining our staff or submitting a story