By Shirley Ng, AsAmNews Staff Writer
I had no idea that when I snapped a photo of Kwok Chuen on September 23 that it would be the last photo of him alive.
See photos from of the Chinatown vigil, wake and burial here.
Kwok was one the four homeless men struck with a metal pipe allegedly by another homeless man, Randy Santos, as they slept in the streets of Chinatown early Saturday morning of October 5th. It was just after 1am and they didn't' have a chance to save themselves. It was likely they died instantly.
It feels strange that I have taken this photo, but never shared it. I didn't share it till I realized Kwok was one of the victims that my friend Kim and I just met two weeks prior. She didn't even know I had a photo till I show it to her the day after the murders. I actually kept the photo in my cellphone and moved it to the delete file and that's where it stayed till I retrieved it after the sad news.
On Sunday, a day after the murders I finally shared the photo I took of Kwok on Facebook and explained how Kim and I just met him two weeks ago and got him roast pork buns and a bottle of water. He initially refused the food and told us he wasn't hungry, but we convinced him to save it for tomorrow. Together we suggested he go to The Bowery Mission a few blocks away to get food, a shower and a night's stay indoors. We introduced ourselves and helped write a note for him to give to The Bowery Mission about what he needed because he spoke no English.
It was during this meeting when we asked him for his name and birthday, and learned that he was from Hong Kong. I saw his boots placed beside him and realized he couldn't possibly wear those boots and walk. His toenails were so very long. How would he get to The Bowery Mission?
New York Assembly woman Yuh-Line Niou saw my post on Facebook and invited me to come speak about Kwok at a vigil at KimLau Square in Chinatown that she was organizing the next day on Monday October 7th.
During the vigil, Kim was very distraught and sobbed a lot. Cameras were all over her for a good soundbite and wanted to ask her questions about Mr. Kwok. The more she sobbed the more the press wanted to know.
I read a speech at the vigil that I typed up the night before. Kim enlarged my photo of Kwok and had it laminated late Sunday afternoon and brought it with her. She insisted that we add the words "Mr. Kwok was a polite, humble gentleman" in the photo. She was adamant that the community sees Mr. Kwok's face and know who he was.
As I read my speech to the public and press, our friend Henry Chang held up Mr. Kwok's photo beside me. Kim was too distraught to do it and didn't want to be on camera. She learned after his death that she had met Kwok decades earlier from a family friend and had once visited his home on East Houston Street, but had lost touch with her family friend.
During the vigil, I ended my speech with an invitation to the community to join Kim and I at Kwok's home at the corner of Bowery and Doyers Street. It was his last home. Days earlier, it had became a memorial filled with candles, flowers, food, and now our photo to complete the memorial. When we taped his photo up there on the glass exterior wall of the former Chase Bank, friends bought incense and candles. We lit the incense and bowed three times.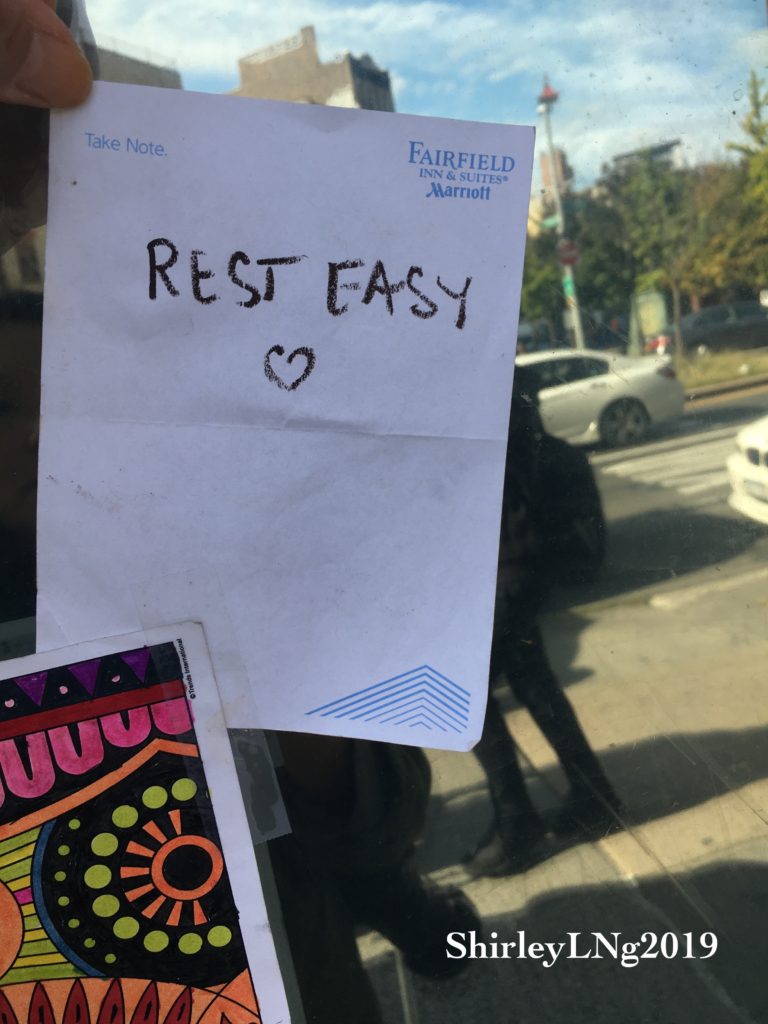 A day after the vigil, Kim and I with another friend of the community, Karlin Chan, helped facilitate a quick and proper burial for Mr. Kwok. Someone from the community came forward to pay $200 for Kwok's suit and the Ng Fook Funeral Home's Celestial Love Foundation donated their services and burial plot in Princeton Memorial Park located in New Jersey. Kwok's funeral was on Thursday, October 17 and the burial was the following day Friday. When we made the details of funeral to the public in social media, someone asked, "What about the other victims?"
My response to that question was, "We can't plan a funeral for the other victims since there was still a chance family may come forward for the other victims." Sure enough, families came forward for Nazario Vasquez Villegas and Anthony Mason in the next few days. The fourth victim, Florencio Moran hasn't had any next of kin come forward yet. A fifth victim survived, but was in critical condition. I am unaware if he has been release from the hospital since the attack.
On the day of the wake, Reverend Billy Yip of the New York Chinese Christian Mission Church on 58 Eldridge Street performed a short Christian service. Reverend Yip even spoke about Kwok's live-in girlfriend that many of us learned about after his death. The Reverend met them both about 10 years ago when someone from his congregation brought Kwok to the church.
At first we thought about giving Kwok a Buddhist service, but when we learned of Reverend Yip and how Kwok had attended services there, we settled on a Christian service.
For the wake, we used a younger photo of Kwok the church had of him smiling.
After Reverend Yip had the opening prayer and remarks, mourners were allowed to share. The funeral home was almost full with just a few empty seats left.
With sobs and tears, Kim spoke right after Reverend Yip.
"He caught my eye and touched my heart when I saw him on Bowery St. Every time I offered him something (food), he would say, 'No thank you, I am full.' He was really polite. I'm really heartbroken, " Kim said to the mourners.
She then spoke in Cantonese so that "Uncle Kwok could hear and ununderstand" her.
"Uncle Kwok, I am Ms. Kim. Last Friday I saw you and we spoke. I went there to see you. I learned that I met you when I was a little girl and I remember you. You are a very polite man, everyone says the same about you. Uncle Kwok, I know you have no family in the United States, but I want to tell you are not alone. There are a lot of people that cared and tried to help you, that's why you are not really alone. You have us and we are your family. Many people have come today to pay their respects because they cared about you. Uncle Kwok, I can't bear to let you go. You will always be in my heart. With your photo I will always honor you. If I could have one more day to eat and chat with you, that would make me very happy."
Many friends from the community came to the wake, some that did not even know Kwok, but knew of him. I met a few of them to know who they were.
Chris, an artist who lives on Bowery Street for 40 years with his wife attended the wake. He has seen Mr. Kwok many times in Chinatown.
Lucy, a woman from the upper west 80's of Manhattan who never met Mr. Kwok came to the wake because she "cares about Chinatown."
A homeless man, Anthony Corona said, "We are the richest city in the world. We have to serve more of the poor. We have to love each other more. "
Omar Muhammad, a 50 year-old homeless man who was at the October 7th vigil in Chinatown and a frequent visitor of KimLau Square attended the wake. He arrived just as the wake began at 3pm. He was very vocal about the lack of services for homeless people during the vigil. Niou invited him on the spot to speak at the vigil, but refused the opportunity because he feared his personal belongings on the bench would be stolen while he spoke at makeshift podium with the press. He has not been able to work since an arm injury. 
Choy Lum, a home care attendant who has prepared home cooked meals for Mr. Kwok was there with her friend, Lucy Tsui. With sadness in her face, Lum asked me if it was still allright to offer Mr. Kwok a suit she meant to give him before he died. I told her, "Of course." She told me as a home care attendant she didn't earn a lot of money, but prepared home cooked meals for Mr. Kwok when she could. It was the least she could do, she said.
Two men and a woman from the homeless community came in together with their backpacks and told me they knew of Mr. Kwok from a shelter. They all appeared to be no older than 30 years old. So young and homeless, I thought to myself. Why? How? I felt for them and thought of myself being in their shoes.
Then there was John. He told me came to America with dreams of becoming a dancer. My thoughts escape right now and I can't remember where he is from. I wasn't at the wake as reporter, but as a mourner and wasn't jotting down notes. John said he never met Mr. Kwok, but felt he needed to be at the wake. I wished him all the best and that his dreams of a dancer would come true.
New York City Council Woman of District 1, Margaret Chin, came in a little after 6pm. Kwok's wake fell on the same day when the NYC Council were to vote on the controversial four new proposed jails, which included one being in Chinatown a mere block away from the funeral home. Seeing her walk in meant we knew her workday was over and her vote for the jail has been casted. It was already known to the community she would vote, "Yes" to approve the jails. She walked in, bowed three times at the casket and left. I don't think anyone was interested in talking to her. It was a doubly sad day for Chinatown.
Another man came to pay his respects because he had given Kwok a blanket one time and was in disbelief Kwok was gone.
Hakki Akdeniz, the "Pizza Guy" was at the wake. He sent me a Facebook message after the vigil. He is the owner of the Champion Pizza chain. I've learned he has been feeding homeless people pizza for several years now.
Akdeniz sent me a Facebook message to call him. He wanted to know how he could help these victims and gave me his telephone number. At first I didn't know who he was since he didn't use his real name on Facebook. We spoke about the plight of homeless people and said how it is so important that what we do in the community would inspire others to give back. I agreed.
Akdeniz was once homeless and slept at The Bowery Mission for 96 nights when he arrived in America in 2001 from Canada. He is Kurdish and originally from Turkey. While homeless, he entered a pizza making contest and won, which led to other opportunities. Now he is a pizza mogul. Is that not a great American story? His wife helps with the business and they have a young son about five years old.
On the day of the wake, Akdenzi not only came to pay his respects to Kwok, he delivered about 80 boxes of pizza to the funeral home with the help of two employees. Before that he delivered additional boxes of pizza at KimLau Square, a block a way where many homeless people linger and where the vigil was held. 
At the end of the wake, I told the mourners to take the pizza. The homeless mourners took as many as they could and they should. One of them filled his shopping cart with several boxes.
Mrs. Yu, a woman I met near Kwok's memorial on the corner of Bowery and Doyers Street a few days before the funeral told me Kwok had a girlfriend (aka wife) that died from cancer approximately 20 years ago. I refrained from sharing this since it was the first time I was hearing about Kwok's girlfriend a.k.a. "wife" and I couldn't confirm if this woman she was telling was truth.
She said she was taking her teenage son to the hospital and saw Kwok and his girlfriend there and that was when he shared the news of his girlfriend being stricken with cancer. Yu also said Kwok has no children and that if anyone came forward claiming they were his children during the wake, that I should take a photo of them to show her who these liars were. No one attended the wake doing so. Right now, we don't know who Kwok's girlfriend might have been, where she is buried or if she was cremated.
I also learned over the course of the few days leading up to the funeral that Kwok had indeed been to The Bowery Mission. Bobby Subjenski, who manages the shower program there, told me has seen Kwok there before.
Friday was a windy day for Kwok's burial, but at least the sun was shining. Some came to pay their respects before his casket was closed. Kim, Karlin and I would be the only three people going to the cemetery in Princeton. We were now his surrogate family. We watched the casket get loaded into the hearse then the three of us got into our rented car.
Before driving to Kwok's final resting place in Princeton, NJ we drove to the corner of Bowery and Doyer Streets to pay final respects to his home, a Chinese custom that was done for my father also. Both cars stopped and the driver of the hurst opened the back door for a minute or two where the casket was. While the door remained open, the driver bowed three times towards Kwok's home, where he slept, where the flowers, candles and food lay as a memorial to him. He closed the door to the hearse and then we to the cemetery.
After arriving to the cemetery, we watched Kwok's casket get lowered into the ground then we individually gave three bows and tossed in one flower on to the casket below. His plot was surrounded by other Chinese association plots. Kim, visibly still upset and crying, was at least happy to know that. It was an uneventful solemn burial. Just the three of us, the funeral director, some employees, cemetery workers and the reporter and cameraman from NY1 News that followed behind us on the way.
When Kim and I arrived back into Chinatown from the cemetery, we made it a point to go to Kwok's memorial. As we arrived, it was being cleaned up by the "BID", the Chinatown Business Improvement District.
Men with brooms and dust pans started sweeping up the candles and food which we were told were attracting rats. We allowed them to cleaned it up, but it wasn't like we had the right to stop them, or did we?
We removed our photo that we put up after the vigil and watched as they swept the remnants of Kwok's memorial into the trash. That was hard to watch, but they said it had to be done and needed to disinfect the area. They suggested we tape his photo at KimLau Square, but there weren't any walls to tape the photo there so Kim kept the photo.
As hard as it was to see that happen, Kim felt it was fate that our return back to Chinatown was perfect timing otherwise the BID might have thrown out the photo we placed there. Throughout this sad event, Kim kept pointing out to me it was fate I saw her at the bakery getting food for Kwok, that it was also fate that I took a cellphone photo of him when the three of us met. That photo was all over the media and now everyone knew who Kwok was and that was what Kim wanted.
Looking back, I guess it was also fate when I was in Chinatown the Sunday before the funeral that I noticed broken glass at the memorial. I had to meet my mom first, but returned two hours later at 3pm to clean up the glass. That's when I noticed Kwok's photo was missing. In it's place a sign written in Chinese that Karlin translated to me that read my photo was borrowed for a Buddhist ceremony for Kwok at 12:30pm. It gave no address where the ceremony was held. I wasn't very happy and felt the urge to go to as many Buddhist temples I could find to retrieve the photo, but I had no luck. I had a 4pm meeting to attend too and felt helpless that I couldn't do anything about the missing photo. I could only hope it would be returned. My only solace was when I spoke to the street vendor in front of Kwok's memorial before my meeting that told me she saw two women remove the photo and called a friend of her's that may know one of the women and to tell them to "bring it back immediately when they are done."
When my meeting ended at 6pm, I went back to the memorial and sure enough the photo was returned, but poorly taped with desk tape. I supposed it was also fate that I ran into the pharmacy about three doors down to see if they sold packing tape and they did. Fate also had me as their last customer before they closed for the day.
I don't ever recall four murders in one night by one killer since being raised in Chinatown and nor in my adult life. Many of my friends and I do hate that Chinatown is only in the media when a crime or tragedy occurs. However, out of this terrible event, the people of Chinatown emerged as generous, kind, and loving. It something that is always there and revealed in times of need. The steadfastness of the community gave Kwok a funeral and a proper burial. Chinatown came through for one of its own.
The murders has pressured the NYC Mayor Bill deBlasio to do more. During the vigil the city leaders and officials asked the Mayor to build more low income housing, provide more shelters for homeless people and more mental health services. He faced a lot of criticism including his wife, Chirlene McCray. She did not escape scrutiny about her mental health plan Thrive, which the New York Post called, "clueless" in its mental health outreach.
The Mayor has since poured in more money for homeless services and asked for a review of the city's mental health services, but the problem isn't lack of money. It's lack of a safe place to go. So many homeless people have shared stories about shelters not being safe and would rather sleep in the streets. If the problems at the shelters could be fixed, perhaps the numbers of homeless people would begin to drop.
Sadly, no one was able to personally take Kwok off the streets and have him live with them or find him a good shelter. No innocent person deserved to die the way these four victims did. They would be alive today if they just had a home.
Kim still misses Kwok. She went to out to eat with another friend to celebrate his birthday yesterday, October 25, 2019. I wasn't able to attend. Kwok would have just turned 84 years old.
May Kwok Chuen, Anthony Manso, Nazario Vasquez Villega and Florencio Moran rest in peace and we hope the unidentified 5th victim has recovered and been released by the hospital. 
AsAmNews has Asian America in its heart. We're an all-volunteer effort of dedicated staff and interns. Check out our new Instagram account. Go to our Twitter feed and Facebook page for more content. Please consider interning, joining our staff or submitting a story.