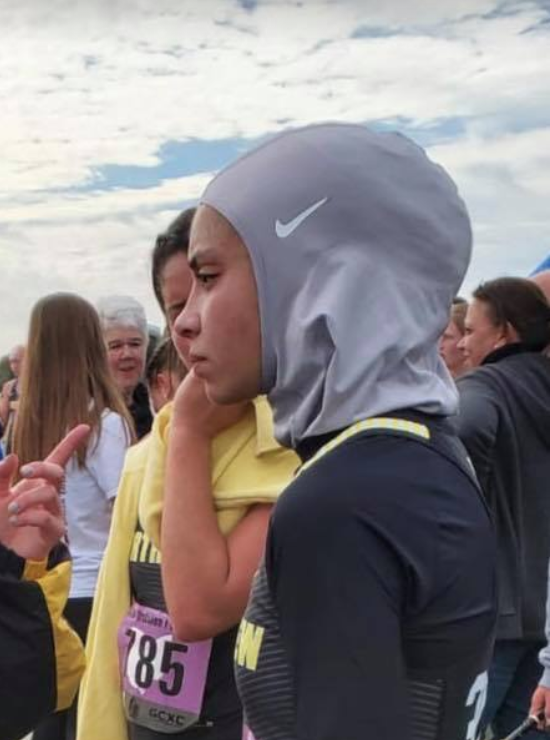 A 16-year-old student athlete was disqualified from an Ohio cross country race for wearing her hijab, reports CBS News.
Ohio High School Athletic Association (OHSAA) officials did not tell Noor Alexandria Abukaram that she violated uniform rules before her run when they inspected the teams for proper attire. Instead, she found out after the race, when she noticed her time was not listed with the rest of her teammates'.
Abukaram explained that officials told one of her teammates to change because of a stripe on her shorts that did not match the rest of the team, but they did not say anything to her about her hijab.
Her teammates notified her after the race that she was disqualified because of her hijab.
"I felt like I had got hit by a truck and punched in the gut," Abukaram told BBC's Outside Source. "It's not because they're looking out for my safety, or because they are concerned that I have an advantage, because I definitely don't have an advantage wearing my hijab.
"I think it's discriminatory against my religion."
Abukaram's cousin, Zobaida S Falah, took to Facebook on Wednesday to share the upsetting situation.
She's received plenty of support since then, including from Democratic presidential candidate Elizabeth Warren.
OHSAA claims that a signed waiver was needed for Abukaram to participate with religious headwear.
Abukaram's coach, Jerry Flowers, spoke with CNN about the incident.
Flowers said an official notified him that paperwork was necessary for Abukaram's hijab when they were at the starting line, only several minutes before the race. Without paperwork, she would be disqualified, and Flowers said he "had the option to ask her to remove it or not run."
"I knew that asking her to take it off is not respectful to her," he said. "I didn't want to put her in the situation to make it seem like I was putting pressure on her to change who she is. I wanted her to run carefree. I figured she would race better if she didn't know."
Abukaram said her coach apologized to her after the race for not applying for a waiver.
"When he said that, I didn't think, 'Oh, Coach, why didn't you do this?' I thought, 'Why do we even have to do this in the first place?'" she explained.
Abukaram has participated in previous races before without this waiver.
"Cross country runners may participate in competitions with religious headwear, provided the runner has obtained a waiver from the OHSAA and submitted it to the head official before the race, since it is a change to the OHSAA uniform regulations," OHSAA spokesman Tim Stried told CNN. "The official was simply enforcing this rule since a waiver had not been submitted."
The statement also said that OHSAA communicated with Abukaram's school after the race, and a waiver request was duly submitted and approved.
While Abukaram's time was not counted, the rest of her team qualified as a whole for regionals, which occurred yesterday.
"The student-athlete can run this weekend at regionals, and the OHSAA is also already looking at this specific uniform regulation to modify it in the future so that religious headwear does not require a waiver," Stried told USA TODAY.
The young athlete expressed gratitude for her supportive team and coach, and she's happy to be able to participate fully in future races.
"I'm happy to follow rules, but I don't think that the whole letter thing and having to inform people that I'm coming is proper or respectful to myself," she said.
On the bright side, Abukaram posted on Facebook that she ran her best race yesterday at regionals.
AsAmNews has Asian America in its heart. We're an all-volunteer effort of dedicated staff and interns. Check out our new Instagram account. Go to our Twitter feed and Facebook page for more content. Please consider interning, joining our staff or submitting a story.