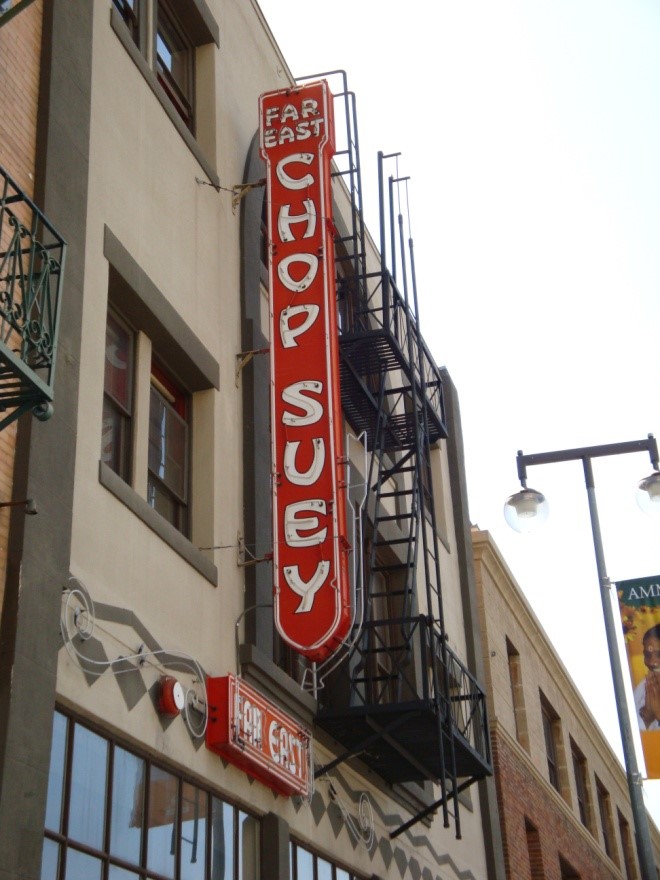 By Raymond Chong, (Zhang Weiming)
Introduction
In the heart of Little Tokyo (Nihonmachi) in downtown Los Angeles, the Far East Café stands as a glorious landmark for the Nikkei community of Southern California. Memories of Chop Suey and its historic red wood booths, iconic neon sign and China-Meshi are clearly etched in many hearts of four generations of Nikkei (Issei, Nisei, Sansei, and Yonsei) for sentimental nostalgia of a bygone era.
Bill Watanabe, retired executive director of the Little Tokyo Service Center spoke about the significance of the Far East Cafe in his community.
"According to some folks who recall those days, after spending years in the camps and losing most if not all of their possessions, they had little spending money. They would go to the Far East Cafe across the street from the Koyasan Temple and the Chinese owners of the Cafe, who were familiar with many of these returnees, allowed them to eat "on credit", asking to be paid when they were able to do so. It could truthfully be said that this kind of goodwill helped to make the Far East, along with its famous cheap and tasty menu, the most popular and well-known restaurant in the entire Japanese American community."
From 1935 to 1994, for 59 years, the Jeong (Zhang) clan from Kwantung (Guangdong) Province happily served their customers with tasty Chop Suey cuisine and their friendly service. The Nikkei community felt warm comfort at the Far East Café where they gathered for weddings, birthdays, graduations, parties, and funerals.
This is the story of two immigrant communities both having each others backs.
Chew Young Village
The men and boys of Jeong Clan hailed from the ancestral village of Chew Young in the fertile land of Pearl River Delta, in South China.
They had lived and worked in the rich rice fields and abundant fishponds among cluster of simple gray brick houses in narrow alleys. About 100 people lived among the 30 homes. In this tropical paradise of bamboo groves and piney woods, people eked a simple and basic life to survive in a harsh world.
Gum Saan (Gold Mountain) Journey
In late 19th century and early 20th century, China suffered constant chaos and turmoil. Fierce battles, marauding bandits, and cataclysmic floods engulfed the pastoral countryside. The villagers endured constant famines and turmoil including the Opium War, the Hakka Civil War, and the Taiping Rebellion.
With the Qing Dynasty in steep decline, the surplus of labor led Jeong forefathers to join successive waves of desperate emigrants who sought their fortune in Gold Mountain (America) and return their riches to Chew Young Village.
From Hong Kong, they traveled on sail boats and steam ships. In crowded living quarters, with foreign foods, they endured a one month journey. They had deep regret to leave their loved ones. They felt anxiety for the new land. With their fellow brothers, they shared hopes and dreams for Gum Saan.
The men and boys arrived as strangers from a different shore to San Francisco for a piece of Gold Mountain. American immigration officers immediately placed them in detention barracks on Angel Island. They mindlessly and harshly interrogated the men and boys, as victims of the racially discriminatory and cruel 1882 Chinese Exclusion Act. If credible, the immigration officers issued Certificate of Identity. They had claimed to be sons, "paper sons" of native sons "paper fathers." After a tortuous approval process, immigration officers reluctantly admitted them to enter Gold Mountain.
Upon their arrival, fellow Jeong Clan members gave them sanctuary in a tight network in San Francisco Chinatown along Dupont Street (now Grant Avenue) in cramped buildings. They searched for jobs in hand laundries, Chop Suey restaurants, and grocery markets. Many ventured out to the rich farms of Central Valley, the gold mines of Sierra Nevada, and the railroad tracks of the Far West. Eventually, they fanned out to the Midwest in search of gold pieces.
The Jeong cousins always lived under a dark shadow and deep suspicion as "paper sons". They feared sudden arrest and quick deportation back to China. They faced a brutal world of racial prejudice, legal discrimination, and economic turmoil.
Away from their wives and children, they endured long miserable lives in a bachelor society. Many sought comfort in the three vices- gambling, opium, and prostitution. Powerful tongs controlled these lucrative enterprises in Chinatown.
Grand Opening
In midst of the Great Depression, in 1935, during "Year of the Pig", ten Jeong cousins opened the Far East Café or "En To Low" to the Nikkei, with Anna May Wong, the famous Hollywood actress, during the heyday of Little Tokyo. In the bustling community of 30,000 people of Little Tokyo in Downtown, Lem's Café, San Kow Low, and Yet Quong Low Chop Suey Café (aka Nikko Low) also served China-Meshi.
Near Civic Center and Downtown, the Far East Café served the finest Cantonese cuisine known as Chop Suey, from lunch and dinner to late evening. "Try Our Real Chinese Dishes Served in Complete Family Style." Their customers enjoyed a cozy dinning atmosphere of high ceiling, cheery wood booths, and Shanghai cigarette girl posters, and Noir of Los Angeles. Patrons held many parties at the Far East Café in the mezzanine. This place created friendships and memories.
After attack on Pearl Harbor on December 7, 1941, Little Tokyo greatly changed. Under Executive Order Executive Order 9066 by President Franklin Roosevelt, the federal government imprisoned all Japanese into concentration camps or deported them back to Japan. Little Tokyo became a ghost town. Negros (Africans) of the South working in war plants turned Little Tokyo to Bronzeville with jazz clubs until end of World War II.
Unites States Army drafted Shang Ging Jeong, Yook Toy Jeong, and Look Mar. They honorably served for America. Shang and Yook fought in the European Theater in France and in Germany. Look Mar fought in the Pacific Theater across the South Sea Islands.
After the end of World War II in 1945, the Nikkei gradually returned to Little Tokyo. With tears of joy, the Jeong Clan welcomed back their cherished customers and good friends. They offered room and board and meals on credits.
From 1945 to 1994, Far East Café continued, serving countless meals and holding happy parties. Activity increased during Nisei Week , a festive annual tradition. The City of Los Angeles redeveloped Little Tokyo around this venerable landmark institution. City Hall politicians (Mayor Thomas Bradley), Hollywood stars (Anna May Wong), sport figures (Michael Garret), Southland gangsters (Mickey Cohen), and other celebrities dined at the popular destination.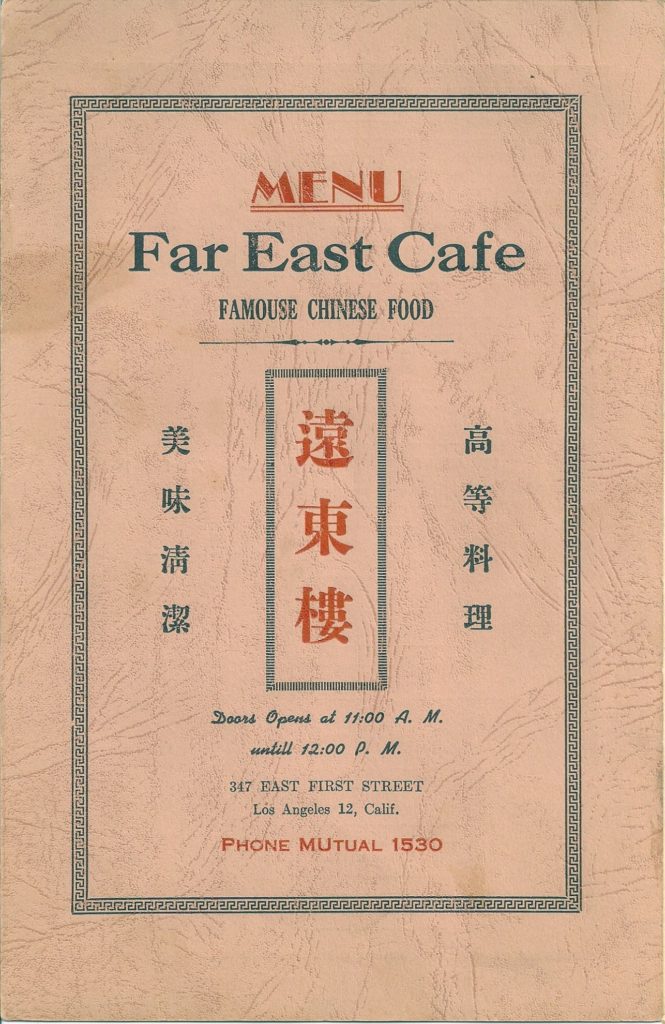 The old Far East Café opened every day thru the year. The Jeong Family promoted Far East Café for its genuine Chinese dishes, Chop Suey and Chow Mein. It initially operated from 11:30 to 2:00 a.m. toward the end, the Far East Café opened from 11:00 a.m. to 9:00 p.m.
In 1946, after end of World War II, Congress enacted the Chinese War Brides Act. The Jeong men went back to marry their sweethearts and bring their brides as others brought wives back to America.
During the height of the red scare, the Immigration & Naturalization Service (INS) and the Federal Bureau of Investigation (FBI) cracked down on "paper sons" and sought confessions of illegal entry to expose a fake network of relatives. The INS cunningly created the Chinese Confession Program, which offered legal status in exchange for confession of illegal entry into United States of America country. From 1956 to 1965, the Program resulted in about 14,000 confessions. The INS barred future immigration of Chinese. Eventually they applied for naturalization as American citizens.
The Jeong cousins leased the storefront commercial space from the Dondero family, Italians. Finally, on March 29, 1963, Look Mar, Shang Ging Jeong, Ott Ming Chong, and Hoy Young paid $70,000 to the estate of Josephine Gallo Dondero.
Shang Ging Jeong, So Wun Mar, Mario Chang, and Ott Ming Chong incorporated Far East Cafe Inc. on February 28, 1978.
The Jeong Clan gradually assimilated into mainstream America, with the help of the Lung Kong Tin Yee (Four Brothers) Association in Chinatown and Veterans of Foreign Wars.
For years, the Jeong cousins and their growing families lived in Little Tokyo or around Downtown. Gradually with financial success, they brought homes in Monterey Park and other suburbs of San Gabriel Valley. Their children continued to learn Chinese and attend public schools. They children graduated from college and universities.
At the sunset of their lives, the Jeong cousins shared proud success with their wives and children in Los Angeles. In silent tribute, the Jeong cousins are buried in East Los Angeles Chinese Cemetery and Roller Hill Garden in Whittier.
On January 17, 1994, the Northridge Earthquake severely damaged the Far East Building. It forced the sudden closure of the Far East Cafe. For 12 years, the Nikkei community patiently waited for the resurrection of the Far East Café.
On Thursday, August 10, 2006, the new Chop Suey Café and Lounge had a grand opening, with James Hong, the Hollywood actor, present. The eatery served the classic signature China-Meshi dishes again to the Nikkei community. Chop Suey Café has a dining room with lounge in front. The Far Bar with is private alley patio is in the back. Banquets are held in the mezzanine.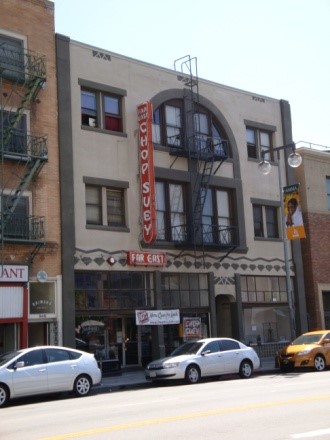 Memories
George Wakiji fondly recalled the fine dining at the Far East Café:
In my younger days (pre-World War II) when I lived in Pasadena, California, it was always a treat to go to Little Tokyo in Los Angeles to eat "China Meshi," the popular Cantonese cuisine, at the Far East Café. I can still vividly recall the dark cherry wood panels, which covered the walls and booths.
Sometimes when we had a family gathering on Sunday, I recall eating in a secluded mezzanine section in the back of the restaurant. Hanhichi Wakiji, my father, held court there. We never failed to order the same dishes each time. There was always Pak Kai (sweet and sour pork), Pea Chow Yuk (Chinese pea and pork), Chow Mein (with chicken and pan-fried noodles), and Wor Shu Op (almond duck). My favorite was Cha Su (roast pork). In the ensuing years, I have eaten in many Chinese restaurants around the world, but have never found Cha Su that matched the Far East Café version. James Hajime Wakiji, my older brother, always had to have an order of Hom Yuk (pork hash with salted fish).
After our return from internment from the Gila River Relocation Camp in the Arizona desert during World War II, I with my good friends played in the post-World War II Nisei Athletic Union (NAU) softball and basketball leagues in the greater Los Angeles area. After the games on Friday evenings, we invariably stop in Little Tokyo and head for the Far East Café. We gorged ourselves on the best Cantonese cuisine. In those days, they served the steamed rice in large rice bowls, which were mounded high. I remember that in addition to all the Chinese dishes I would down at least four of those bowls. Nowadays I would eat an eighth of that amount of rice.
The Far East Café experience during my youth and adulthood are memories. Nevertheless, I will always remember and cherish it.
John Matsuda happily remembered his wedding day on December 28, 1952:
Marian and I got married at the West Adams Christian Church, officiated by Revere. Kashitani. For us poor students, we could only afford an economical wedding reception so my family and close friends, including Richard Ohtomo as best man, Dorothy Shiraki Tomita as bride's maid, Harry Nishi and Mas Sakabu as ushers, went to Entoro in the upstairs section and had the usual China Meshi. When I came out of the Far East Cafe, my brother Yutaka Matt gave me $100.00 as a wedding present, which was a lot of money in those days. Those are our happy memories of Entoro from 1952, 56 years ago!
Gary Miyatake, son of Archie Miyatake, grandson of Toyo Miyatake, pioneer photographer, poignantly reflected on the importance of Far East Café in Little Tokyo. His poignant remarks were:
Being that my family had a business in Little Tokyo, my views are a little different. My best friend was a member of the owners. They were the Mars (Jungs). Do Mar was my best friend. With that, I met Andrew Chong who remains a very good friend.
Far East Café was a favorite among the many people who visited Little Tokyo. Many people felt comfortable in places like the Far East Café. It is very important to have places like that. There is a lack of those now days.
Doctor Andrew Chong, son of Ott Ming Chong, grandson of Goey Yee Chong, happily said:
I remembered working at the Far East Café . And it was fun. Not work at all. At that time, we enjoyed ourselves as kids. We broke a lot dishes and drank a lot of soda. But you learned to work hard and to know values of hard work.
Close
The Far East Café Little Tokyo remains an icon that will resonate forever: China-Meshi, iconic Chop Suey sign, wood booths. The eatery brings warm and fond memories for the Nikkei community, and also in cuisine, architecture, and culture.
From the Chinese Cemetery of East Los Angeles and of Rose Hills Memorial Park in Whittier, Jeong ancestors are silently buried under the hot baking sun of the Southland. But their memories will always endure with the Nikkei community.
The Jeong clan struggled against heavy odds in their new homeland. A heart inspiring story from rags to riches, they fulfilled their American dream. Ultimately, they triumphed in the Gold Mountain. Their Chop Suey icon in Little Tokyo is the Far East Café.
AsAmNews has Asian America in its heart. We're an all-volunteer effort of dedicated staff and interns. Check out our new Instagram account. Go to our Twitter feed and Facebook page for more content. Please consider interning, joining our staff or submitting a story.