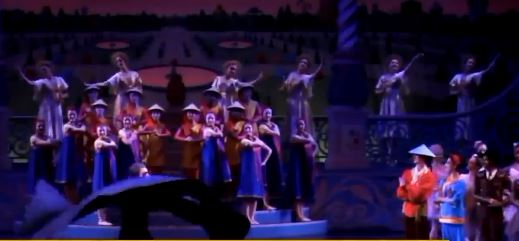 The Kansas City Ballet has agreed to demands made in a Change.org petition launched by one of its fans demanding that it remove stereotypical Asian characters from its Nutcracker, reports Fox4KC
The Chinese Tea Dancers in act II have been the focus of many conversations surrounding the classic ballet since the New York City ballet in 2017 moved to change it.
"There is a variation in the ballet, and historically it has portrayed a stereotype, generalizing Asian Americans as a whole, with movements, costumes and makeup exaggerating Asian American features," Kerri Voyles said to Fox4KC about her petition. "Overall, it just generalizes the Asian American experience."
Voyles describes herself as a fan of the Kansas City Ballet and says she has seen many of its productions.
The ballet responded within 48 hours and Voyles is calling it a victory.
"The Kansas City Ballet has reached out to me letting me know they've released a public statement committing to "more culturally appropriate representations of Asians in the Nutcracker," she wrote in her update to the petition. She also says the ballet's artistic director has agreed to sign the yellowface.org pledge along with other national ballet leaders.

"We have long been committed to diversity and inclusiveness in all elements of the company," artistic director Devon Carney said in a statement. "Last year New York City Ballet made the changes to its second act Chinese Tea variation, removing elements of racial caricature from the costumes, makeup and choreography. This has spurred a national effort, and we are pleased that Kansas City Ballet has joined the conversation along with the ranks of other companies to make these needed changes."
Yellowface.org is a website launched by two Asian Americans dedicated to removing the stereotype from the Nutcracker.
"If all audiences see is the bobbing and shuffling coolie from a bygone era as the only representation of Asians on stage, what message does that send to our Asian students who dream of dancing the Swan Queen?" wrote Phil Chan and Georgina Pazcoguin on their site. "What does that say to the Asian audience members who want to see themselves on stage, only to finds themselves as the butt of the joke? What does that say to the Board member, who writes checks and involves their friends, only to see a one-dimensional representation of their heritage?"
AsAmNews has Asian America in its heart. We're an all-volunteer effort of dedicated staff and interns. Check out our new Instagram account. Go to our Twitter feed and Facebook page for more content. Please consider interning, joining our staff or submitting a story.