By Erin Chew, AsAmNews Staff Writer
Romantic drama Last Christmas which stars Henry Golding as Emilia Clarke's romantic lead, and Michelle Yeoh as a Christmas store owner will be out in theaters today in the US. Set in London, the film follows the life of failing actress "Kate" (Emilia Clarke) who works in a Christmas store owned by "Santa" (Michelle Yeoh). Hating everything about her life, including her Eastern European culture, "Kate" hits rock bottom, until fate allows her to meet "Tom" (Henry Golding) outside the Christmas store where she works. From there, we watch romance blossom between both "Kate" and "Tom", and to know what happens next, well you got to go watch it yourself.
Asides from the film awesome diversity and cultural representation, it confronts head on the misconception that Asian male leads are not marketable. Having watched an advance screening, I can tell you. Yes Asian male leads are marketable;yes Asian men are romantic; and yes, Asian men are attractive without having White male actors stealing their limelight. In Last Christmas Golding is the epitome of a heart throb and yes even my own heart stirred with jealousy watching Golding's character serenade Clarke's character.
For some, this topic may sound petty, fickle and really a non issue, but one must remember that Hollywood and Western mainstream media have brainwashed audiences over a century into thinking Asian men are not attractive and can't be romantic leads unless they are accompanied in the film/TV show by a White male actor.
One of the first mainstream Asian male characters introduced to the Western world was Dr Fu Manchu, a sinister "oriental villain" who graced the screens in the first half of the twentieth century, aimed at scaring women into thinking an Asian man is out to kidnap them. In Breakfast at Tiffany's, we get a goofy, buck tooth Asian male character played by Mickey Rooney ( yes a White man) named I.Y. Yunioshi. A few decades after Breakfast at Tiffany's we get introduced to a sexless Asian character of "Long Duk Dong" in Sixteen Candles, who comes across as a horny joke.
With the success of films like Crazy Rich Asians and the Sun is Also A Star, Asian male leads are now FINALLY seen as heartthrobs, and are even pictured shirtless in the global mainstream media. Suddenly Asian males are no longer seen as just goofy and awkward sidekicks and can be romantic leads.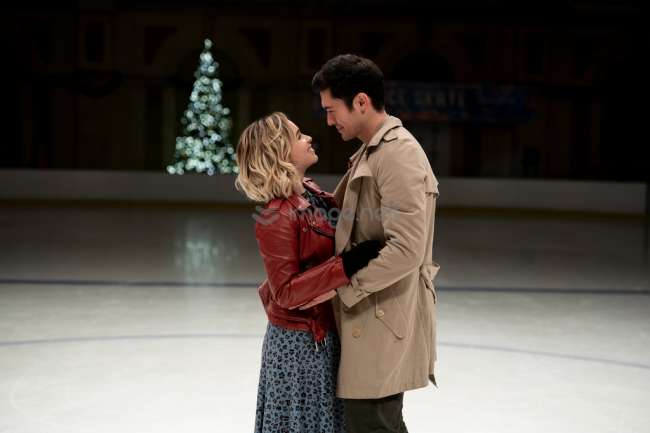 In saying all that, Last Christmas actually presented Golding not as a sex object, but as a regular person roaming around London. It's his charm and wit that win the love of a woman's heart.
After you watch the film and whether you enjoyed it or not, you will totally understand why this film has significance. There is progress (albeit slow) as well as a hunger and demand for Asian male romantic leads in films. But don't just take it from me, go check out the film for yourself. Last Christmas will open on November 8 in the US, and if we are to advocate for more films like this, then we must all go out and support it – particularly on this #GoldOpen Opening Weekend.
AsAmNews has Asian America in its heart. We're an all-volunteer effort of dedicated staff and interns. Check out our new Instagram account. Go to our Twitter feed and Facebook page for more content. Please consider interning, joining our staff or submitting a story.