A forum intended to bring attention to the plight of Southeast Asian communities living under the threat of deportations was completely overshadowed by the first day of the hearings on the impeachment of Donald Trump.


"The intentional cruelty of Donald Trump and Stephen Miller's White supremacy-inspired war on immigrants isn't just directed at the Southern Border," said Rep. Judy Chu, D-CA. "All non-white immigrants are threatened by this administration, including 16,000 individuals from Southeast Asia.


The Congressional Asian Pacific American Caucus (CAPAC) held a Congressional Forum on the Rise of Southeast Asian Deportations., Tuesday. The forum was led by CAPAC Chair Chu and CAPAC Immigration Task Force Chair Pramila Jayapal, D-WA.


"That pain and fear, while deeply felt in these impacted communities, are often not discussed by mainstream media despite the fact that Asian Americans are a sizeable immigrant population. That is why we hosted today's hearing," said Chu.


The witnesses testified on the unprecedented increase in the detention and deportation of Southeast Asian Americans under the Trump Administration. Many of the impacted individuals came to the United States as refugees fleeing violence from Vietnam, Cambodia, and Laos and have lived in the U.S. for decades.


The forum featured witness testimony from Quyen Dinh, Executive Director of the Southeast Asia Resource Action Center (SEARAC), Phi Nguyen, Litigation Director of Asian Americans Advancing Justice-Atlanta, Phal Sok, a Cambodian Refugee, and Tung Nguyen, a Vietnamese Refugee.


"These are men and women with deep roots in their communities who have lived in the United States for decades as lawful permanent residents," explained Chu. "Many have family, including U.S. citizen children and spouses, and are leaders within their communities.


Southeast Asian refugees have checked in with Immigration and Customs Enforcement (ICE) dutifully over the years without any issue. Under the Trump administration, they have become the targets of mass deportations.


Between 2017 and 2018, there was a 279 percent spike in the deportation of Cambodian Americans. In that same time period, there was also a 58 percent increase in the deportation of Vietnamese Americans. The Trump Administration has also placed visa sanctions on Laos and Cambodia to pressure those countries to accept more deportees.


"As a person with a final removal order, I had no legal status in the United States. I had to apply and pay for a work permit every year without access to any public services," said Tung Nguyen. "Over 9,000 Vietnamese refugees and immigrants face similar conditions today. Most of them committed their crimes decades ago.


"As children, we grew up in America with language barriers, cultural conflicts, and poverty, with little to no support to navigate society. We deserve the right to a rehabilitated life," he said.
"Like many other Cambodians who resettled in the United States as a refugee, this country is the only home I've ever known," said Phal Sok. "In 2015, I was handed over to an ICE contractor on the day of my release because I was not born here. It didn't matter that I was a refugee, that my conviction was old, that I had only been 61 days old when I came to the US, or that I was a child when convicted.

"We should not be investing in a system that criminalizes poverty and then mandates deportation," continued Sok. "Our laws need to reflect the fact that immigrants have the capacity to turn their lives around regardless of their past."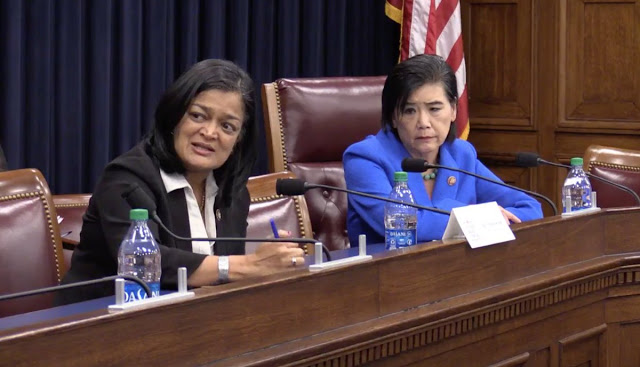 Under the Trump administration, there is also uncertainly over the current US-Vietnam agreement that prevents Vietnamese Americans who arrived in the US before 1995 from being deported.


"Immigrants and refugees make our communities stronger, and policies that criminalize immigrants and deprive our community members of their basic human rights are unjust. The United States must repeal components of the 1996 laws that continue to serve as the backbone of our broken immigration enforcement system, restore due process to immigrants facing deportation, and create a pathway for deported immigrants to come home," said Quyen Dinh, executive director of SEARAC.

"We encourage Congress to advance legislation like the Reuniting Families Act and Dignity for Detained Immigrants Act to provide Southeast Asians facing deportation adequate due process protections and realistic legal relief," said Dinh.

"We hope that this dialogue with CAPAC members will deepen their understanding of the prison to deportation pipeline for Southeast Asian refugees and generate bold policy solutions to protect our communities from the violence of immigration detention and deportation," said Phi Nguyen, litigation director at Asian Americans Advancing Justice | Atlanta.
"One of the big challenges we keep running up against is that these are folks who have committed crimes. But the nature of the crime, the punishment of the crime, the lack of discretion that judges are given, are all part of why people end up in the system," said Jayapal.
AsAmNews has Asian America in its heart. We're an all-volunteer effort of dedicated staff and interns. Check out our new Instagram account. Go to our Twitter feed and Facebook page for more content. Please consider interning, joining our staff or submitting a story.