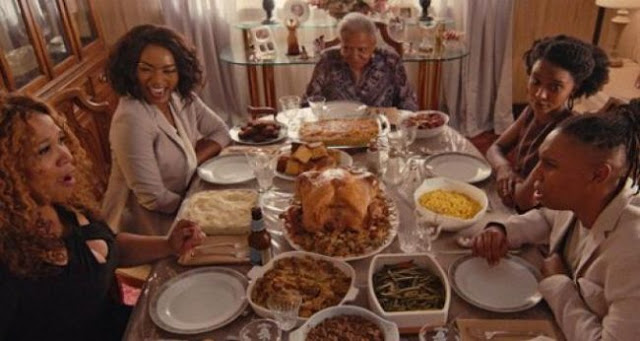 By Ed Diokno, Views from the Edge
Thanksgiving is arguably the best holiday on television for Asian Americans. The big meal and all the traditions that revolve around it provide ample fodder for both comedy and drama.


Thanksgiving around my house and I'm sure — most Asian American households — always includes comfort dishes from the homeland to make the meal a true family celebration. I know its almost a cliche, but for our family, it means adding pancit and lumpia to the already laden table or adding bagoong to the string beans to give it that extra salty kick. Besides the roast turkey, stuffing, mashed potatoes, sweet potatoes and cranberry sauce, the Thanksgiving table is often joined by pancit, lumpia and rice. You got to have rice. In larger celebrations, the turkey would play second fiddle to the lechon (roast suckling pig).

RELATED: The truth about Thanksgiving
The aromas waft throughout the house all day for family and for any visitors who might pop in to be met at the door by that Filipino greeting, "Have you eaten yet?"


After stuffing yourself, everyone moves to the living room to watch football or holiday movies.



Master of None, "Thanksgiving" (Season 2, Episode 8) If you want to split hairs, this is technically not an Asian American Thanksgiving, but it features Aziz Ansari, which is good enough for us. If nothing else, holidays are opportunities to reflect on how you and your loved ones have changed from year to year. Riffing on the idea of holidays as markers of time, this Season 2 episode of Master of None tells the coming-out story of Denise (Lena Waithe), over seven holiday meals. "Being gay isn't something Black people love to talk about, Denise tells her friend, Dev (Aziz Ansari), during the 1998 holiday. "Some Black people think being gay is a choice, and when they find out that their kid is gay, they try to figure out what they did wrong." You see all of Denise's big life changes during these meals, as well as the big shifts that her mother, played by Angela Bassett, goes through. Lena Waithe and Aziz Ansari won the Emmy Award for best comedy writing for this episode.
This episode is available on Netflix.
Fresh Off The Boat, "Huangsgiving" (Season 2, Episode 8)
This episode begins with a classic Thanksgiving showdown scenario: grown-up sisters engaging in hostilities as they each attempt to prove to their mother that they can host a better version of the holiday. Jessica and Louis have a good game plan, with homemade cranberry sauce and Cornish hens replacing a big turkey, but, as is often the case during big family events, things go awry. And to add that extra Asian touch, Jessica's mother declares the turkey to be "dry but edible." The ultimate compliment.
This episode is available on Netflix.
Gilmore Girls, "A Deep-Fried Korean Thanksgiving" (Season 3, Episode 9)
The episode gets to the heart of what Thanksgiving is all about — this idea of celebrating with family and friends, and obligations. That's why Lorelai and Rory get roped into not one, not two, but four Thanksgiving dinners, and each one offers a different vignette. They know to expect religious music and tofurkey at the Kim household with Keiko Agena playing Rory's best friend Lane. They experience Sookie's first married Thanksgiving with Jackson, who, because of a compromise, cooks up a deep-fried turkey feast, much to her dismay. They essentially double-date at Luke's Diner. Lorelai gets into an argument with her mother during dinner. There are two passionate kisses. It's the unpredictable nature of Thanksgiving in a nutshell.
This episode is available on Netflix.
Dr. Ken, "Thanksgiving Culture Clash" (Season 1, Episode 8):
Molly gets a Japanese tattoo, which sparks a culture clash between Allison and Ken over their Japanese and Korean heritages, respectively, and makes for a memorable Thanksgiving dinner experience, all of which is documented by Dave for a school project. Meanwhile, Julie invites the staff over to her place to avoid being alone, but Damona and Clark try to get out of it due to other plans.

This episode is available for purchase here.
Crazy Ex-Girlfriend, "My First Thanksgiving with Josh," (Season 1, Episode 6)
The first-ever depiction of a Filipino American family occurred on this musical rom-com Thanksgiving episode written by FilAm writer Rene Gube (who also plays the cool priest, Father Brah, in the series) The mentally-off Rebecca Bunch (Rachel Bloom) tries to impress her boyfriend Josh Chan's (played by Vincent Rodriguez III) extended family of aunts, uncles and cousins by cooking a bowl of dinaguan, a Filipino dish best described as a pork stew cooked in vinegar and pig blood. Complications ensue because Rebecca's rival for Josh's affections is also invited to the family feast. They compete with each other for the Chan family's affections. Rebecca gets to do a rap called "I Do Good Parent" featuring Amy Hill and Alberto Isaac as the parents, Lourdes and Joseph Chan.

This episode can be bought for only $1.99 here.
AsAmNews has Asian America in its heart. We're an all-volunteer effort of dedicated staff and interns. Check out our new Instagram account. Go to our Twitter feed and Facebook page for more content. Please consider interning, joining our staff or submitting a story.