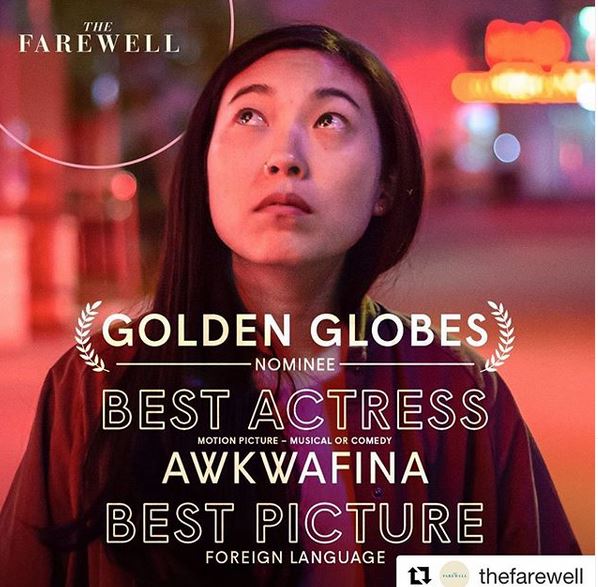 Awkwafina says she slept through the announcement of her Golden Globe nomination. When she finally woke up, she called it a surreal experience.
"Man, it's surreal," she told ET. "I couldn't believe it. I woke up to a flurry of stuff. It's just been a crazy day and now I'm here."
Awkwafina spoke at the premier of Jumanji: The Next Level which opens nationwide Friday. Little has been revealed about her character Ming other than its a significant and key role in the second sequel to the hit.
Awkwafina has quickly turned into an "it girl" of Hollywood since her break out performances in Crazy Rich Asians and Farewell for which she received a nomination for best actress.
She may be known to Awkwafina to her fans, but to her family, she will always be Nora Lum.
"The most unusual congratulations was my aunt texting me, telling me I should eat less grains. I really like ancient grains and she had read an article about grains," said Awkwafina to USA Today. "And on the back of that (information), she gave me, 'Oh yeah, congratulations!' "
In a statement posted on Instagram, Awkwafina wrote This week has been so surreal. Incredibly honored to wake up to the news this morning… Thank you so much HFPA for this nomination and for recognizing @thefarewell . Can't believe I am nominated alongside such insanely talented women. Congrats to my @thefarewell family, @thumbelulu and to all the other nominees!!
She can check out her photos from the Jumanji premier at at TCL Chinese Theatres in Hollywood on her Instagram page.
AsAmNews has Asian America in its heart. We're an all-volunteer effort of dedicated staff and interns. Check out our new Instagram account. Go to our Twitter feed and Facebook page for more content. Please consider interning, joining our staff or submitting a story.