Akemi Tamanaha, AsAmNews Associate Editor
In the United States, Japanese Americans venture to special Japanese or Asian supermarkets to find authentic Japanese food. However, many of those supermarkets are concentrated in California, like Marukai (Cupertino, CA); Nijiya (San Francisco California); and Tokyo Central Market (Gardena, CA).
Now, Japanese Americans and Japanese snack lovers can get Japanese snacks delivered to their own homes through a snack subscription company called Bokksu.
The name of the company comes from the Japanese word 'bokkusu,' which means box. Each month subscribers receive a box filled with about 15 Japanese snacks that are curated according to a monthly theme. Every box comes with a culture guide, which explains where the snacks are from. The guide also features fun things to do and see in Japan.
Part of Bokksu's mission is to focus on snacks that aren't already well-known outside of Japan. Danny Taing, the CEO and founder of Bokksu, says the company includes snacks from local and family businesses in Japan.
Taing, who grew up in New Jersey, lived in Japan from 2009 to 2013 after leaving his job at Google. He ate his way through the country, discovering many hidden snack gems along the way. When he returned to New York City, he was dissatisfied with the selection of Japanese snacks in America.
"I wanted to start something that portrays authentic Japanese culture through the craftsmen, through the family local businesses, through the food that you can only get in Japan." Taing said. "I did it because I knew I would want something like that as somebody who lived there and appreciates and respects the culture."
The subscription service has made Japanese snacks more accessible. Americans living in areas without Japanese markets have expressed their delight with the service.
"After visiting Tokyo, I really enjoy trying different Japanese treats, but there are no Asian markets where I live," Amelia C said in a review. "I don't have the chance to buy Japanese snacks in my area. Bokksu offers me a chance to sample something different every month."
The subscription service has also enabled Japanese Americans and Japanese citizens living in America to reconnect with their culture.
"I actually purchased this membership so that my wife can enjoy the kinds of snacks and tastes that she grew up on," Jeff H. wrote in a review. "Yes, she is Japanese. The first box arrived and she was elated with the contents and savored every bite of every treat."
Taing says the company has received several messages like Jeff's.
"We get so many awesome messages from like third-generation Japanese Americans that say that they bought the subscription for their Japanese grandmother that hasn't been back to her home country," Bokksu's founder,Taing, said.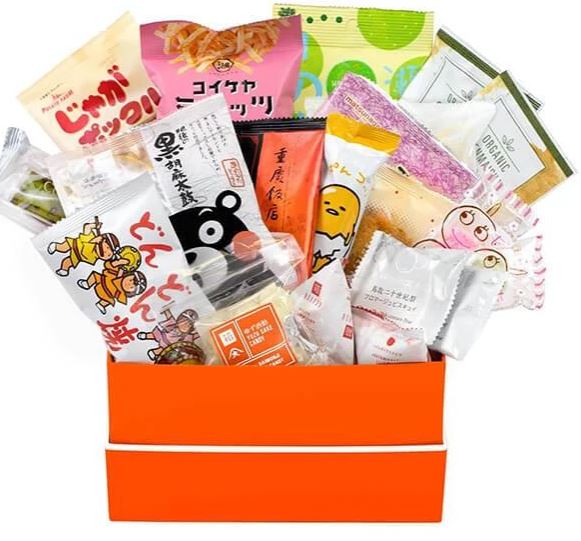 Bokksu's Growth
Bokksu launched in January 2016 from Taing's living room with snacks he brought back from Japan in a suitcase. He created his own website, advertised it on his Facebook account and gained a subscriber base of about twenty friends.
In the early months, Taing would pack and ship the boxes from his own living room. As the business began to grow, Taing and his small team rented out a warehouse space in New Jersey to work from.
Bokksu now sources its snacks from about 50 makers. They work with everyone from 120-year-old family businesses to up and coming Tokyo confection companies.
"We want to have this breadth and depth to show that Japan is this awesome place where there's tradition but also modern snacks and culture," Taing said.
Bokksu serves thousands of customers from seven different countries. About 65 percent of customers are from the United States. Its most popular markets are the United States, Canada, Australia, UK, Singapore and India. Taing says they hope to expand to China as there is a lot of demand for Japanese food products in China.
As the company grows, it continues to look for new ways to market its products.
Seasons of Japan
One of Bokksu's newest projects is its introductory box "Seasons of Japan," which is given to each new subscriber as their first box. It includes a variety of savory and sweet Japanese snacks that complement the four seasons.
Taing explained that the box is meant to introduce new subscribers to Bokksu. The monthly boxes, available to subscribers who renew their subscription after the first box, are often too specific. For example, the citrus box (one of Taing's favorites) might turn off subscribers who don't like citrus. Similarly, the regional boxes, a favorite among long-time customers, might also be too specific for new customers.
Bokksu needed to find a marketable introductory box, so they developed the Seasons of Japan box.
"We curated this really high-quality box seasons of Japan with a 28-page culture guide, the largest we've ever made so that their first experience is across all four seasons different flavor profiles, textures, to make sure it doesn't get too specific," Taing said.
Bokksu's next adventures
Bokksu has also served as a guide for tourists. Taing says many subscribers will take the culture guides with them on their trips to Japan. They use the culture guides to find the snacks they love and discover the hidden gems of Japan.
Using Bokksu to teach people about Japanese culture is an area Taing would like the company to explore further. He wants the company to become an e-commerce and media platform for Japanese food.
Recently, Taing went on a business trip to Japan and brought a documentary film crew with him. The crew followed Taing for two weeks as he visited five of the makers Bokksu works with. The footage will be turned into a documentary web-series, similar to Netflix's Street Food or Ugly Delicious. The first episode could be released by the end of December.
Unlike Street Food or Ugly Delicious, the food seen in the Bokksu web series will be available on Bokksu Market. The company launched Bokksu Market in 2018. The market sells snacks that appear in the boxes, allowing subscribers to fill up on their favorites.
Bokksu has also launched a Facebook group, where people post every day about Japanese culture or specifically their love for Bokksu. Developing an online community where people can discuss Japanese food and culture is important to Taing.
"It's just really thrilling to see that type of response from the community," Taing said. "We're really planning on investing more into that as well, making the space where like-minded people can share their favorite things about Japanese food culture."
AsAmNews has Asian America in its heart. We're an all-volunteer effort of dedicated staff and interns. Check out our new Instagram account. Go to our Twitter feed and Facebook page for more content. Please consider interning, joining our staff or submitting a story.