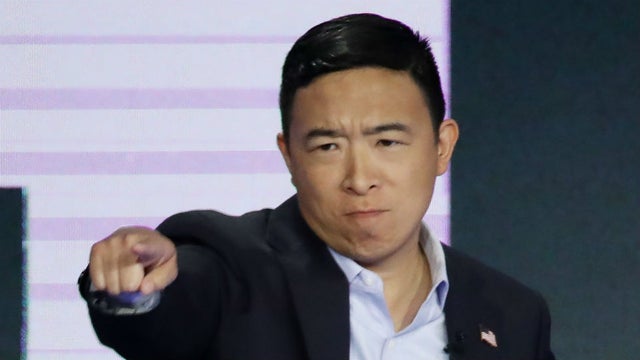 The latest poll numbers after the Dec. 18 debate among the top seven Democratic candidates running for president shows that Andrew Yang has edged ahead of South Bend Mayor Pete Buttigieg.
According to the Morning Consult survey released late Monday (Dec. 23), Yang's favorability rose 7 percentage points among likely Democratic primary or caucus voters compared to a pre-debate poll conducted Dec. 9-15, with 47 percent expressing favorable views and 13 percent expressing unfavorable views.



That would put the tech businessman into fourth place, a few points above Buttigieg, who has benefitted from a ton of free mainstream media coverage.


In contrast, Yang, who has always had the tagline "long-shot" attached to his name, has struggled to get equal coverage. In the beginning, it was difficult for his quest to be taken seriously by mainstream media. His campaign has called out MSNBC for leaving him out of their charts and even misidentifying him in one broadcast. The most egregious example of media bias, according Yang's supporters, called the Yang Gang, is that their candidate has received the least amount of air time in the June and November debates when MSNBC moderated
However, in the most recent debate in Los Angeles hosted by Politico and PBS, Yang still came out with shortest amount of speaking time compared to the other six candidates onstage.


The survey showed that the lower tier candidates of Yang, Buttigieg, Amy Klobuchar and Tom Steyer gained support. Their gains apparently came from Bernie Sanders and Elizabeth Warren, both of whom poll numbers declined. Former Vice President Joe Biden stayed steady.

According to the poll, the only other AAPI candidate, Hawaii's Rep. Tulsi Gabbard has suffered the most since she voted "present" — neither yes or no — on the important vote on impeachment of Donald Trump. According to Morning Consult, Gabbard dropped 11 points after that vote, the only abstention among all House members.

"With an unfavorable rating of 30 percent and 18 percent expressing positive views of her, Gabbard is clearly the most-disliked candidate in the field," reports Newweek.
AsAmNews has Asian America in its heart. We're an all-volunteer effort of dedicated staff and interns. Check out our new Instagram account. Go to our Twitter feed and Facebook page for more content. Please consider interning, joining our staff or submitting a story.