There's a lot of significance to an exhibit of the work of a Japanese American artist being exhibited at the Smithsonian American Art Museum instead of the Smithsonian Asian Pacific American Center.

Until recently, East Coast bias and dismissal of immigrant and minority artists like Chiura Obata, whose paintings are American works of art which belong in that ever evolving diverse spectrum, have been shuffled off to a separate token corner.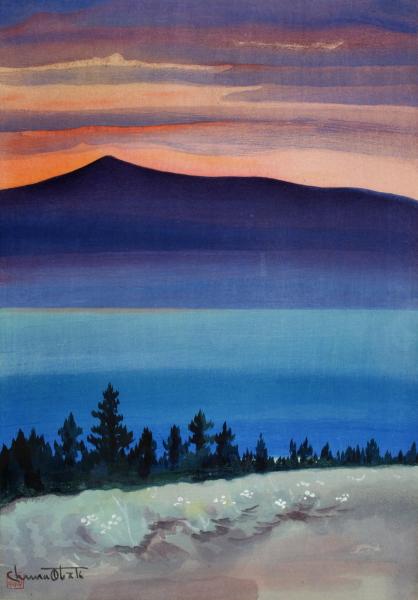 His exhibit expands the definition of who and what is American beyond the traditional Eurocentric fallback and now includes impactful Black,Latin, Native American and Asian experiences.

A new show, up through May at the Smithsonian, finally acknowledges Obata's chapter in the "American story," says his family.
Obata (1885–1975) ranks among the most significant California-based artists and Japanese American cultural leaders of the last century. Born in Okayama, Japan, Obata immigrated to San Francisco in 1903.


Obata's seemingly effortless synthesis of different art traditions defies the usual division between "East" and "West." The exhibit presents the most comprehensive survey of his rich and varied body of work to date, from bold California landscape paintings to intimate drawings of his experiences of the mass incarceration of Japanese Americans during World War II.
Today Obata is best known for majestic views of the American West, sketches based on hiking trips to capture what he called "Great Nature." Every work is grounded in close observation, rendered with calligraphic brushstrokes and washes of color.
Teaching and community engagement are Obata's second legacy for American art. As a professor at University of California, Berkeley, and a founder of the East West Art Society, a Bay Area artists' collective, he facilitated cross-cultural dialogue, despite widespread prejudice against Asian Americans.

In 1942, when World War II fears and Executive Order 9066 forced Obata and more than 100,000 West Coast Japanese Americans into incarceration camps scattered across the US, he created art schools in the camps to help fellow prisoners cope with their displacement and loss.


Inside the camps, art was a force that worked differently.


Photographs, paintings and other forms of art were not used to depict the horrors of incarceration. Rather, these forms of art were used to "make violence beautiful," said Professor Jason Weems of the Department of History at UC-Riverside . They were coping mechanisms in which the incarcerated Japanese normalized their experiences, so as to have normal boundaries for their families to reside in.
"Moonlight Over Topaz" (1942), illuminated the same normalization of life within the camps. Weems explained, the imprisoned Japanese American artist painted in order to keep the hope for freedom alive amongst the community enclosed by barbed wire.


After the war, Obata returned to his callings as a painter, teacher, and cultural ambassador with scars that brought new emotional force to his work. The works in this retrospective take us on an epic journey in which peaks, valleys, storms, and sunlight may reflect universal challenges to becoming a successful artist as well as the particular struggles and dreams of America's minority and immigrant communities.
"Chiura Obata: American Modern" presents more than 150 paintings and personal effects, many on public display for the first time in this tour. His art will be on display through Asian Pacific American Heritage month until May 25, 2020.
AsAmNews has Asian America in its heart. We're an all-volunteer effort of dedicated staff and interns. Check out our new Instagram account. Go to our Twitter feed and Facebook page for more content. Please consider interning, joining our staff or submitting a story.