Korean American Steven Yeun on Thursday endorsed entrepreneur Andrew Yang in the Democratic presidential primary. The New York-born Yang was said he was "thrilled" to have the actor join the Yang Gang because he said he and his wife are fans of the long-running series that takes place in a zombie apocalyptic world. And there, in a nutshell — is Yang's relatability-a normal guy who fanboys The Walking Dead.


What other candidate has admitted that they love a TV show watched by millions of ordinary citizens. It is not a high-brow symphony or elitist Broadway play. The Walking Dead is every man's show.
The Walking Dead star said Yang's position as a political outsider would help him in serving the country.
"After meeting and speaking with Andrew Yang several times, I didn't see a traditional politician; I saw a real human being who is authentic and genuinely cares deeply about everyday people and our country," Yeun said in a statement shared by the campaign.
"I think he is rising to the challenge of a new world and he's uniquely thinking about the future and the life we will leave for our children and further generations," he continued.
Yeun immigrated to the U.S. from South Korea with his family when he was young. He was raised in Troy, Mich.
"His story is a true testament to the American Dream that immigrants from around the world come to this country to pursue," Yang said.
Yang's presence in the campaign while more experienced candidates with name recognition and wide backing have dropped out — read Kamala Harris — speaks volumes about his appeal.

According to fivethirtyeight.com, "Yang's strength comes primarily from voters under the age of 45, especially those between the ages of 18-to-29."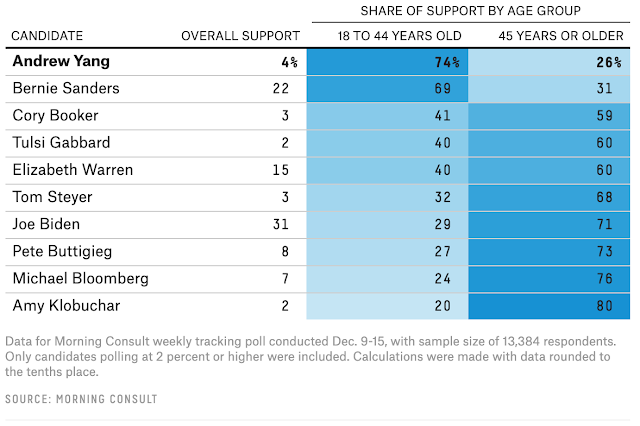 As someone outside of the political mainstream, he is perceived as an unpolitical candidate, considering how typical politicians are disliked and distrusted by the American public, especially the young voters who are more open to choose outsiders over insiders. In this demographic, he is drawing more support than Bernie Sanders, who draws much of his support from this same group.


Yang has without question run an internet-savvy campaign, leaning into the meme culture popular among his supporters online, writes 538. "Yang also hasn't shied away from discussing the dark underbelly of technology. That's an issue that resonates with many young people, who have grown up in an era where tech giants like Amazon, Facebook and Google have dominated the marketplace and are helping alter the future of work." 
His call for a Secretary of Technology makes sense for a generation that spends all their waking hours staring at a screen at work and then staring at their mobile device after work.


His emphasis on new technology — both the good and bad — has made him a favorite among young men who see him as a fellow nerd. Yeun's endorsement and recent support from Donald Glover (Little Gambino) and Noah Centeneo (To All the Boys I've Ever Loved) should widen his appeal to the cool guys.
It's hard to figure out why, but an analysis by the Center for Responsive Politics in November found that Yang's appeal hasn't garnered young women. Women were less likely than men to contribute to his campaign — only 29 percent of Yang's itemized contributions have come from female donors so far, according to CRP's analysis.


Despite Yang's outgoing nature, dry sense of humor and the very fact that he's dared to run for the highest office in the land as evidence his image is counter to the Asian male stereotype, its hard to shake the centuries-old lingering racist stereotype of Asian men that describes them as less appealing as a romantic partner. Dating sites have done research that shows the strong tendency for women of all races to swipe left when presented with an Asian prospect.

A recent survey showed that Asian Americans are starting to shift their donations to Yang's campaign. With the withdrawal of Indian American Kamala Harris and the faltering campaign of Samoan American Tulsi Gabbard, many AAPI donors perhaps partially out of ethnic pride are taking a serious look at Yang's unconventional candidacy.


As a result, Yang has been the chief beneficiary of AAPI political contributions. According to AAPI Data, he has raised $1,420,000, far surpassing Joe Biden, who raised $846,000.


Yang's popularity among AAPI communities is on the rise despite some doubts from activist groups who believe his jokes about Asians loving math, or knowing a lot of doctors reinforces Asian American stereotypes.


In his own way, by being out there banging heads with the White front runners, he is also showing a more aggressive facet of an Asian American man. That's why even if some Asian Americans may disagree with his style or even with his policies, it is important that he be taken seriously and treated with the same sort of respect given to any other Black, White,  Latino or female candidate.
Yang has been able to draw from those voters who hate traditional politicians and the grid-lock in Washington. His outsider status attracts younger voters, who feel that career politicians don't "get" them.


That may also explain why the bulk of his donors are small sums, less than $200, the largest percentage than any other candidate. Several candidates, such as Bernie Sanders and Elizabeth Warren, have touted the support of the small donors, but their treasuries also have substantial support from large donations from individuals and bundlers. Yang can clearly claim that he depends on small donations. In the 3rd Quarter, he was able to raise $10 million, which should carry him through the first few primaries and caucuses.


The most recent Morning Consult survey says that he has moved into 4th place, ahead of Pete Buttigieg, in terms of favorability among potential voters.


Despite his unexpected rise, Yang still lags far behind the top tier of candidates. In nationwide polls, he hasn't been able to rise above 4%. At some point, he's got to appeal to segments of the electorate beyond the enthusiastic Yang Gang.


In that regard, Saturday (Dec. 28), Yang has ended his feud with MSNBC. He boycotted MSNBC after the November debate when he received the shortest amount of speaking time on top several other slights by the network. He failed to get the on-air apology he asked for but the network did apologize privately and via social media.


"I am sitting down for a remote interview with Chris Hayes from South Carolina tonight," he said before the appearance.."Chris, and other MSNBC journalists, have reached out to me and the team in the past days. I decided that I'd prefer to speak to as many Americans as possible — our message is too important."


The centerpiece of his campaign the Freedom Dividend and how to pay for it, sounds almost too good to be true but people seem to be attracted to the idea. He has the youth vote and is doing well among Asians, but in order to bring in a larger portion of voters, he needs to find a way to get women, college-educated suburbanites and African Americans to vote for him but in order to do that, he still needs to overcome the huge challenge of overcoming the stereotypes placed on Asian American men.
AsAmNews has Asian America in its heart. We're an all-volunteer effort of dedicated staff and interns. Check out our new Instagram account. Go to our Twitter feed and Facebook page for more content. Please consider interning, joining our staff or submitting a story.