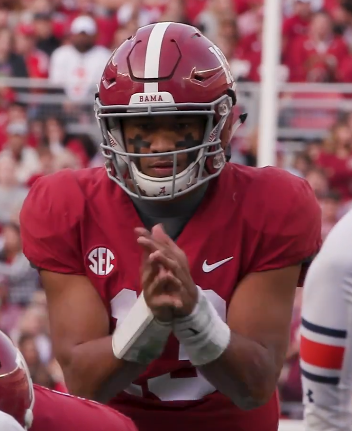 Alabama quarterback Tua Tagovailoa, whose hip injury ended his season, announced Monday he will enter the NFL draft and forego his senior season, reports ESPN.
"Tua has probably had as much of an impact on the program here as any player we've ever had," his coach Nick Saban said.
Tagovailoa called it a "difficult decision" but said he's ready to go.
"I'm optimistic I'll be able to play this coming season," Tagovailoa said on Monday.
According to Draft King, he entered the season as the likely number 1 draft pick. His recent surgery changed that, but he is still projected to be a top 10 pick.
NBC reports Miami drafting 5th, the LA Chargers drafting 6th and North Carolina picking 7th are possible landing spots.
The Native Hawaiian entered the national spotlight when during his freshman year, he came off the bench to lead Alabama to victory in the National Championship in 2017 against Georgia.
He's talked to NFL executives and knows the risk he's taking.
"It's a unique situation," he said. "With my hip, a lot of the guys and general managers and owners that I've gotten to talk to have said the same thing. They kind of look at this injury as a knee injury almost, even though it's not, in a way that, 'Are we going to take a chance on this guy or would he be able to possibly do a pro day before the draft?' The biggest thing they want to see is that we can move and be back to how we were playing prior to the injury."
AsAmNews has Asian America in its heart. We're an all-volunteer effort of dedicated staff and interns. Check out our new Instagram account. Go to our Twitter feed and Facebook page for more content. Please consider interning, joining our staff or submitting a story.