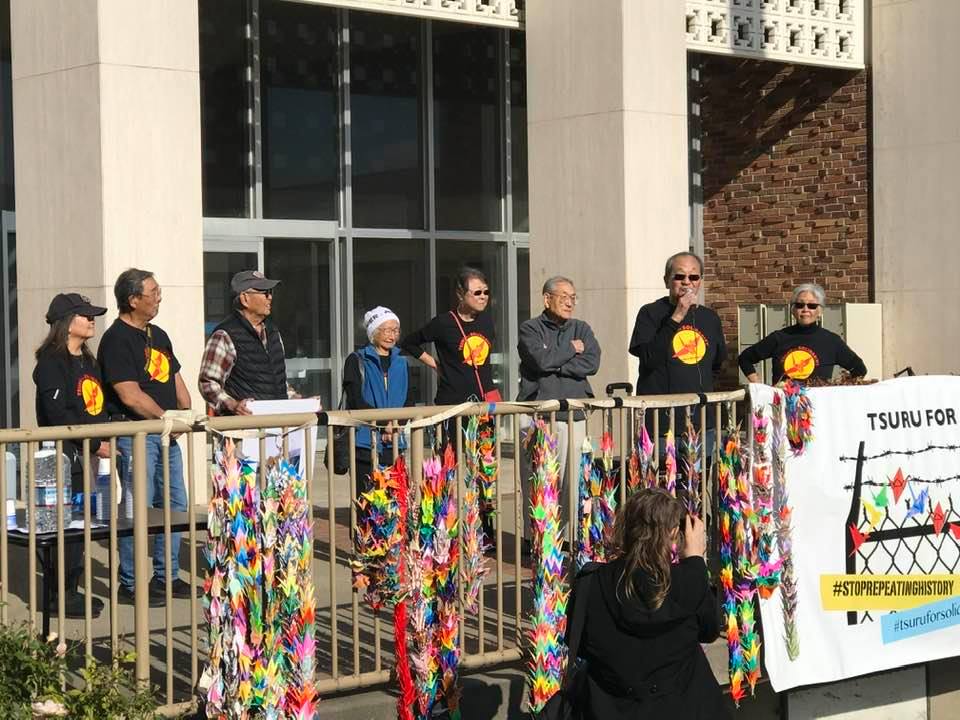 By Jennifer Zhan, AsAmNews Associate Editor
We've been here before — that's the message of Japanese Americans who survived mass incarceration during World War II that are now on the front lines protesting migrant detention facilities and resettlement practices.
On Jan. 11, the Japanese American social advocacy group Tsuru for Solidarity mobilized camp survivors, descendants and allies and led a multicultural protest demanding the closure of an ICE-contracted jail they're calling a modern concentration camp. KCRA reports that over 100 people gathered in front of the Yuba County Jail in Marysville, California, holding signs and chanting to the beat of Japanese Taiko drums.
According to 48 Hills, the facility is believed to be the only ICE (U.S. Immigration Customs Enforcement) detention center in Northern California and has an ongoing contract with ICE to incarcerate up to 180 immigrants a day.
Tsuru means crane, a symbol of peace, healing and solidarity in Japanese culture, according to Tsuru for Solidarity press liaison Kathy Kojimoto. The nonviolent, direct action group often brings paper cranes to protest sites as a sign of support for immigrant and refugee communities.
"We know that imprisoning parents and children causes deep harm that is passed down from generation to generation," Kojimoto told AsAmNews. "And we refuse to stand by and let that pain that our community suffered be inflicted on others."
Event organizer Josh Kaizuka said in a statement that he sees the same "racism, fear mongering and failure of political leadership" of the 1940s in current migration detention facilities.
Although there have been multiple demonstrations in front of Yuba County Jail, Kaizuka said today marked one of the facility's first protest rallies led by Japanese Americans.
Protesters gathered to demand the termination of Yuba County's contract with ICE. According to Appeal Democrat, county officials said the contract's annual revenue, around $5 million in recent years, is essential for the continued operation of the facility.
Under the theme of Oshogatsu, the New Year, demonstrators also called for changes to conditions that have sparked multiple hunger strikes and suicide attempts by Yuba County inmates.
For Japanese Americans, Oshogatsu is a time for reflection, "cleaning house" and taking care of families and loved ones, Kaizuka told AsAmNews.
"We thought this would be a perfect way to start off the new year, to join with our community and allies to call for an end to ICE detention centers," Kaizuka said. "And to make sure that asylum seekers, people who are undocumented trying to get documentation and people in removal proceedings have an alternative to being detained in these deplorable conditions."
The Sacramento Bee reports that since opening in the mid-'90s, the Yuba County Jail has consistently earned "deficiencies," and failed in 2014 to meet ICE standards in areas such as access to legal materials, use of force, and sexual abuse and assault prevention and intervention.
In a statement last year, Yuba County Sheriff Wendell Anderson asserted that staff provide quality service and conditions at the facility "are not as some would have you believe."
Organizers today pointed to the case of Lexis Avilez, a female transgender immigrant who was reportedly transferred from Yuba County Jail to a remote location in Texas on Christmas Day without warning or opportunity to call her attorney, as an example of ongoing harmful conditions.
In addition to four Japanese American former child incarcerees, speakers included members representing a wide variety of groups, from the Council on Islamic relations to the Labor Council for Latin American Advancement.
"78 years ago, the Japanese American community didn't have very many people who spoke up for us," said Kaizuka, explaining the importance of uniting with over 25 organizations for the protest.
According to Kojimoto, the event was also held in solidarity with a coinciding demonstration this weekend at the Brownsville & Matamoros International Bridge between Texas and Mexico, where protesters plan to speak out against the continued separation of families and other policies at the border.
Tsuru for Solidarity has a history of working in coalition with other activist organizations. Last summer, Tsuru for Solidarity allied with groups including the American Indian Movement, United We Dream and Black Lives Matter to protest federal plans to hold 1400 migrant children at a facility in Fort Sill, Oklahoma. After two demonstrations, the plans were halted.
Tsuru for Solidarity is calling a national pilgrimage to Washington, D.C. from June 5 to 7 to condemn dehumanizing immigration policies.
Last March, Tsuru for Solidarity hung 30,000 cranes on the fence of the largest immigrant detention center in the nation to show support for prisoners on the other side. Ahead of this summer's national pilgrimage, Kojimoto said the organization aims to collect 125,000 folded paper cranes, one to represent each Japanese American and Japanese Latin American unjustly incarcerated during World War II.
She said the cranes will be brought to D.C. along with a petition asking Congress to close all past, present and future US concentration camps.
"When we see the migrant children that are being incarcerated today, we recognize ourselves," Kojimoto said. "We want to go and say with our collective voices: stop repeating history. Never again."
AsAmNews has Asian America in its heart. We're an all-volunteer effort of dedicated staff and interns. Check out our new Instagram account. Go to our Twitter feed and Facebook page for more content. Please consider interning, joining our staff or submitting a story.