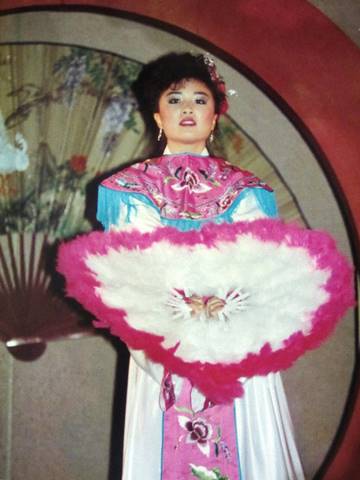 By Raymond Douglas Chong, with Sandra Lynn Wong
In 1988, Raymond Douglas Chong was chair of the inaugural Miss Oakland Chinatown Pageant. Sandra Lynn Wong, Miss Chinatown USA 1973, served as the Mistress of Ceremony for the event. In this piece, Chong shares his recollections of the dazzling first pageant.
In 1988, Oakland Chinatown tried to emerge under the glittery shadow of San Francisco Chinatown across the San Francisco Bay by holding its first Miss Oakland Chinatown Pageant. Henry Chang of the Oakland Chinatown Lions Club and the city's at large council member from 1994 to 2008 led a grass roots effort that presented the special event to the East Bay community.
Eight beautiful Chinese ladies, ages 17 to 25, vied for the first crown of Miss Oakland Chinatown on Jan. 9, 1988. The Mayor of the City of Oakland, the Honorable Lionel J. Wilson, proudly proclaimed that Saturday as a special day for the Pageant.
The contestants competed for scholarships and the prestige to be ambassadors of Chinese American heritage. Each was supported by a company that paid $200 to sponsor them.
The Oakland Chinatown Lions Club proudly presented the Pageant as a formal event, black tie option, no-host cocktails, and dinner, at ticket price of $50 per person. Our venue was the elegant Emmelyn K Jewett Regency Ballroom, inside Hyatt Regency Oakland, the premier hotel downtown, near Oakland Chinatown.
From 6 to 7 p.m., the crowd mingled during no-host cocktails in front of the Ballroom. Dinner was then held under lit chandeliers in the Ballroom from 7 to 8 p.m. Attendees savored grilled boneless breast of chicken, Al Pesto sauce, rice, two fresh vegetables, fresh rolls and butter, coffee and tea alongside linen tablecloths and floral centerpieces.
Our formal program ran from 8:00 p.m. to 10:30 p.m. George E. Ong, attorney at law, Oakland Chinatown Chamber President, served as Master of Ceremony. Sandra Lynn Wong, Miss Chinatown USA 1973, served as Mistress of Ceremony.
George, in ebony tuxedo with red bow tie and belt, and Sandra, in pink silk cheongsam with gold velvet and gold metallic thread designs gown, smoothly soothed the beautiful contestants and guided our program. As a glamorous dusk fell, George and Sandra proclaimed: "Now on with the Pageant. To present to you, the stars of the evening, the 1988 contestants."
Cymbals clanked and drums boomed as four energetic Cantonese lion dancers, under the guidance of a Big Buddha mascot, greeted our contestants under the crimson arch.
Under silver spotlights, the contestants entered with grace and charm. To loud cheers, each young woman strolled onstage adorned in a sheeny cocktail gown and introduced themselves to the audience in English and Chinese.
The style of the cocktail gowns ranged from strapless, spaghetti straps, one shoulder, halter or cap sleeves. The material of the dresses were a combination of velvet and lame (a type of fabric woven or knit with thin ribbons of metallic fiber producing a shiny appearance). On several gowns, the black velvet material was paired with jewel hues of lame and on other dresses the lame was accented with black organza or lame ruffles. The gowns were form fitting to the contestant's figures and accented with lame ruffles, belts or shapes of small flowers. All gowns were below the knee in length and some of the hemlines were of asymmetric lines.
Sandra Lynn Wong reviewed the judging criteria for the Pageant. Weighted at 25% of total score each, they included: personality, talent, fitness and beauty.
Among the eight contestants, one stood out.
Contestant #1 – Miss Angela Cheung (ancestry roots from Canton)
Angela is 19 years old and is 5' 3" tall. She is a sophomore at University of California, Berkeley where she is majoring in business administration. Angela plays the organ and enjoys playing tennis. Meeting and assisting people is a valuable experience to Angela. She expresses that personal satisfaction is achieved whenever she volunteers her time working with people, and especially with children. She has volunteered her time at Children's Hospital and in the Chinese community.
She was fluent in Cantonese with grace and charm. Born in Hong Kong, with her British passport, Angela immigrated to America in 1973. Her paternal grandmother was here as well as many of her father's brothers and sisters. In San Francisco, she attended Commodore Sloat Elementary School, Lafayette Elementary School, George Peabody Elementary School, Herbert Hoover Middle School, and Lowell High School (Class of 1986).
Edwin and Rosa Cheung, her parents, proudly raised Angela in San Francisco.
My mother had the foresight that it was important to retain my first language. As a child, my mother would only acknowledge my requests (e.g., have snacks, watch television, talk on the phone, play with my friends, etc.…) if I spoke to her in Cantonese.
As a child, Angela dreamed about competing in a pageant:
My parents instilled values that focused on education and gaining life experiences to become a better individual. Partaking in the pageant contributed to this focus – it enabled different life experiences and growth in so many various ways. The pageant reinforced that there are so many wonderful individuals in the community that are dedicated to preserving and enhancing our culture.
Our contestants performed for three minutes on stage. Angela Cheung performed traditional Chinese fan dance. She wore traditional Chinese white silk with long sleeves and floor length flowing pants with floral embroidery on a fuchsia color over-blouse and long belt trimmed with turquoise color fringe. Two large fans made from white and fuchsia colored feathers, fuchsia color flower head piece and gold earrings accessorized the dance outfit.
Jane Lee, the contestants with shorts, and the escorts in Hawaiian dress, performed a jazzercise style dance routine, based on "Who's That Girl" song by Madonna.
During our brief intermission, Tony Cho and his band, a quartet, played a medley of Hong Kong style songs. After the intermission, George E. Ong excitedly rode a toy version of Bigfoot Monster Truck, with a 1979 Ford F-250 pickup truck, into the ballroom.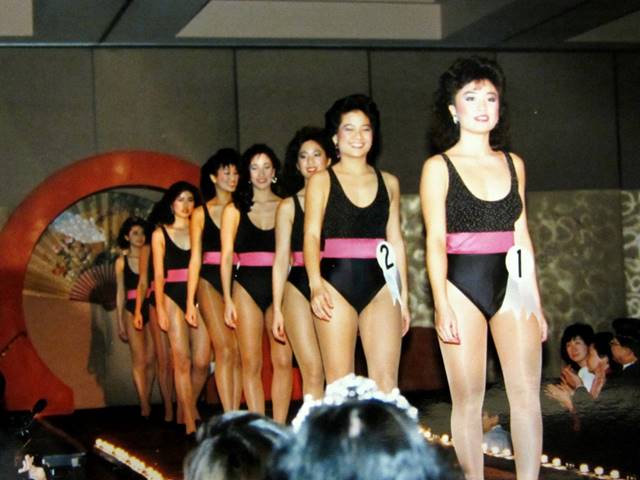 During the swimsuit competition, our contestants wore one-piece black low-cut scoop neckline bathing suits with a wide pink belts, furnished by Sutherland / Splash.
Hank Quock stunned the audience with a transgender interpretation of Endless Love by Lionel Ritchie and Diana Ross duet for comic relief with gasps and sighs. He gave a totally remarkable two-in-one baritone and soprano act as he adorned a white suit / a silver gown.
Our contestants wore beautiful Cheongsams in various colors of white, blue, red, black, silver and gold, with their escorts. Several cheongsams were embellished with sequins and beading in floral designs. Others were of brocade material with metallic threading. And some were made of velvet material and lame material. The Cheongsam or Qipao is an elegant and classic garment for Chinese women. With roots in 17th century China, the Qipao has a high collar and a tightly fitting cut, with slits at either side of the skirt. It can be high-necked or collarless, long or short, some with full, medium, short or even no sleeves at all to suit different occasions, weather and individual tastes. Angela dazzled audience with a golden cheongsam, red border/piping accent. Lorraine – blue; Nicole – blue; Cindy Lee – white; Cori Lee- red; Tracy Long – blue; Cindy Wong – red; and Joan Wong – blue.
George E. Ong asked assorted pageant questions, drawn from a glass fish bowl.
Angela Chung – Question – If you are chosen as Miss Oakland Chinatown, what will you do to represent our community? Answer – To bridge the young and old generations within our Chinese community.
Gina Leong, 1987 Sino Broadcasting Singing Contest winner, performed the love "Greatest Love of All" by Whitney Houston. She followed with an erotic rendition of "Fiery Tango" by Anita Mui. Gina's dress was a black lace long sleeve cocktail dress with an asymmetric hemline. She accessorized the dress with black lace gloves.
As contestants grasped their hands together, George E. Ong announced:
• Second Princess, Miss Nicole Lew. Presented by Robert Depper, Lions Club Deputy District Governor.
• First Princess, Miss Lorraine Lee. Presented by Leo Hung, Oakland Chinatown Lions Club President.
• Queen – Miss Angela Cheung. Sash, crown and flowers bouquet.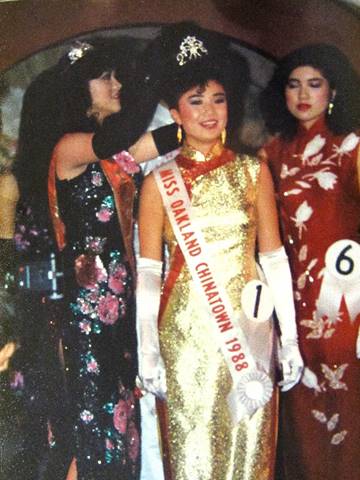 Sharon Kwok, Miss Rose Ball Queen of 1987, crowned Angela Cheung, Miss Oakland Chinatown 1988, with a sparkling rhinestone tiara 4 inches in height and inches across. The court was presented with bouquets of red roses and white sashes with their title in red letters. Each pageant contestant received gold trophies with a dark wood base.
As Miss Oakland Chinatown, Angela got air travel for two to Hawaii by Hawaiian Airlines and $1,000 cash scholarship. First Princess Loraine got $500 cash scholarship and Second Process Nicole got $250 cash scholarship. Over 470 persons attended the program that raised $27,670. Oakland Chinatown Lions Club allocated $5,000 to Lions Pavilion and $3,000 to Lions Pagoda in Chinese Garden.
For a fabulous year, Angela reigned as our Miss Oakland Chinatown. Angela attended a community circuit of festive Chinese New Year celebrations and banquets, fashion shows, grand opening ceremonies, award ceremonies. She travelled to Hawaii. She was feted at the North Lions Club of North Kowloon in Hong Kong.
On February 11, 1989, Angela competed in the 31st Annual Miss Chinatown USA Pageant at Masonic Auditorium in San Francisco. The Pageant theme was "The New Chinese American Woman," sponsored by the Chinese Chamber of Commerce. She happily participated in the New Year festivities including a fashion show, pageant, and New Year parade.
On January 21, 1989, Angela crowned Miss Amie Wong as Miss Oakland Chinatown 1989, at Hyatt Regency Oakland.
For Angela, she was able to fulfill a childhood dream of being a beauty queen for the Chinese community.
Wasn't that long ago that Sandi and George were calming our nerves and telling us to just be ourselves. I recall my heart pounding as George asked me my question…. well, now, 29 years later, I'm the old generation. It's very gratifying to be able to share traditions and bridge experiences with the young generation.
For me, the Miss Oakland Chinatown Pageant led to my foray into other ventures in community service. Although the pageant is long gone and its history fades away, memories of the first pageant still linger deeply in my mind as a glamorous spectacle in the gorgeous splendor of Oakland Chinatown.
AsAmNews has Asian America in its heart. We're an all-volunteer effort of dedicated staff and interns. Check out our new Instagram account. Go to our Twitter feed and Facebook page for more content. Please consider interning, joining our staff, or submitting a story.