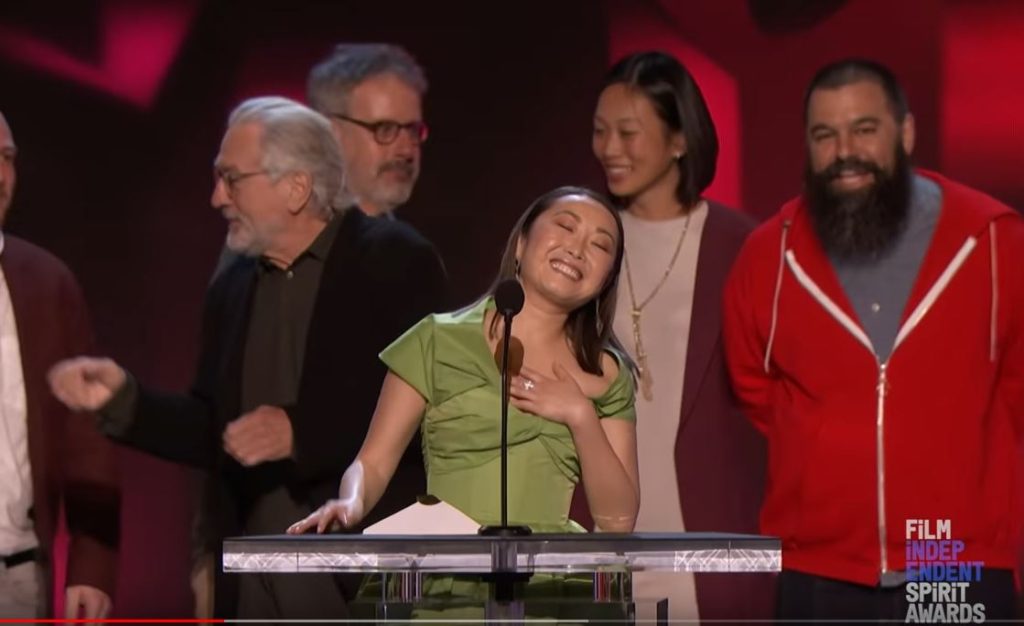 The Farewell, a film headed by Chinese American director Lulu Wang and which featured an all Asian cast speaking in both Mandarin and English won best picture at the Spirit Awards Saturday night.
Wang seemed genuinely touched by the honor and gave a heartfelt acceptance speech before an appreciative audience.
The gracious winner gave encouragement to her fellow filmmakers and had a strong message about women directors.
"You guys, you guys. Oh, my God. I was here in 2014. It was my first time at an award ceremony. I had made a first feature that didn't go anywhere," she said while recalling she had just won a fellowship.
"It hasn't been that long- five, six years and now I'm up here. For all the filmmakers out there, you can do it. You can absolutely do it. There's been a lot of conversation this year about how to improve more women to be in film or get more women into the conversation. Shadowing is great. Programs are great, but really what we really need is just the job. Just give them the freakin' job." Wang urged.
She thanked those who took a chance on her and hired her- Executive producer Eddie Rubin, along with producers Peter Saraf, Anita Gou, Andrew Miano, Daniele Tata Melia, Chris Weitz, and Jane Zheng as well as A24 for its marketing support.
"They were invested in marketing the film as an American film, to show a different side of what an American looks like, what an American family can look like, and what an American-leading women looks like and they did.
"I have to just thank my family. I have to thank my parents, of course. My entire family, actually my Nai Nai, my grandma. I think a year ago no body would have known who Nai Nai was, now everybody's saying Nai Nai so that's awesome."
AsAmNews has Asian America in its heart. We're an all-volunteer effort of dedicated staff and interns. Check out our new Instagram account. Go to our Twitter feed and Facebook page for more content. Please consider interning, joining our staff, or submitting a story.