Director Bong Joon Ho and the people behind Parasite stole the show at the Academy Awards, but several other Asians and Asian Americans had an opportunity to shine too.
Special make up effects artist and visual artist Kazu Hiro won the Oscar for best make up for his work in Bombshell. It was his second Oscar win, having won in 2017 for Darkest Hour. He shared the award this time with his colleagues Vivian Baker and Anne Morgan.
He gave a nod to Bombshell star Charlize Theron who appeared genuinely touched by the gesture.
"Our heartfelt thanks to Charlize Theron. You are amazing. You are an amazing actor and producer and your compassion, love and care made this film possible. Because of your bravery and passion, we are able to set the new bar in the make up industry to create a new way to tell stories," said Hiro as Theron buried her face in her hands and lap.
The award was presented by Ray Romano and Sandra Oh, who joked "I'm 87-years-old" as she talked about the importance of make up to her industry.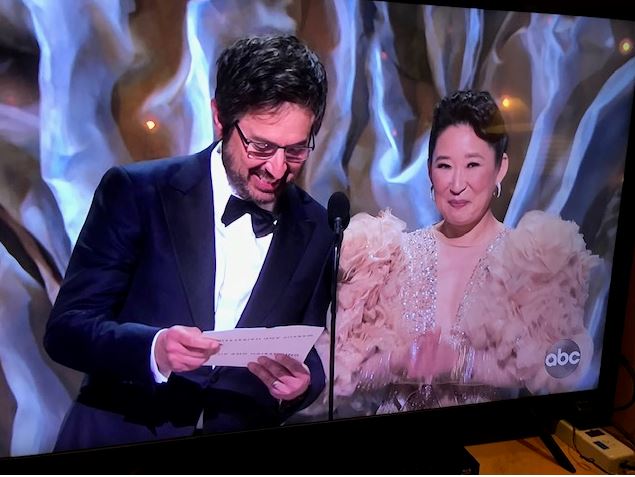 The evening saw the first Maori, Taika Waititi, to win an Oscar for best adapted screenplay for the film Jojo Rabbit. Waititi dedicated his award to "All the indigenous kids of the world who want to do art and dance and write stories. We are the original storytellers, and we can make it here (Hollywood) as well."
JoJo Rabbit is the story of a 10-year old boy who participates in a Nazy Youth Camp, but his eyes are opened when he meets a Jewish person for the first time.

Later in the evening when Waititi presented one of the awards, he reminded the audience that the ceremonies were taking place "on the ancestral lands of the Tongva, Tataviam and the Chumash.
Additional reporting from Views from the Edge
AsAmNews has Asian America in its heart. We're an all-volunteer effort of dedicated staff and interns. Check out our new Instagram account. Go to our Twitter feed and Facebook page for more content. Please consider interning, joining our staff, or submitting a story.