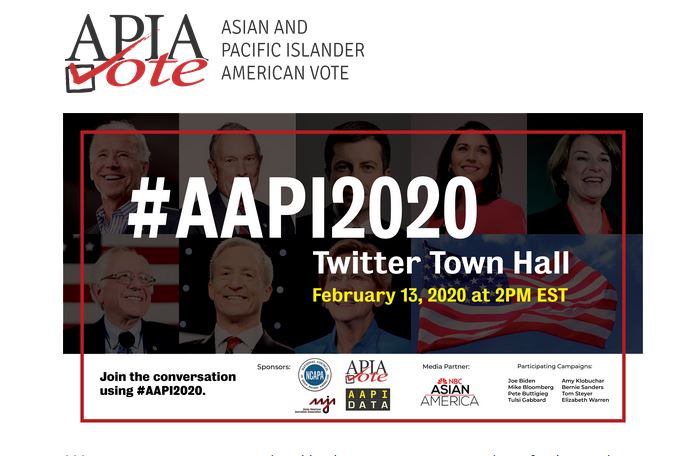 By Amy-Xiaoshi DePaola, AsAmNews Contributor
The Democratic presidential candidates took to Twitter to discuss AAPI-centered policy and and issues this afternoon.
The event was hosted by APIAVote and moderated by NBC Asian America, and included questions from NBC journalists and Asian American advocacy groups, such as The National Council of Asian Pacific Americans, AAPI-Data, and the Asian American Journalists Association.
The participants were the campaigns of former Vice President Joe Biden; former New York Mayor Mike Bloomberg; former South Bend, Indiana, Mayor Pete Buttigieg; Rep. Tulsi Gabbard (HI); Sen. Amy Klobuchar (MN); Sen. Bernie Sanders (VT); businessman Tom Steyer, and Sen. Elizabeth Warren (MA).
Candidates answered questions such as how the AAPI community would be actively involved in policy decisions and the political landscape.
"We are one of the fastest-growing populations in the US, yet we are often left out of policy discussions and decision making," the first question said. "How will you ensure #AAPI communities will have a seat at the table? How will you ensure we have a voice within your administration?"
All candidates said they would appoint diverse members in their administrations and in the courts, as well as listening to local leaders and communities, with Buttigieg and Warren pointing to Asian Americans in their own campaign staff.
"I'm proud to have the first Asian American campaign manager of any major presidential campaign," Warren said.
Out of all the candidates, Warren broke down varied data on income equality among Asian Americans, with Hmong and Burmese women making around 50 cents a year, less than other Asian American populations and far less than white men.
"Income inequality in Asian-American communities has nearly doubled, and it's now higher within the AAPI community than in any other racial or ethnic community," she said in a press release after the event. "AAPI data helps us identify what's broken, so we can decide how to fix it."
However, Gabbard noted her status as "the only AAPI candidate running for President," calling her district "the most diverse" with a majority Asian American population. The other Asian American candidates, entrepreneur Andrew Yang and Sen. Kamala Harris (CA), have exited the race. (Yang's campaign was going to be participating in the Twitter town hall, but dropped out in wake of their campaign suspension.)
PEW Research reports that Asian Americans are the fastest-growing ethnic population in the U.S., growing 72% between 2000 and 2015. In comparison, Hispanics are the second-fastest, increasing 60% during the same time span, with Asian immigrants are projected to overtake Latino immigrants in 2055 and become U.S.'s largest immigrant group.
Although media outlets and Asian American groups tout the potential voting power of the community, which makes up 4.8% of the total general population, many still feel ignored by politicians who see the community and their concerns as a monolith.
One of the town hall questions tackled this issue: "Asian Americans and Pacific Islanders are incredibly diverse. However, studies and data oversimplify the issues that our communities face. What will you do to ensure AAPI data is disaggregated and how will you lift up low-income AAPIs?"
Buttigieg, Sanders, and Warren had specific plans on how to disaggregate the data, with Sanders suggested revamping the census to have a more accurate reflection and Warren referred to her plan of forming a White House Task Force and working with AAPI communities.
Meanwhile, Buttigieg advocated for collecting data on "teacher hiring, student outcomes, and student experience" for education, as well as "increasing investments to research health disparities for AAPI communities and ensuring that all research programs report disaggregated data."
There were the traditional questions of immigration, gun control, and student loan debt, as well as focus on the current election cycle: reaching out to swing states and voter suppression.
But Asian American issues — such as language barriers to education and healthcare, as well as protecting religious freedoms of minorities — remained front and center.
APIA Vote says that the Asian American electorate is growing, even in battleground states like Nevada and Florida, and will double by 2040. And even then, these voters are "up for grabs," as 46% of Asian Americans do not identify with a particular political party, APIA said.
However, registered Asian American voters held "a net unfavorable view of the Republican Party," which may affect the results of the 2020 race, according to the 2018 Asian American Voter Survey.
The Nevada caucuses will take place on Feb. 22, with Super Tuesday commencing on March 3.
AsAmNews has Asian America in its heart. We're an all-volunteer effort of dedicated staff and interns. Check out our new Instagram account. Go to our Twitter feed and Facebook page for more content. Please consider interning, joining our staff, or submitting a story.