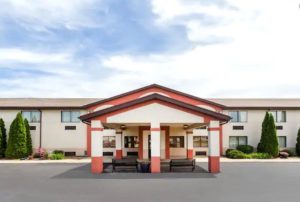 Two hotels citing the coronavirus denied lodging to two Hmong men traveling through Plymouth, Indiana near South Bend, reports WBND.
Kao Lor says he and his uncle, Lee Lor, tried to get a room first at the Super 8. The clerk there demanded to know if he was from China.
"If you're from China, I need to know," the staffer said.
"Because why?" Lor replied.
"Because of the coronavirus going around," the staffer said.
"Anyone from China, I'm told, has to be picked up and quarantined," the staffer said, despite not being able to show Lor the specific hotel policy that required this.
Lor then went down the street to the Days Inn and recorded the interaction.
This time the clerk told him it would not book a room to an Asian guest.
"Why's that?" said Lor.
"That's what my owner told me," the employee said.
CNN reached out to the Super 8.
"Super 8 by Wyndham Plymouth is aware of a viral video. The views and what the employee said is not the view and policy of Super 8 by Wyndham Plymouth. Management is handling the employee involved. We are deeply saddened and embarrassed by the action of our employee."
CNN also contacted the owner of the Plymouth Days Inn. Owner Dharmendra Patel said it was not its policy to deny lodging to Asians and said "That's something we are dealing with the employee."
Both hotels are owned by Wyndham Hotel and Resorts.
"We're deeply troubled by these incidents as they're not reflective our values or our expectations of franchisees," the company said in a statement. "While these locations are individually owned and operated, it's important to note that the "corporate policy" referenced in the video does not exist. Please know we're treating this matter seriously and are addressing with the owners of both hotels. We're also working to reach out to this guest to offer our sincere apologies and will be extending a gesture of goodwill to help make things right."
AsAmNews has Asian America in its heart. We're an all-volunteer effort of dedicated staff and interns. Check out our new Instagram account. Go to our Twitter feed and Facebook page for more content. Please consider interning, joining our staff, or submitting a story.