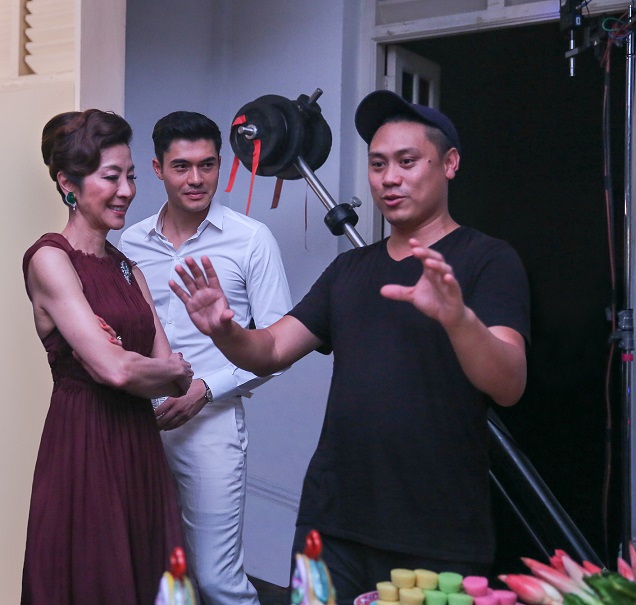 Director Jon Chu of Crazy Rich Asians fame will be honored at the Chinese Historical Society of America gala in San Francisco on March 28.
The gala will be focused around the theme "In Celebration of Family."
"It is so important during these times to celebrate the ways that families and children of immigrants have enriched and
strengthened our society," said Jane Chin, who is co-chairing the event with Gorretti Lui. "While we are showcasing a
few remarkable families, there really are so many more personal stories that need to be told."
Chu will receive the CHSA's Outstanding Artistic Achievement Award. His next film In the Heights with music by Lin-Manuel Miranda is scheduled to be released this summer.
In keeping with the family theme, the Bay Area-based Fong family will receive the Phil & Sarah Choy Community Service Award.
Business and community leader Ronald Fong will accept the award with his sons-Rodney Fong, president and CEO of the San Francisco Chamber of Commerce, and filmmaker Barre Fong, director of the acclaimed documentary Finding the Virgo, which is about Vietnamese refugees, a heroic captain and crew of their boat.
Sponsors include the Fong family, Laurene Wu, Charles McClain, Buck Gee and Mary Hackenbracht, Lui foundation, Doug Chan and Eriko Doi, DLA Piper, LLP and Connie Young Yu.
AsAmNews is a media sponsor.
ABC7/KGO-TV news anchor Kristen Sze will emcee the awards program. Maddie B will entertain. All guests will receive a special gift made by designer Mulan Leong-Suzuki to commemorate families, honor culture and appreciate history.
"The 200-year story of Chinese America matters because it represents everything from the pioneer tales of railroad
workers, farmhands and builders to the immigrant labor of the seamstress, the fry-cook, and especially the soldiers,
sailors and aviators whom we will honor later this year," said CHSA president Doug Chan.
Since the organization's founding in 1963, CHSA has been dedicated to preserving Chinese American history and telling
stories to enlighten a new generation. Its museum and learning center in San Francisco Chinatown attracts thousands
of visitors each year.

For more information on CHSA's 2020 gala, visit chsa.org/gala2020. Tickets are available on Eventbrite.
AsAmNews has Asian America in its heart. We're an all-volunteer effort of dedicated staff and interns. Check out our new Instagram account. Go to our Twitter feed and Facebook page for more content. Please consider interning, joining our staff, or submitting a story.