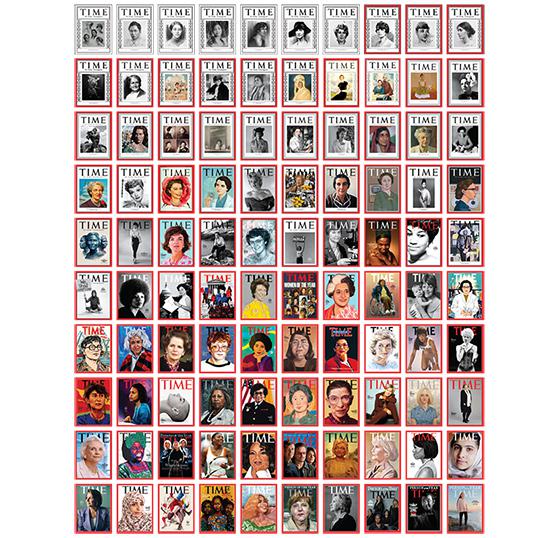 For Women's History Month, Time Magazine has named the 100 most influential women of the past century. Among the women are 14 Asians from Asia and America.


For 72 years, the weekly magazine has been naming a "Man of the Year" and it wasn't until 1999 that the honor was changed to "Person of the Year" to include women.


As former TIME editor-in-chief Nancy Gibbs writes, this project is an exercise in looking at the ways in which women held power due to systemic inequality. "Women," Gibbs writes, "were wielding soft power long before the concept was defined."

The female game-changers the magazine chose from over 600 nominations, include these Asian and Asian American women:

1922: Xiang Jingyu, One of the early members of the Chinese Communist Party, she became the first director of the Chinese Communist Women's Bureau.She was executed in 1928 by the Nationalists.


1927: Queen Soraya Tarzi. As the wife of Afghan King Amanullah Khan, Queen Soraya Tarzi was the daughter of exiled Afghan intellectuals. Her European upbringing brought unheard progressivism to Afghanistan. She went unveiled in public and encouraged the education of girls. In 1929, she and Khan went into exile.


1928:Anna May Wong was born in Los Angeles to second-generation Chinese American parents, was limited in her silent-film career by miscegenation laws which prevented the appearance of interracial couples on screen. Nevertheless, she is considered the first Chinese American Hollywood star.


1937: Soong Mei-ling  became the second woman ever to grace the Time cover under the heading "Man and Wife of the Year" alongside her husband, Chinese Nationalist leader Chiang Kai-shek. She was pivotal to gathering support for China's war against Japan speaking in front of both houses of Congress.

1945:Chien-Shiung Wu — Born in China's Jiangsu province in 1912,  she left in 1936 to ear a PhD at the University of California, Berkeley. After teaching at Smith College in Massachusetts and at Princeton. In 1944, she joined one of the Manhattan Project's labs operating at Columbia University where "she helped develop the method for separating nonfissionable uranium 238 from fissionable U-235—the bomb's key fuel."

1947:Amrit Kaur was appointed India's first Health Minister in 1947 after a lifetime as an activist agitating for Indian independence. fought for women's education, sufferance and for an end to child marriage. "In leaving her life of luxury, Kaur not only helped build lasting democratic institutions, she also inspired generations to fight for the marginalized," reads Time.

1972:Patsy Takemoto Mink, a third generation Japanese American, became the first woman of color and first Asian American elected to the U.S. House to Representatives. She served as Hawaii's representative for 12 terms. Her biggest accomplishment co-authoring  the Title IX Amendment of the Higher Education Act.

1976:Indira Gandhi was the daughter of Jawaharlal Nehru, India's first prime minister. Initially jeered, she would go on, as India's first and only female prime minister, to centralize power and lead India into a war with Pakistan in support of Bangladesh's 1971 bid for independence. She was assassinated in 1984.


1979:Tu Youyou — Tu, born in Ningbo in 1930, was inspired to pursue a career in medical research after surviving tuberculosis in high school. She helped establish treatment for malaria patients. For her research, Tu was awarded the Nobel Prize in Medicine for her discovery.
1986:Corazon Aquino, the wife of Benigno Aquino Jr., a leader of the opposition to Philippine dictator Ferdinand Marcos. After her husband was assassinated in 1984, Cory Aquino ran for president against Marcos in 1986. After the authorities declared Marcos the winner, Aquino called for protests and soon the People Power Revolution had swept Marcos from power and Aquino was proclaimed president.
990:Aung San Suu Kyi  became an international darling in 1990. She'd fought, following her father Aung San's death, against Myanmar's military dictatorship. In 1990s, her National League for Democracy (NLD), won the elections but the results were invalidated by the junta.  She was placed on house arrest for 15 years. In 1991 awarded the Nobel Peace Prize but since then, her defense of the military has darkened her reputation.
1995:Sadako Ogata — As the only Japanese and first woman to lead the United Nations High Commissioner for Refugees (UNHCR), Ogata oversaw responses to some of the worlds worst refugee crises, from Kurdish refugees following the Gulf War to refugees fleeing the Rwandan genocide to refugees of various Cold War conflicts around the world.
2009:Malala Yousafzai's campaign to educate young girls won her the Nobel Peace Prize in 2014.  In 2012, the Pakistani Taliban tried to assassinate Malala, whose writing about her life and desire to pursue an education angered them. But Malala survived being shot in the face to become the face of women's empowerment not only in Pakistan but around the world. 

2018:Maria Ressa — In 2018, Time named "The Guardians" — journalists facing persecution and violent — as the Persons of the Year. Among them was Filipino journalist Maria Ressa. Ressa's publication, Rappler, has become one of the Philippines' most fierce critics of President Rolando Duterte, Because of her work, Ressa has been arrested and the target of a hate campaign.

The gala to announce the 100 women scheduled for Sunday, March 9, International Women's Day, was canceled as a cautionary move against the spread of the coronavirus.

Click here for the complete list of 100 women.
AsAmNews has Asian America in its heart. We're an all-volunteer effort of dedicated staff and interns. Check out our new Instagram account. Go to our  Twitter feed and Facebook page for more content. Please consider interning, joining our staff, or submitting a story.