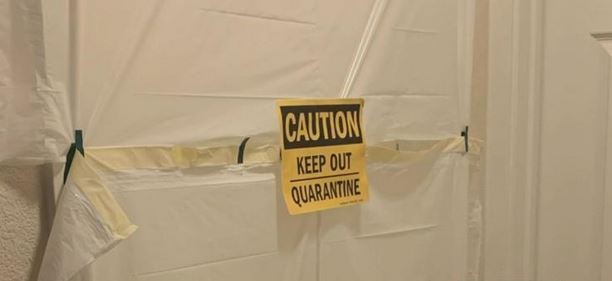 From coast to coast and states in-between, Asian Americans are reporting increased racism due to coronavirus.
In Albuquerque, a Chinese student found the door of his dorm room at the University plastered with a quarantine sign and yellow tape across it. At first he thought it was real until he realized he had been pranked by other students, reported KOB.
University of Massachusetts freshman Jenny Ngo has felt the same sting of racism on her campus.
"For me I've felt kind of annoyed at people assuming that I have Corona just because I'm Asian. I think the way people are saying Asians are dirty and disgusting [is] offensive," she told the Daily Collegian.
In San Francisco, business owner recalls standing in the bathroom next to another man.
"He was wipe-drying his hands and turned to the right and coughed and said 'damn cough from China.' My adrenaline was going and I sat down and it took me five to ten minutes to calm down," he said to ABC7.
In Dallas, Lang Nguyen began choking after sipping some water. That angered a woman in front of him, reported KERA News.
"She said some racial slur to me like, 'All you Asian people are spreading that coronavirus' and so forth," he said.
Vincent Pan of Chinese for Affirmative Action called on the government to keep better track of such incidents.
"To make sure, government agencies are set up with a hotline to track how many incidents are actually occurring. We see it on social media, but it definitely needs to be better documented and better tracked," he said.
"The idea that this disease is mapped onto certain countries and not others is one key way in which we are going to hinder our ways of containing this disease," Molina, who serves as a professor of American studies and ethnicity at University of Southern California's Dornsife College of Letters, Arts and Science, told ABC News in a telephone interview.
AsAmNews has Asian America in its heart. We're an all-volunteer effort of dedicated staff and interns. Check out our new Instagram account. Go to our Twitter feed and Facebook page for more content. Please consider interning, joining our staff, or submitting a story.