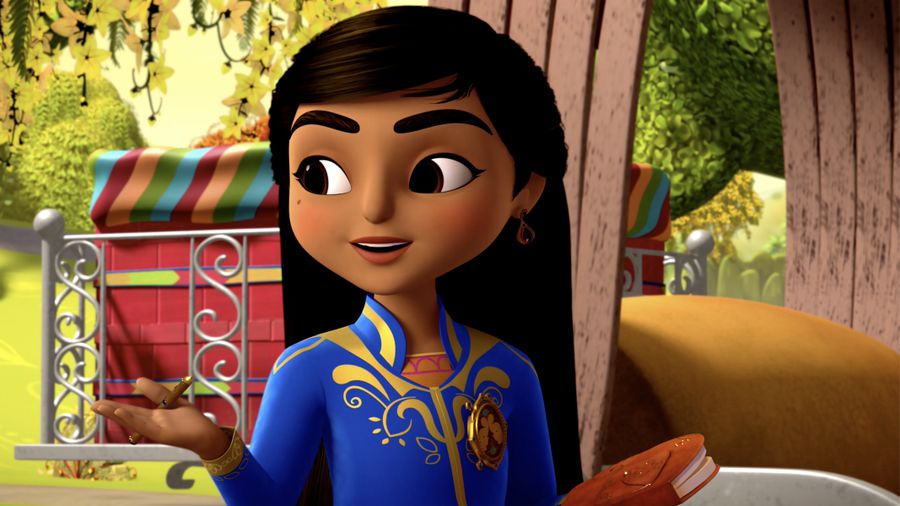 by Erin Chew, AsAmNews Staff Writer
I am writing this article just a day after watching a print screening of Mulan. How wonderful is it that in such close proximity of time we have Disney release kids series "Mira, Royal Detective", and live-action film "Mulan" (although its debut is now delayed due to the coronavirus)? It is really a time for celebration in terms of Asian representation. It is something that will make the younger generations of Asians feel as though they are being heard. They'll see themselves reflected on both the small and the big screens.
"Mira, Royal Detective" is Disney Junior's animated mystery-adventure series for preschoolers inspired by the cultures and customs of India. Set in the fictional land of Jalpur, the series follows the brave and resourceful Mira (Leela Ladnier), a commoner who is appointed to the role of royal detective by the Queen (Freida Pinto). Along with her friend Prince Neel (Kamran Lucas), a talented inventor, creative cousin Priya (Roshni Edwards), and comical mongoose sidekicks Mikku (Kal Penn) and Chikku (Utkarsh Ambudkar), Mira will stop at nothing to solve a case. It is a great series for the very young, and will really show them what India looks like, showing the culture, traditions, festivals, colors and food in the most authentic way possible.
Authenticity is an extremely important education tool for kids, who watch their TV with no preconceived notions or judgments about cultures different from their own. "Mira Royal Detective" also specifically aims to help young South Asian kids and their parents to have a deeper understanding of their South Asian background and identity. Speaking with both stars of the series Freida Pinto who plays Queen Shanti and Leela Ladnier who plays Mira, I posed this question to them on how this series and the characters they play will impact on South Asian kids in the US, Europe and other parts of the West, where they are not the majority.
For Pinto, this series represents a celebration of Indian culture and young Indian kids can now feel proud of who they are because finally they are seen on the small screen.
"It is high time that South Asian kids everywhere can see themselves in an animated series immortalized in all the leading characters," Pinto said. "For me personally, playing a South Asian character is really a no brainer, when it came to me as an offer through my agent. My first thought was, this should have happened 15-20 years ago and I knew that I was definitely in. Authenticity is important because we do not want the new generation of South Asian kids to see all the stereotypes many of the older generations saw, like Apu's voice from The Simpsons and the Indian head bobbing. All those stereotypes were left at the front door with Mira."
"South Asian kids everywhere will now feel that they are heard, and that being who they are is normal and that their culture and food is not up for ridicule or racist jokes. This series has no space for stereotypes, and it doesn't make things palatable for Western or European audiences. Everything about it is Indian."
Ladnier, who voices the main character "Mira" is still a teenager, but had a lot to say about this question on the series impact for South Asian kids.
"I really think everyone deserves to see themselves represented," Ladnier said. "I am growing up in a time where I see more representation in the media and this is what has encouraged me to get into acting. One of the things I wanted to achieve by playing "Mira" was to show young South Asian kids that she is really just a regular girl. I hope through this series young kids, not just South Asian kids, will grow up knowing about our culture and embrace diversity. "
Voicing characters for animation is not an easy feat. For the actor doing the voice work, there must be some element of the character they are voicing that they can resonate with. I asked Pinto about this and whether as an Indian, she felt as though she was back home in India living her childhood memories.
"The festivals," Pinto said. "India is a country of many diverse religions and festivals and we all celebrate this. Playing Shanti and being apart of this series reminded me of my childhood, growing up in India. I remember going to school and getting the calendar of festivals (which were all days off for us) and feeling excited knowing there would be no school and just a day for celebration. Indian festivals and preparing for it is all about coming together as a family and as a community preparing and eating Indian food and sweets. Festivals like Diwali and Holi are captured in later episodes of "Mira"."
And how about for Ladnier who told me that the last time she visited India was when she was 6 years old, but as an American born South Asian kid, it made her appreciate who she was and the culture her mother came from.
"The last time I was in India, I think I was around 6 years old, so my memories of it is a little hazy, though I would love to go back really soon if I can," Ladnier said. "I am so American, so I really couldn't relate where the series is set, but it gave me an appreciation of my culture and shows the vibrant colors of Indian festivals which I feel I have always taken for granted. I realize now after being part of this series how special and unique being Indian is and it has definitely taught me to have more appreciation for it."
Mira premieres in the US and India on March 20 on Disney Junior.
AsAmNews has Asian America in its heart. We're an all-volunteer effort of dedicated staff and interns. Check out our new Instagram account. Go to our Twitter feed and Facebook page for more content. Please consider interning, joining our staff, or submitting a story.