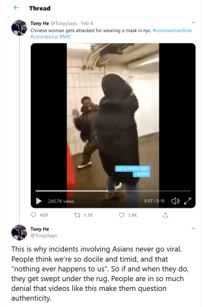 Responding to the alarming rise in hate crimes against Asian people tied to the coronavirus outbreak, several Asian American groups have announced the creation of websites for individuals to document incidents of discrimination and speak out collectively against hate.
Asian Americans Advancing Justice (AAJC) , a partner of Communities Against Hate, announced its website this morning.
Also, in California, Chinese for Affirmative Action, the Asian Pacific Planning and Policy Council(A3PCON), and the San Francisco State Asians American Studies Department announced the groups have joined together to open a reporting center of hate crimes.

"First and foremost, we want community members to know they are not alone; they can speak out and help stop the spread of bigotry. Secondly, the collected data will allow us to assess the extent and magnitude of these incidents and to develop strategic interventions," said Cynthia Choi, the Co-Executive Director of Chinese for Affirmative Action.
Personal stories of people subjected to bigotry and hate as a result of the coronavirus outbreak are encouraged.
"We are currently providing support to a child who had to go to the emergency room after he was assaulted and accused by bullies of having the coronavirus, and so that tells us we may need to work with schools to address shunning and school bullying but we need to know how widespread it is," says Manjusha Kulkarni, the Executive Director of A3PCON.
According to AAJC, submitting a report of discrimination is intended to help the efforts of AAJC and other advocates to monitor hate crimes and spread awareness about the rise in xenophobia impacting marginalized communities.

"By sharing what you experienced or witnessed, you can educate the public, empower others, show service providers where help is needed, and strengthen advocacy efforts for hate crimes response and prevention" reads the website.

Documenting a hate crime through the new website does not report the incident directly to law enforcement. If individuals wish to seek assistance from legal authorities, AAJC advises the AAPI community to contact local law enforcement to report a crime or file a complaint.
"Statements by elected officials, such as President Trump labeling COVID-19as the "Chinese virus," fuel xenophobia," said Russell Jeung, Chair of the Asian American Studies Department at San Francisco State. "In our research on news articles, we see that following inflammatory comments, there's an increase of racist incidents against Asian Americans. Clearly, with such political framing, Asians of different ethnicities are being racially profiled as a foreign threat."

AsAmNews has Asian America in its heart. We're an all-volunteer effort of dedicated staff and interns. Check out our Twitter feed and Facebook page for more content. Please consider interning, joining our staff or submitting a story.