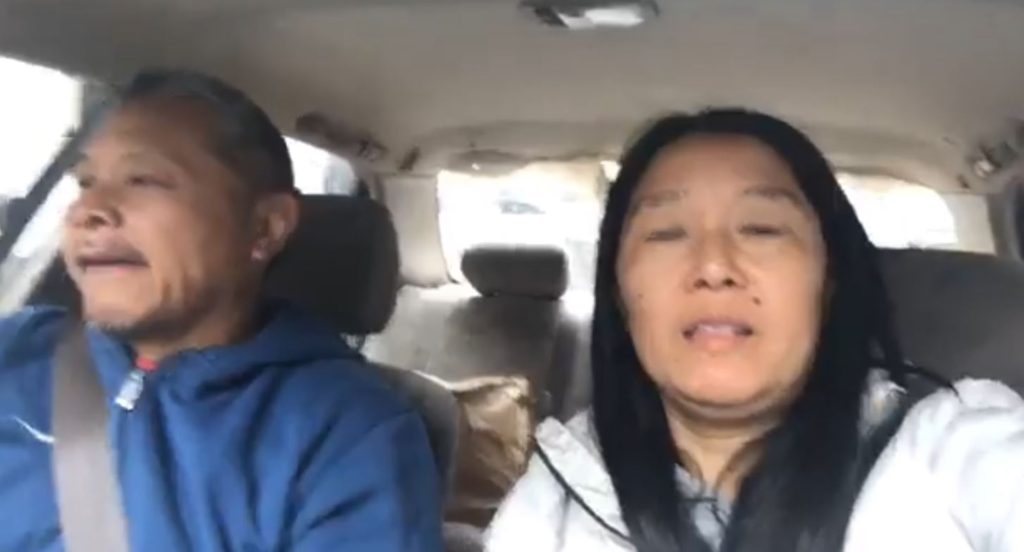 With growing reports of anti-Asian hate crimes perpetrated since the outbreak of COVID-19, San Francisco community leaders have formed a new coalition called SF Peace Collective to directly combat discrimination against Asian communities.
The group was founded by Max LeYoung on March 21st and consists of volunteers dedicated to supporting the community through providing neighborhood watch patrols and assistance.

According to NextShark, two people who have had an active role in serving the community through the new SF Peace Collective are San Francisco resident Leanna Louie and her partner, Robert Lowe, a local from San Francisco's Chinatown.

With Louie's military background and Lowe's martial arts experience, the couple took to the streets of Chinatown on Sunday to ensure the safety of community members. Throughout their time patrolling, Louie and Lowe have documented their experiences and shared them on various social media platforms.
These shared images and videos online has been a powerful means to spark community dialogue. The posts have garnered more than 1,000 reactions as well as hundreds of comments and shares, reported NextShark.

During their neighborhood patrol, Louie and Lowe aided an elderly Asian woman who fell and hit her head. The woman, who reportedly had high blood pressure among other complications, said she fell twice before Louie and Lowe rushed to assist her. After calling 911 and ensuring the woman's safety with the arrival of paramedics, the couple continued their patrol.

Louie expressed the belief that there is a tendency in Chinese culture to leave things alone and not intervene.

"Other races take care of and protect their own people, why can't we do it? We need to make a stand now, if we don't take a stand now, we're not going to take the stand," Louie said to Next Shark.

Louie further added his observations, saying, "Racism has been here for a long time and the biggest problem is that everyone is like 'don't talk about it, don't cause any problems, and because we have this attitude, Asians keep getting picked on, year after year, and this coronavirus has magnified everything."

The coalition found its roots through a Facebook Messenger thread on Saturday evening, where community members shared footage of hate crimes in Chinatown and discussed a plan of action. After LeYoung formed a group chat dedicated for those who were interested in directly combating the issue, Louie and Lowe joined and collectively patrolled Chinatown with other community members the following Sunday morning.

Since participants are all self-funded volunteers who contribute their time and dedicate their energies, Lowe expresses to everyone who wants to join SF Peace Collective that they "have to love the community to do this. Don't come in here thinking that this is for fame or fortune because when you do that, then egos start flying and we will have internal fighting and we don't want that."
Since forming the coalition, the couple has been interviewed on major media networks such as ABC7, where they spoke out about their mission to combat racism. The overwhelming support Lowe and Louie has received about SF Peace Collective has inspired them to continue their efforts.
"We want this to go on for generations to come, we want to tell our people, hey you need to protect your own," Louie said.
While the organization began with only 20 volunteers, membership has grown exponentially in the course of a few days. Volunteers communicate that people across the country have reached out to the organization asking to join and contribute their efforts.

SF Peace Collective now has a GoFundMe to support the efforts of volunteers protecting their local communities from hate.

AsAmNews has Asian America in its heart. We're an all-volunteer effort of dedicated staff and interns. Check out our new Instagram account. Go to our Twitter feed and Facebook page for more content. Please consider interning, joining our staff, or submitting a story.