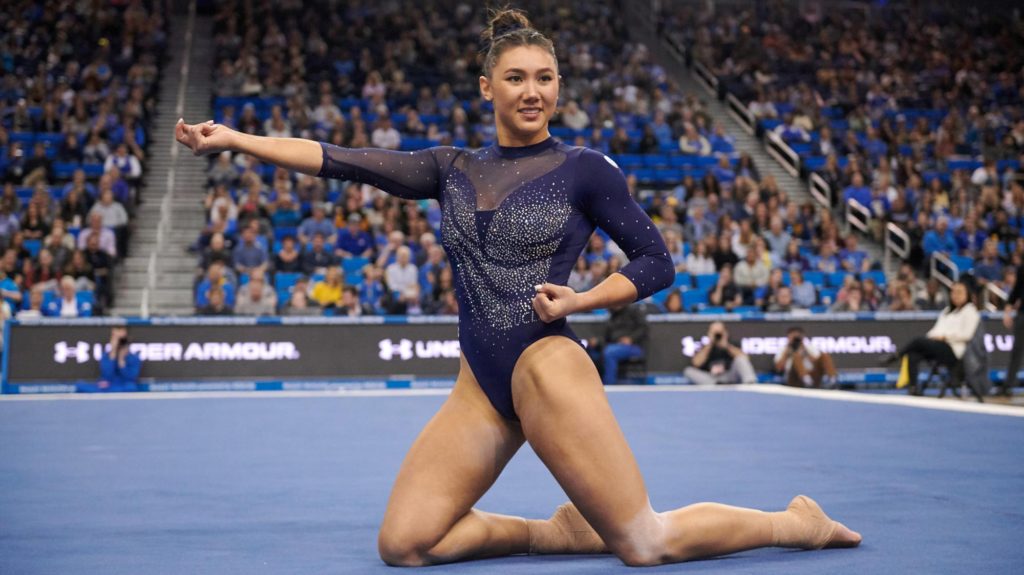 The coronavirus pandemic may have cut Kyla Ross's collegiate career short, but it hasn't stopped the UCLA senior from adding a final honor to her prolific list of achievements.
On Wednesday, Ross was named the Pac-12 Gymnast of the Year for the second season in a row. This makes her the second gymnast in the Western athletic conference to receive this title in back-to-back years.
Pac-12 News described Ross as an exceptional performer with a "historical" collegiate career. A 2012 Olympic team gold medalist, Ross also became the first female gymnast ever to win the Olympic, World and NCAA championships in 2017.
But she won't have a chance to compete again in her final season.
The spread of COVID-19 meant the cancellation of the NCAA's postseason competition, including the national championships in mid-April. UCLA's Senior Day meet, where Ross and eight other Bruins would have been honored, was also called off.
Ross told NBC Sports she felt robbed of her last moment to compete in front of friends, as well as family that planned to fly in from Hawaii. For all seniors, she said, it was hard not to get "that special ending" to their collegiate careers.
"We didn't get to fight for another national championship," Ross said, "but at the end of the day, I think everyone's pretty understanding of why it had to end like this and helping protect and not spread the virus anymore."
According to NBC Sports, there is a possibility that NCAA winter athletes, including gymnasts, could receive an additional year of eligibility due to the circumstances of the pandemic. Ross told NBC Sports she would consider the extension if it was offered, but feels like she's accomplished everything she's wanted to in gymnastics.
The two-time world all-around medalist has a medical internship lined up this summer and plans to become a volunteer assistant coach next season while finishing a degree in molecular, cell and developmental biology.
"Looking back, the way it all ended, it's kind of teaching people and reminding people to focus on the process and the journey and not necessarily the ending point or the accomplishment," Ross said.
AsAmNews has Asian America in its heart. We're an all-volunteer effort of dedicated staff and interns. Check out our new Instagram account. Go to our Twitter feed and Facebook page for more content. Please consider interning, joining our staff, or submitting a story.