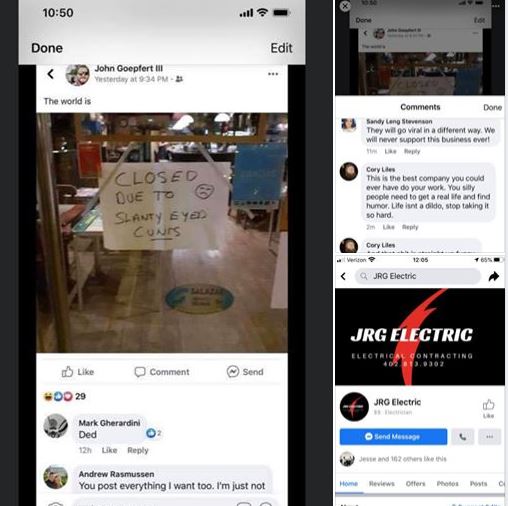 An electrician in Omaha is going radio silent after posting a racist photo targeting Asian Americans on Facebook.
The photo shows a closed down store with a sign that reads "closed due to slanty eyed c*nts."
The picture appears to be posted by John Goepfert III who owns JRG Electric in Omaha, NE.
Goepfert's personal and business Facebook pages have since disappeared apparently under the weight of the backlash.
However, he did apologize for his actions and denied he was racist prior to closing down his page.
I would like to publicly apologize for a post I shared. It was a post that was derogatory toward Asians and was extremely poor judgment and taste. I am not racist. I believe that people should be judged by their character and my character will be tarnished because I shared a picture from the internet. I want to apologize to everyone I offended and everyone that was involved.
It is not clear what business posted the racist sign. Nebraska is not a state under a stay at work order, although people are being encouraged to keep their social distance and public gatherings of more than 10 people are banned through April 30, according to the Omaha.com. Some businesses have since voluntarily closed.
The apology has not alleviated people's anger and some have suggested posting negative reviews on JRG Electric's profile on the Better Business Bureau website.
AsAmNews has Asian America in its heart. We're an all-volunteer effort of dedicated staff and interns. Check out our new Instagram account. Go to our Twitter feed and Facebook page for more content. Please consider interning, joining our staff, or submitting a story.