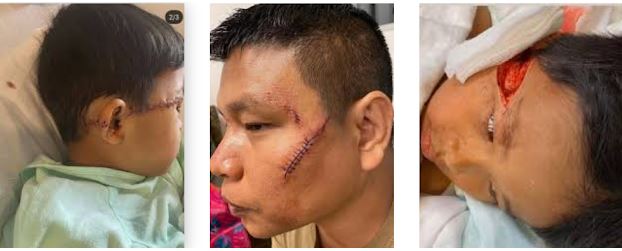 Content Warning: Photos may be too graphic for some readers
The stabbings of three Burmese Americans, a father and his two young sons, in Midland, Texas is being labeled a hate crime by the FBI.


The report obtained by ABC News warned that the upsurge in hate crimes against Asian Americans will likely increase as the impact of the coronavirus affects more people.


The FBI report detailed the March 14 incident in which "three Asian American family members, including a 2-year-old and 6-year-old, were stabbed … The suspect indicated that he stabbed the family because he thought the family was Chinese, and infecting people with the coronavirus."

Nineteen-year old Jose L. Gomez, III was arrested and confessed to the attack on the father and sons at a Sam's Club. An employee who tried to help the family, Zack Owen, was also injured.

An off-duty Border Control agent and the employee were able to take the weapon away from the suspect and detained him until police arrived.


The father and sons were slashed across their faces. The son, who is very young, has a cut reaching from behind his ear all the way across to his eye. The identities of the injured family members have not been released.
AsAmNews has Asian America in its heart. We're an all-volunteer effort of dedicated staff and interns. Check out our new Instagram account. Go to our Twitter feed and Facebook page for more content. Please consider interning, joining our staff, or submitting a story.