By Erin Chew, AsAmNews Staff Writer
As someone who is of Asian background, it is refreshing when we get to switch on the television and see people on screen who are Asian and/or look like us. When something like that happens, it usually means a moment of celebration that all the work advocating for Asian representation is finally coming to fruition. And that's exactly what this interview with South Asian American comedians and actors Parvesh Cheena and Sonal Shah was all about.
These awesome comedians voice the "bumbling bandits" Manish and Poonam of the Disney Junior animated series Mira, Royal Detective, though audiences might recognize the duo from their work in live-action series like Outsourced (Cheena) or Scrubs (Shah).
Speaking to both of them was really a fun occasion, since they're both comedians, but what was most important was that the conversation diverged into the topic of why this new show meant a lot more to them than just a voice acting gig.
Before we get into that, a quick recap for those who haven't heard about the series – Mira, Royal Detective is about a young Indian girl named Mira who solves cases with her friends within the fictional Indian city/kingdom of Jalpur. AmNews previously interviewed two of the show's main stars, Leela Ladnier and Frieda Pinto.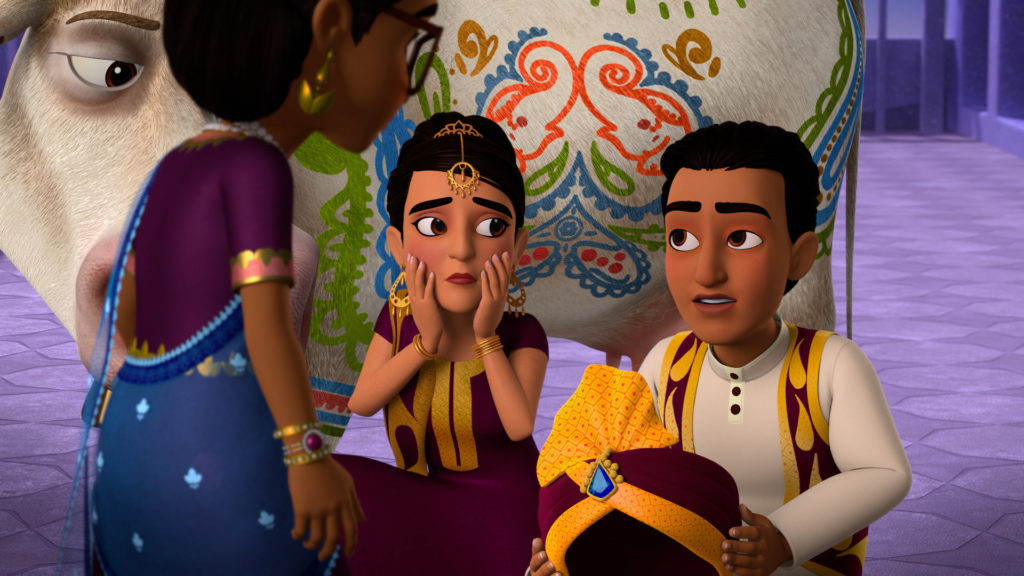 As stated above, Cheena and Shah portray the bumbling bandits Manish and Poonam, who always get caught by Mira and her friends when they are out solving a case. Playing bandits and partners in crime in a series was so much fun, Cheena expressed, but what was more important was that they were able to work their roles as friends and that made all the difference.
I would like to think that our characters are based in real life, because that is what we are – good friends in real life. What is awesome about this project is that we got to see what real Indian food is as well as give young kids of all races a taste of our culture and society. Being partners in crime with Sonal meant that we could experiment and have fun with the jokes and we shared strong chemistry. The whole process working on this animation was very collaborative and we definitely had a great time doing it.

We are lucky that so many of the South Asian American cast were also comedians and actors we both know well with many coming from my neck of the woods Chicago, so our voice recordings was almost like a social hour.

Parvesh Cheena
More importantly, as a South Asian American, working on this project was extremely personal to Shah. She said she felt that young South Asian American kids currently growing up in the US finally have something they can be proud of, and not feel like being an "other."
I feel it is important to understand why we are doing and working on this series – and that is because it is so universal and done in the most culturally sensitive and authentic way. Everyone who worked on this project from us as voice actors to the writers, directors and producers worked hard to create stories which explore the magical world of Indian dance, songs, food, culture and joy. Also, Mira is a smart and empowered young girl who not only helps her family but takes initiative to help her city rid of criminals – what a statement to make for the young Indian girl in Delhi watching this or the young Indian girl in Arkansas. I wish there was something like that which could inspire me like Mira whilst I was growing up.

It is important for kids to see themselves represented and that is the way to curb ignorance. My niece and nephew are all American kids and knowing that they are watching this show is such a special moment for both them and myself, because they get to see their culture on TV and are able to show their friends that this is not something that no one knows about.

Sonal Shah
Finally, I asked both Cheena and Shah about Hollywood and the comedy sectors. I was curious about what changes in representation they have seen over the years, particularly in terms of seeing more South Asian faces on screen since their roles on Outsourced and Scrubs respectively.
I was just thinking back on how lucky I was to be in Outsourced all those years ago. Looking at how things are now shows how much has transpired to enact change. America is now totally a different world from what it was say ten years ago. Back then, I pretty much accepted any role I could get, but now I am a little more specific on what stories I want to work on and tell. Maybe that is age and the fact I am getting more wiser, or it could be that the industry is forced to change due to the demands of diverse audiences.

Parvesh Cheena
I feel like thing have definitely shifted a lot over the last ten years, as Parvesh said. What is very cool was that when I was cast in Scrubs, I wasn't cast because I was Indian nor was I cast because the show wanted an "Indian looking" doctor, but because they wanted me for who I am. It was definitely a game changer without me even knowing it ten years ago. But what is most cool is that over the past ten years we have progressed and seen more representation in Hollywood and on screen. It is such a momentous time for Asian/South Asian American kids now because they can see themselves in not just live action stuff but also in the animated form. I definitely think this progress comes down to all the change makers who have made it all possible with their advocacy over this issue.

Sonal Shah
If you have Disney Junior, please tune in and check out "Mira, Royal Detective" on Monday, Tuesday and Fridays from 11am (PT). From the sounds of it, the show is one that could definitely be a game changer in promoting representation and authenticity.
AsAmNews has Asian America in its heart. We're an all-volunteer effort of dedicated staff and interns. Check out our new Instagram account. Go to our Twitter feed and Facebook page for more content. Please consider interning, joining our staff, or submitting a story.