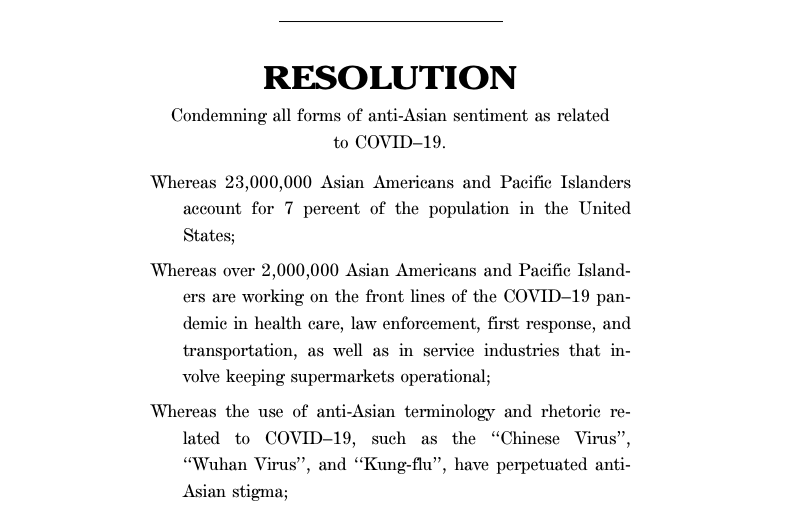 Senators Kamala D. Harris (D-CA), Tammy Duckworth (D-IL) and Mazie Hirono (D-HI) announced their intention on Thursday to introduce a resolution in the Senate denouncing anti-Asian racism and sentiment prompted by COVID-19.
The resolution is a companion to House Resolution 908, which was introduced by Rep. Grace Meng (D-NY-6) on March 25.
Both resolutions call for all public officials to condemn and denounce anti-Asian "sentiment, racism, discrimination, and religious intolerance related to COVID-19." They also ask federal officials to "expeditiously" investigate and document all credible reports of hate crimes against the Asian American community.
"There have been disturbing reports of increased profiling, intimidation, or hate towards Asian-Americans and Asian immigrants during the COVID-19 crisis – this is inexcusable," Sen. Harris said in a release.
In the first two weeks after its launch, the STOP AAPI HATE online reporting forum said Asian Americans submitted 1,100 reports of coronavirus discrimination from across the country.
On March 27, ABC News reported that an FBI analysis concluded hate crime incidents against Asian Americans would likely surge across the United States, based on the assumption that a portion of the US public will associate COVID-19 with China and Asian American populations.
According to Sen. Hirono, inflammatory and racist rhetoric from officials at the highest level of the government has contributed to the recent rise in hate crimes.
"Calling COVID-19 the 'Wuhan virus', 'Kung flu', or 'Chinese virus' isn't clever or funny, it's wrong and deeply harmful," Sen. Hirono said. "(This Senate resolution) sends a clear message of solidarity that stoking racial divisions will only impede our efforts to overcome the immense challenges that this virus poses to our country."
H.Res.908 currently has 131 co-sponsors, which represents support from about 30 percent of the House's voting representatives.
Rep. Meng said she was grateful to be joined by her colleagues in the House last month and thanked Senators Harris, Duckworth and Hirono for leading the Senate's companion version.
"I urge our fellow Americans to stand united and condemn the xenophobic behavior when it arises," Rep. Meng said. "Congress must pass both resolutions immediately."
AsAmNews has Asian America in its heart. We're an all-volunteer effort of dedicated staff and interns. Check out our new Instagram account. Go to our Twitter feed and Facebook page for more content. Please consider interning, joining our staff, or submitting a story.