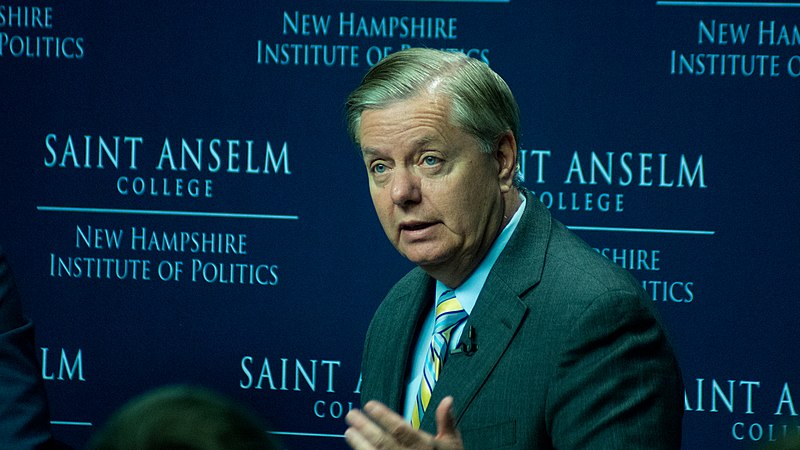 US Senator Lindsey Graham (R-South Carolina) accused China to be at fault for the country's entire coronavirus death toll and economic downfall.
In an interview with Fox News' Hannity, Graham denigrated the Chinese government to be the main reason for the COVID-19 turning into a worldwide pandemic because China allegedly hid the outbreak from its citizens and the outside world.
The South Carolina senator explained, "The first thing I want to do is get the United States Senate on the record where we, we don't blame Trump, we blame China." The senator continued to say, "The Chinese government is responsible for 16,000 American deaths and 17 million Americans being unemployed. It's the Chinese government and the way they behave that led to this pandemic."
It wasn't the first time Graham railed against China to take the blame. According to New York Post, during an interview on Fox & Friends on Tuesday, the Senate Judiciary Committee chairman said he wrote a letter to the Chinese ambassador to tell him, "If you don't shut those wet markets down, our trading relationship is going to change."
Wet markets are the notorious poultry, fish and produce markets in China that sell wild and at times live animals that can potentially transmit viruses to humans .
Graham was definitely not shy to share his hate against Chinese wet markets on live television. "I don't think this [coronavirus] came from a Chinese military lab, but these wet markets are gross, they're just absolutely disgusting, selling exotic animals that transmit viruses from animals to human beings. Those things need to shut down."
Republican congress candidate Kathaleen Wall also joined hands with the scapegoating.
As we previously reported, the Republican candidate for Congressional district 22 in Texas recently released a video advert stating that "China poisoned our people."
In a YouTube video, Wall supports President Trump's previous labeling of COVID-19 as a "Chinese virus." Wall's ad states, "President Trump has the courage to call the virus what it is – The Chinese Virus."
Many have blamed such comments for the well over 1400 reported incidents of racial hate targeting Asian Americans , as a consequence of Coronavirus xenophobia.
Joe Biden, the former vice president, released a statement on Friday to condemn the rising anti-Asian sentiment spread across the nation.
As AsAmNews previously reported, Biden wrote in a recent op-ed, "Unfortunately, Donald Trump and his Administration have failed to show almost any moral leadership when it comes to this issue." Biden further slammed Trump's lack of guidance on dealing with racist attacks in the nation by saying, "The casual racism and regular xenophobia that we have seen from Trump and this Administration is a national scourge."
AsAmNews has Asian America in its heart. We're an all-volunteer effort of dedicated staff and interns. Check out our new Instagram account. Go to our Twitter feed and Facebook page for more content. Please consider interning, joining our staff, or submitting a story.