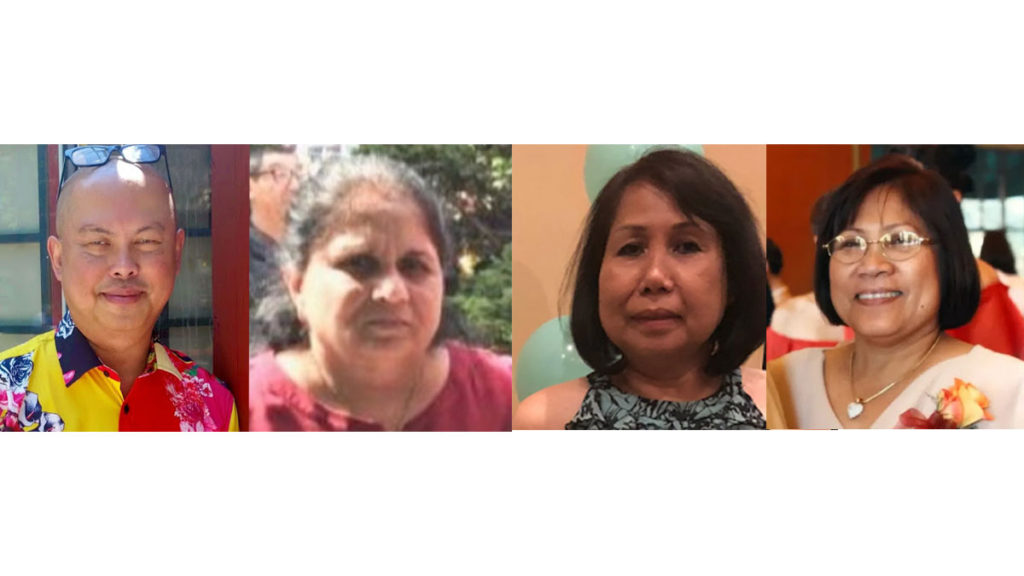 By Ed Diokno
Four more Asian American health professionals — a doctor, a physician assistant and two nurses — have died after contracting the novel coronavirus that has brought much of life in the United States to a virtual standstill.
As of Friday morning, Reuters has identified at least 51 US healthcare workers as having died after being diagnosed with or showing symptoms of COVID-19.
The four fallen healthcare workers brings the number to nine Asian Americans (known by Views From the Edge) who have perished from the pandemic.
The other fallen AAPI heroes were: Ali Guillermo, Long Island Community Hospital; Dr. Alex Hsu, who was associated with the Northwest Medical Center in Margate, Florida; Kious Kelly, Mount Sinai Hospital West in New York City; and Filipino American nurses Ariceli Llagan of the Jackson Memorial Hospital in Miami and Noel Sinkiat of the Howard University Hospital.
Leo Dela Cruz, age unknown, Christ Hospital, New Jersey
Dr. Leo Dela Cruz, a physician from Jersey City died April 8. A physician affiliated with Christ Hospital in Jersey City., N.J., Dela Cruz died Wednesday at Holy Name Hospital in Teaneck, New Jersey from complications with COVID-19.
NJ.com reports that according to local health officials, Dela Cruz did not treat coronavirus patients before falling ill. He was a geriatric psychiatrist.
"It is with a great deal of sadness and heavy heart that we share with you the news of the passing of our beloved attending physician, Dr. Leo DeLa Cruz," Dr. Tucker Woods and Marie Duffy said in a joint statement.
"Once you met Dr. Dela Cruz, you would never forget him because of his kind, gentle and fun personality," the statement continued. "He was a good person, a sweet man that was loved by everyone in the hospital.
Dela Cruz, who was born in the Philippines, received praise from personal and professional connections on social media.
"He is one of the best friend(s) you could ever have with gentle soul full of life and love to everyone," one friend wrote. "Voted as one of the best doctors in New Jersey three years in a row!"
Madhvi Aya, 61, Woodhull Medical Center, New York
Madhvi Aya had been a doctor in India, and became a physician assistant after she immigrated to the United States in 1994, The New York Times reported.
Aya had worked for a dozen years at Woodhull Medical Center, a public hospital in Brooklyn, and was the primary wage earner in her family.
The 61-year old health worker began coughing around the time of her last shift on March 12. On March 18, her cough worsened and husband brought her to Long Island Jewish Medical Center, near their home. That was the last time he saw her. She died on March 29.
"She was always there for us, whenever we wanted," her husband told the Times. But when she got sick, "no one was next to her," he said.
There's no telling when Aya contracted the coronavirus. She was taking care of patients in early March, before staff were advised to wear masks as they took care of COVID-19 patients. Woodhull made the suggestion for personal protective gear on March 17, according to the Times.
"This has been a heavy blow to us all," Dr. Robert Chin, Woodhull's emergency department director, said in an internal email on April 1. He asked coworkers for donations to help Aya's family.
Daisy Doronila, 60, Hudson County Correctional Facility, New Jersey
On April 5, Daisy Doronila was the fourth employee at the Hudson County correctional facility to die from the coronavirus.
"There would be people there for the most heinous crimes," her 28-year-old daughter, Denise Rendor, told the Guardian, "but they would just melt towards my mother because she really was there to give them care with no judgment."
"Daisy could handle herself," said the county director of corrections, Ron Edwards, describing her as sophisticated, intelligent and compassionate. "If someone got obnoxious with her, she'd put them in their place and call for help if she needed to."
The jail in New Jersey where Doronila worked has been hit hard by the virus. The Guardian reports as of April 10, the facility had 27 inmates and 68 staff members had tested positive, according to officials.
She was on self-quarantine after being diagnosed with COVID-19. On 21 March, she was hospitalized for shortness of breath. The next day, she was put on a ventilator. Two weeks later, she passed away.
Divina Accad, 72, VA Medical Center, Michigan
Divina "Debbie" Accad was looking forward to retirement after spending decades caring for US veterans, working her way up the ladder to become a clinical nursing coordinator at the Veterans Affairs' John D. Dingell Medical Center in Detroit, Michigan.
The 72-year-old Filipina immigrant cared for military veterans for over 25 years and was just a few weeks from retiring when she contracted the novel coronavirus, The Guardian reports.
On March 16, Accad told relatives that she felt ill. Four days later, she was hospitalized with pneumonia. She told her family that she had tested positive for COVID-19, and asked them to pray for her.
According to the Detroit Free Press, Accad was the first known death among Detroit healthcare workers due to the coronavirus.
She was born in Alimodian in the Philippines as the eldest of four children. Two years after graduating from Central Philippine University with a nursing degree in 1969, she moved to Chicago through a "fly now, pay later" program.
She later relocated to Taylor, Michigan, where she married William Accad. The two raised four children together.
Her son, Mark Accad, told The Guardian his mother "died doing what she loved most – caring for people."
AsAmNews has Asian America in its heart. We're an all-volunteer effort of dedicated staff and interns. Check out our new Instagram account. Go to our Twitter feed and Facebook page for more content. Please consider interning, joining our staff, or submitting a story.