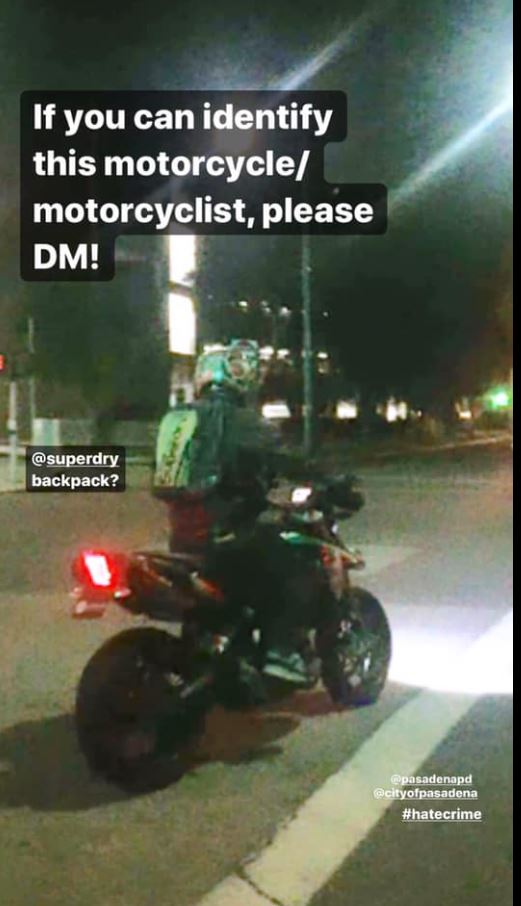 By Louis Chan, AsAmNews National Correspondent
An Asian American couple going on a stroll in their neighborhood in Pasadena, CA say they were nearly run off the sidewalk by a motorcyclist early Sunday morning/Saturday night.
Mel Brian Vizcarra Patron says the cyclist swung around to make a U-turn in an attempt to run them off the sidewalk and threaten them.
"He's saying you F'ing Asians, M-fers. You brought this disease here and he's just cussing at me. He's cussing at us," said Patron in a video message.
Patron posted his message along with a dark video of the motorcyclists driving away.
"If anything of it is recognizable. If the jacket is recognizable. If the helmet is recognizable. Let us know. Pass this on. Repost this," Patron pleaded.
He said the motorcyclists cussed at them in another language he did not recognize.
"It's ridiculous for hate crimes to be going on. It's ridiculous to feel unsafe a couple of blocks away from your own home in Pasadena, CA. Its ridiculous for me and Francesca to be runoff the sidewalk," he said.
"Lastly, in the words of my wise wife, he wrote, "I ask that you do not respond to the hatred with more hatred. Rise up together in peace and justice."
AsAmNews has Asian America in its heart. We're an all-volunteer effort of dedicated staff and interns. Check out our new Instagram account. Go to our Twitter feed and Facebook page for more content. Please consider interning, joining our staff, or submitting a story.