Sheboygan police officer in Wisconsin arrested Bao Lor for assaulting a health worker
By Louis Chan, AsAmNews National Correspondent
A Hmong American woman who sought treatment at the hospital for a blood clot is accusing a nurse of calling her a ch*nk.
Bao Lor tells AsAmNews in an exclusive interview that she was admitted to HSHS St. Nicholas Hospital in Sheboygan, Wisconsin after experiencing pain stemming from a blood clot on the left side of her neck. She said she began vomiting and the bottom half of her body became numb.
After she arrived, they quickly moved her to a treatment room where she was told a doctor would see her shortly. After about an hour when a doctor still hadn't arrived, she rang the call button. She says a nurse again assured her a doctor would be there shortly.
30 minutes later, a clerk came to ask her to sign papers consenting to be treated. Lor says the clerk noticed that she had turned white and that the bottom half of her body was shaking. This time the clerk pushed the call button.
Lor says the nurse who would only identify herself by the initials BS said "Didn't I tell you, you ch*nk . You're not getting any medicine because you're pregnant and a ch*nk."
Lor demanded that she be given another nurse and asked not to be treated in such a manner.
"She told me as a ch*nk I didn't have the right to request a different nurse," Lor continued. "If you're going to be disrespectful, I want you to leave the room," Lor recalls saying.
Lor told AsAmNews at that point the nurse pinched her arm and would not let go saying "do something about it" if you want me to stop.
Lor, who was on her back on the treatment table, lifted up her leg and admits kicking the nurse's hand off of her. Lor showed AsAmNews a photo of her bruised arm which she said the nurse caused.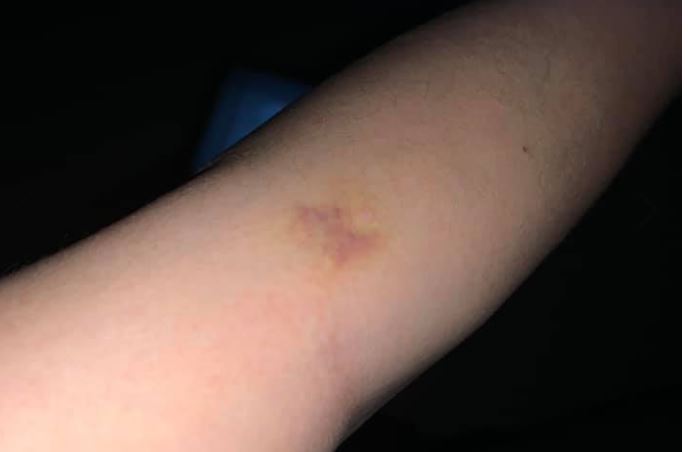 At that point, the nurse left the room and returned with a security guard. Lor told her story to security who asked the nurse to leave the room to avoid escalating the situation.
The nurse then called the police. Lor said she could hear the officer outside her room talking to the nurse and assuring her "'I got your back."'
The officer came in and asked Lor for her side of the story, but Lor said the officer expressed skepticism."
"The officer laughed in my face," Lor told AsAmNews. "'Why if she's in the higher authority would she want to lose her job over a minority like you."
Lor took out her phone and began recording.
In the video made available to AsAmNews, the officer can be heard saying "Regardless, you can't be kicking nurses."
"But she can call me whatever she wants?" Lor responded.
The officer goes onto say Lor would be taken to jail on a felony, but she could ultimately be released on a misdemeanor if she cooperates.
Lor says while taking her to the hospital, the officer accused her of resisting and punched her in the stomach.
Lor is being represented by a public defender who is recommending that she plead guilty to the charges. Lor has launched a Go Fund Me page in an attempt to hire an attorney. She intends to fight the charge.
The incident happened on February 3. Lor says she decided to go public saying she could no longer sit quietly while facing charges for defending herself.
AsAmNews this morning contacted HSHS St. Nicholas for comment. They did not get back to us by deadline.
Lor is now in the fifth month of her pregnancy. She says her blood clot has improved and her pregnancy is going well.
"I've been stressing out about the case and everything, but I just keep telling myself I'll fight this off because I do not want it to happen to anyone else," she said.
AsAmNews has Asian America in its heart. We're an all-volunteer effort of dedicated staff and interns. Check out our new Instagram account. Go to our Twitter feed and Facebook page for more content. Please consider interning, joining our staff, or submitting a story.