The International Hotel in what was once San Francisco's Manilatown was the home of scores of Filipino immigrants until corporate interests shut down the hotel and evicted the tenants. Photo by Nancy Wong
Two hotels that played roles in Filipino American history were connected by scores of demonstrators marching in support of the Black Lives Matter movement.

The march began June 10 at the Gran Oriente Filipino Hotel in the officially designated Filipino Town in the South of Market area of San Francisco. The hotel still houses elderly members of the Gran Oriente, one of several fraternal organizations Filipinos created in the early 1900s for comradeship and self-protection.

The demonstrators then walked a mile and a half to the International Hotel in what used to be Manilatown. The I-Hotel was the last vestiges of Manilatown and served as the home of elderly Filipinos and Chinese up until 1977 when its tenants were violently evicted by the San Francisco sheriff deputies.

The eviction was the culmination of a decade-long battle to save the I-hotel that provided low-rent housing for mostly Filipino and Chinese tenants.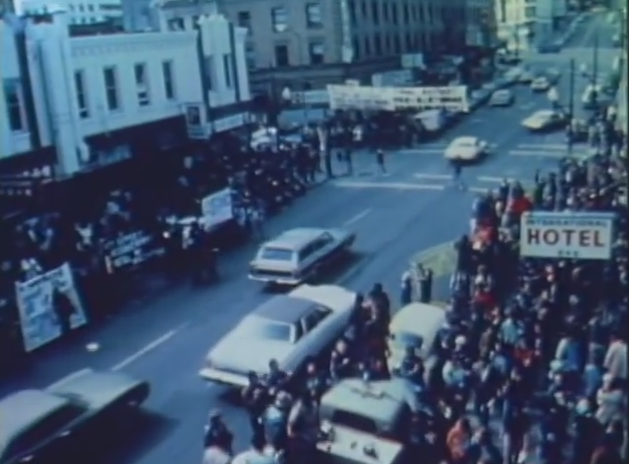 The Singapore-based owners of low-income housing first tried to evict the tenants in 1968. Joining the protests against the eviction were hundreds of members of the Black community, including the Black Panthers and the congregations of several predominantly Black churches. 
The Blacks joined the human barricade of thousands of Asian Americans ringing the hotel five deep to prevent several attempts to evict the elderly tenants.
"They've had our backs for so long," Gianni Magpantay told KQED. "In this event, we're sharing some history on the International Hotel that got raided by 400 riot police and our Black brothers sisters showed up for us," Magpantay said on why it is now important for the Filipino community to show up for the Black community.

Eli Frances Abad, who is Filipino American, organized the event. He recalled the historical location and historical advocacy "They were there when they were being evicted and they formed a barricade around the hotel to protect the Filipinos, so it's our duty and responsibility to protect, stand and fight with them."
Abad said that the Black and Filipino communities have more shared histories than cultural differences.
"The Black community has a lot of historical connection with the Filipinos. We have Black Filipinos. We have Black roots." referencing the indigenous Negritos, whom anthropologists say are the earliest inhabitants  of the Philippines.
AsAmNews has Asian America in its heart. We're an all-volunteer effort of dedicated staff and interns. Check out our new Instagram account. Go to our  Twitter feed and Facebook page for more content. Please consider interning, joining our staff, or submitting a story.