By Fang, Special to AsAmNews
On a beautiful Saturday morning of June 27th, approximately 30 walkers along with dogs and strollers gathered in Almaden Lake Park on the Los Alamitos Trail in San Jose, CA to walk a 3 mile loop for promote solidarity. Signs were held or scattered throughout the trail that read "Walk 4 Solidarity," "United against hate," and "Black Lives Matter".
This event was inspired by multiple incidences of racial/hate harassment toward Asian Americans on this trail in both May and June because of COVID-19. For example, families have reported being coughed on and being called "disgusting" while keeping to themselves during their walks. These negative experiences discouraged families to continue to use public trails.
Community activists from San Jose Strong teamed up with the affected family members to organize a Solidarity Walk to promote their Anti-Hate message and the need for a safe zone. They have also designed and distributed a survey (tinyurl.com/Walk4Solidarity) to better understand the gravity of a variety of racial hate/harassment people may experience while walking in San Jose. This survey has been translated into several languages.
Snacks, water, and medical supplies provided by @hero_tent awaited them at the end of the walk as a reward for their hard work.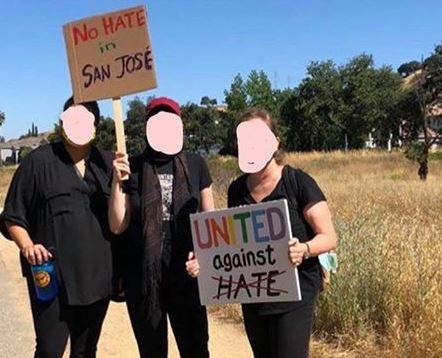 AsAmNews has Asian America in its heart. We're an all-volunteer effort of dedicated staff and interns. Check out our new Instagram account. Go to our Twitter feed and Facebook page for more content. Please consider interning, joining our staff, or submitting a story.