Photos and Story by Sydney Walsh, AsAmNews Intern
A family-run Thai restaurant in Florida is overcoming the odds and still in business four months after the start of the pandemic.
The restaurant, Peppermint Thai in Palm Beach, is owned and run by a Thai American family. They have been in business since 2003. With seventy-five percent of the employees family, Peppermint Thai attributes its success in a time of uncertainty to their close-knit community.
Since the start of the coronavirus pandemic, many have regarded social gatherings with contempt. As a result, the once bustling restaurant industry is now devoid of business, giving many restaurant owners an uncertain future.
In the first twenty-two days of March the National Restaurant Association (NRA) estimated twenty-five billion dollars lost in sales and three million lost jobs. The NRA also determined from research that the restaurant industry has suffered more than any other industry in the United States, with the most significant sales and job losses since the COVID-19 outbreak began.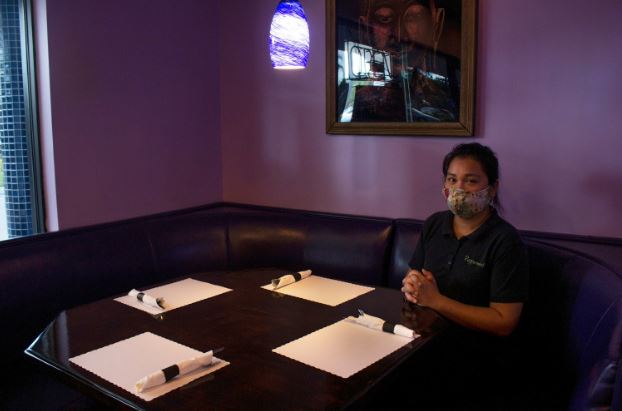 Tammi Nitibhon, a family member employee, says that many customers have known her since she was a kid in school. She is now married and has two kids, and customers recognize this.
"It's more community based, more than just a passerby kind of restaurant." Nitibhon said to AsAmNews.
Although Peppermint Thai still remains open, Nitibhon acknowledges that things are much different since the start of the pandemic. The tables used to seat hungry customers one after another, but now every other table is marked with an "X" signifying that it's off limits. There's no more "pass the soy sauce please", but rather small individual containers holding the condiment. And once empty countertops are now adorned with baskets of cleaning supplies and to-go boxes.
"It's a little bit more time consuming but it's for the safety of everybody." says Nitibhon.
Despite many restaurants' cautious efforts to keep customers safe and healthy, many are still struggling to remain open. Asian restaurants in particular have lost revenue due to a rise in Asian discrimination. According to NBC Today, many Asian restaurant owners attribute the loss in business to anti-Asian sentiment and fear of the coronavirus sweeping across the country.
Poomchongkho Thaleangwong, another family member employee, says that despite the rise in Asian discrimination due to the coronavirus, Peppermint Thai and its employees have not faced any anti-Asian sentiments.
"We don't feel it. Because we've been here so long the customers know us as well as we know them. After being here seventeen years it means something to the people." Thaleangwong says to AsAmNews.
"We take good care of them, and they respond back and they take good care of us."
AsAmNews has Asian America in its heart. We're an all-volunteer effort of dedicated staff and interns. Check out our new Instagram account. Go to our Twitter feed and Facebook page for more content. Please consider interning, joining our staff, or submitting a story.