By Louis Chan, AsAmNews National Correspondent
For the first time, a new tracking survey conducted by Navigator found Asian Americans are extremely anxious about the health impacts of the coronavirus. That impact excludes concerns about the increased hatred and bigotry faced by the community which Navigator did not address.
The poll found among other things that 95% of Asian Americans fear a second wave and 87% fear someone else with the COVID-19 will make them sick. In both instances, the concern among Asian Americans is much higher than the general population.
Asian Americans are also among the strongest supporters of social distancing with 93% agreeing measures are about right or need to be more aggressive. 71% says the country may be opening up too soon and 67% fear social distancing will end too soon.
The tracking poll conducted March 20 – May 26 with 361 Asian Americans also confirmed previous polling.
Asian Americans are more likely to identify as Democrats, 47%, but a significant number, 38%, identify as independent.
Asian Americans also give President Trump a low job approval rating. 68% disapprove of Trump versus 56% overall. Asian Americans also lean left with only 14% having a favorable opinion of the National Rifle Association versus 39% overall.
60% agree with "those who say we need to ensure the economy works for everyone, because right now it's just wealthy people at the top getting richer, while people who work for a living are falling further behind."
Asian Americans also disapprove of Trump's handling of the economy, 57% which differs from the overall population. 87% of Asian Americans rate the economy poor or not so good.
The community also rates Trump's handling of the coronavirus pandemic extremely low.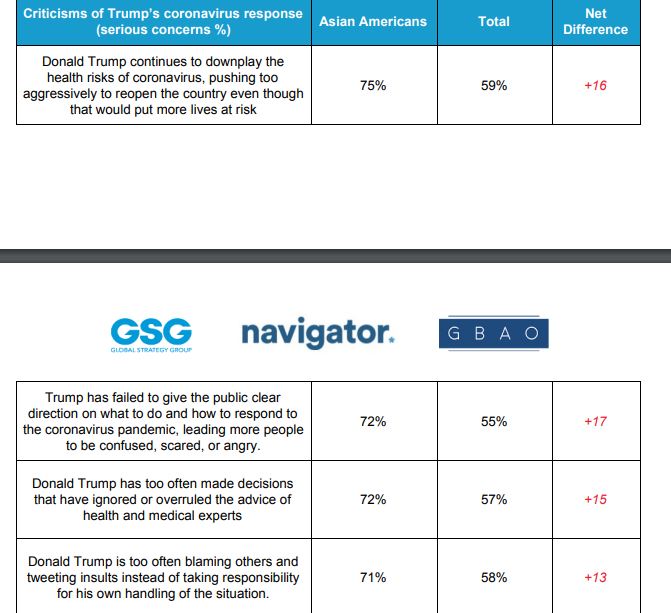 Navigator's poll does have limitations. It was conducted in English only and uses only opt-in online panels.
AsAmNews has Asian America in its heart. We're an all-volunteer effort of dedicated staff and interns. Check out our new Instagram account. Go to our Twitter feed and Facebook page for more content. Please consider interning, joining our staff, or submitting a story.