A New Jersey teenager received a bill for thousands of dollars for police overtime after holding a Black Lives Matter protest, reports CBS New York.
Now NorthJersey.com is reporting state legislators are calling for an investigation into the billing practice.
Emily Gil, 18, organized a BLM rally last month, inspired by the protests being held across the country. She also sought to protest the lack of affordable housing in her hometown of Englewood Cliffs, believing that the cost of housing had a part in pushing out Black residents, according to NJ.com.
The protest was held on July 25 and lasted only 90 minutes. Gil said she notified her local officials about the protest in advance and met with the police chief while organizing the protest.
Four days later, she received a letter from Mayor Mario Kranjac.
"Please promptly forward your payment to the borough in the amount of $2,499.26 for the police overtime caused by your protest," the letter read.
The letter stated that officials had "little time" to prepare security for the protest.
"As with any privately-sponsored event that takes place in the borough requiring police safety, an invoice was sent to the organizer for police overtime since it would be unfair to require our residents to financially support a private event," Kranjac said about the bill.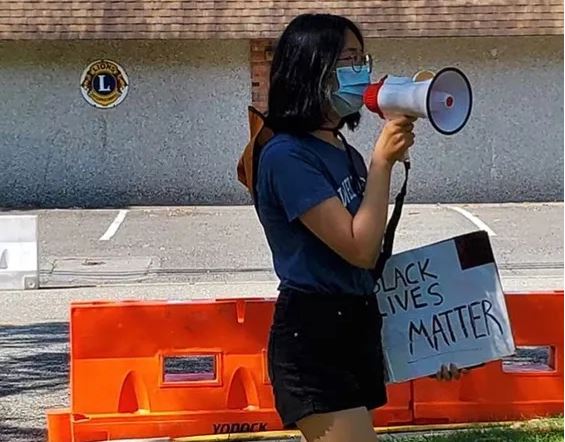 "I was shocked when I read that I had to pay to exercise my First Amendment right," said Gil.
She stated that only 30 to 40 people attended the protest, and that the rally did not cause any disturbances.
"Englewood Cliffs is trying to intimidate and silence people who are standing up for Black Lives Matter and the implementation of affordable housing," she added.
Mayor Kranjac has since rescinded the bill, according to CNBC. However, three legislative leaders want to make sure this doesn't happen again and are calling for an investigation.
"We were outraged to learn about the treatment of a young Englewood Cliffs resident by her own Mayor and Administration," they said in a statement released to NorthJersey.com. "Students like Emily Gil should be celebrated and not be threatened with a bill for $2,500 by her own local community for speaking out against racism and bigotry."
AsAmNews has Asian America in its heart. We're an all-volunteer effort of dedicated staff and interns. Check out our new Instagram account. Go to our Twitter feed and Facebook page for more content. Please consider interning, joining our staff, or submitting a story.