By Ross Killion & Lillian Bit & Nancy Hung, AsAmNews Contributors
China Mac and William Lex Ham raised over $10,000 for their initiative to support the Chinatown economy by purchasing food and other supplies from local businesses. A distribution center in Kimlau Square, which is next to Confucius Plaza, was set up to provide these essentials free of charge to community members.
Lines reached over two blocks long by early afternoon. The crowd was primarily comprised of Asian senior citizens. Volunteers arrived early to help set up tables with boxes of items filled with takeout meals from local restaurants, baked goods, ramen noodles, cookies, snacks, toothpaste, soap, water, and juice. All of these items were bagged and given out to each person. The Chinatown Ice Cream Factory also received funds to provide free ice cream to children. Since the start of the COVID-19 pandemic, Chinatowns around the country have struggled financially due to a sharp decline in customers.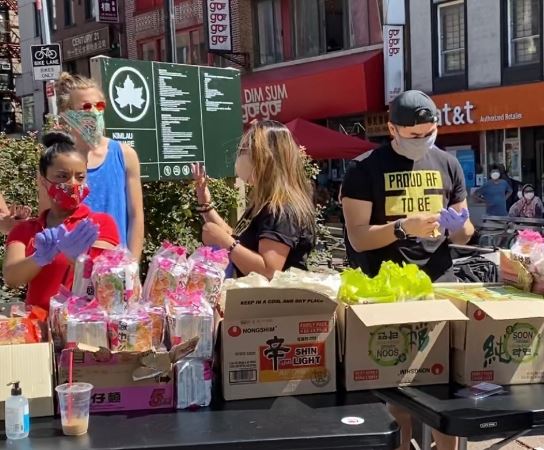 According to volunteer Fulton Hou, ten sets of patio tables, chairs and plastic partitions used for social distancing were purchased as a donation to Chinatown for additional outdoor dining. These items provide a revitalized ambiance for outdoor dining in Chinatown. While indoor dining remains illegal in New York City due to the COVID-19 pandemic, outdoor dining has flourished in recent months.

After several hours, the distribution center gave out the last of their supplies. Volunteers then proceeded to purchase plants from local nurseries which they gifted to nearby restaurants to enhance the aesthetic experience of outdoor seating areas. Preparation was well planned to benefit merchants, senior citizens and children. The intangible goodwill it created can't be defined in monetary terms.

It was a significant undertaking spearheaded by China Mac, William Lex Ham and over two dozen volunteers as part of an ongoing series of community efforts known by the hashtag #TheyCantBurnUsAll. Over the past two months, the pair of activists have organized three marches to protest anti-Asian hate crimes. An Asian Hate Crime Task Force was established in early August.

This GoFundMe was entirely separate from the GoFundMe for the 89 year old Chinese grandmother who survived an attack after being set on fire in July. The funds set up for the grandmother were entirely refunded to every donor at her request. For this Save Chinatown funding it was more difficult to raise and as hard a job as the effort to buy from merchants and distribute food to the community.

China Mac and William Lex Ham both emphasized their gratitude towards volunteers such as Fulton Hou, Eddie Chan and a community activist named Arlene who was interviewed.
The mission of China Mac and William Lex Ham is three fold. The first is to be the voices against Asian hate crimes and anti Asian racism. Second, to help strengthen the businesses in Chinatown and third to bridge the Asian Communities with other communities of color. According to China Mac, Asians are viewed as too docile which makes Asians targets of racist sentiment.

Next on the agenda for #TheyCantBurnUsAll are rallies planned for Los Angeles on September 5 and San Francisco onSeptember 12. According to William Lex Ham, the Los Angeles rally will be bi-coastal with a simultaneous march in New York City.
AsAmNews has Asian America in its heart. We're an all-volunteer effort of dedicated staff and interns. Check out our new Instagram account. Go to our Twitter feed and Facebook page for more content. Please consider interning, joining our staff, or submitting a story.