By Erin Chew, AsAmNews Staff Writer
There is a scene in Disney's live action film Mulan which redefines Asian masculinity. 'Honghui' (played by Yoson An) walks into the lake not far from the army camp shirtless, whilst 'Mulan (played by Liu Yifei) was already secretly bathing. That scene made mine and everyone else in the theater room jaw drop to see a handsome, sexy and shirtless Asian man walk into a lake.
Casually, I would call that a 'thirst quencher', but professionally it shows that Asian men are attractive,sexy and can be leading men/romantic leads in feature films while at the same time show their fragility.
Jimmy Wong, who plays 'Ling', one of 'Mulan's' 'soldier friends , and 'Honghui' summed up this scene and the definition of Asian masculinity the best during our interview.
"That scene where Yoson goes shirtless and walks into the lake not knowing that 'Mulan' was already in there shows how extremely vulnerable he was in that moment and it is that vulnerability which is more important than the physical shirtless scene, and ends up being more impactful than people realize," Wong said.
Wong says the film shows Asian men of all different shapes and sizes and challenges the belief that Asian men need to be of a certain look to be attractive.
'Honghui' may have been a jaw dropper when he was shirtless, but it was his fragility and vulnerability which made him even more attractive and sexy to the eyes.
For decades Asian men have been reduced and negatively stereotyped by Hollywood and Western media as being physically unattractive, goofy, asexual and awkward. And when they were primed to be one of the 'main characters', they were either a goofy sidekick or a villain to be feared. In more recent years, that tide has slightly changed with films like Crazy Rich Asians, The Big Sick, Searching etc with Asian men being the leading characters and showing off their stuff. Now films like Mulan and the upcoming Marvel Comics film Shang-Chi, the narrative and the tide is definitely turning and changing for the better.
In addition to An and Wong, I interviewed Tzi Ma ( who plays 'Hua Zhou') and Jason Scott Lee (who plays 'Bori Khan') about Asian masculinity.
Tzi Ma: "I think this was a powerful aspect of the film. When you see all the Asian males in this film, you will see that they are all open, sexy, full of comaraderie and that they value friendships and relationships at all levels. Isn't that the perception we want to put out? We don't want flat, singular and one dimensional men, we want to see them at their best and at their worst. 'Mulan' definitely gives you that opportunity to see male depth of who we really are – we are funny, young, old, mix of strength, kindness etc. I really can't think of another film which really shows this all wrapped into one film."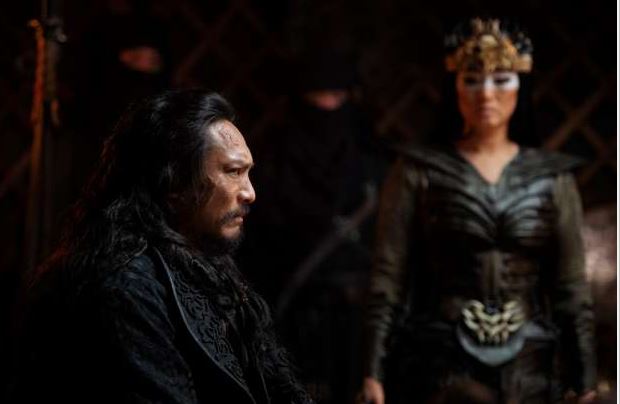 Jason Scott Lee: "I was part of that movement early on in my career, playing characters like 'Bruce Lee' in 'Dragon' and 'Mowgli' in 'Jungle Book', so I was there early on way before the forecast. In 'Mulan' I play the 'villain' so I am bearing a certain existence which is of strength and determination. And that's the thing which empowers people to be a better version of themselves- to show empowering people and I think the representations of of all the characters in 'Mulan' show that."
Yoson An: "I think Asian cinema as a whole have got it right for many years with all their multi-dimensional characters, particularly with representations of Asian men, and I think it is great to see Hollywood/Western cinema finally acknowledging the importance of this. I just hope filmmakers now and into the future will be more conscience to ensure they provide accurate representations of Asian males and of all Asian characters more broadly and not create a false reality for people to buy into. We need to ensure we do not go back to the days of negative stereotypes but continue to challenge the view of what Asian males and masculinity means in our society."
Jimmy Wong: "I think its great that every person in the soldier friend group looks different, feels different and acts differently.And we can all approach masculinity from different angles as well and we are challenged in how we see that in all different ways. I hope that young Asian boys who watch the film can look and identify with the different aspects of all the male characters as we are all distinctly different and we really opened up our personalities through our characters."
Both 'Honghui' and 'Ling" showed their Asian male prowess with their friendship, comradely and loyalty to 'sibling-hood'. They showed their personalities, their goofiness and their passion and love for their family and country. Essentially, they are warriors who fight together, and both had a huge impact on the life of 'Mulan', when she was dressed and known as a male soldier and when it was found out later that she was female.
'Honghui' had a difficult start with 'Mulan' but later challenged her to reveal her true self. An, who plays 'Honghui' and the romantic lead mentions that his character's masculinity shines with how his relationship with 'Mulan' develops from curiosity to one which grows with depth.
"'Honghui' is a young conscript who enlisted in the army just like how 'Mulan' did," An said. "The backstory I created about him was that he came from a military family who has a martial arts background so he came into the military pretty well trained. He has true inner stillness and calmness and is not a show off. When he first meets 'Mulan', they didn't really get along and their got off on the wrong foot, bit later on 'Honghui' sees something in 'Mulan' that others couldn't see and he challenges her to reveal her brilliance and to be who she really is. I think that is how he truly impacts on her and he really pushed her to be her true self."
'Ling' is a returning character from the original Disney animation. Wong, who plays 'Ling' states that his character's masculinity is shown through his friendship role within 'Mulan's' 'soldier group' and how he really balances out 'Mulan' and the others by grounding them to confront the true realities of war.
"'Ling' is someone who in the original movie is a hopeless romantic and he carries a lot of this in the live action movie as well. More importantly he is someone who is a realist and really brings home the realities of going to war, showing the gravity of the situation and raises the stakes to 'Mulan' and the rest of the group on what they are fighting for."
On the other side of Asian masculinity, 'Bori Khan' comes from the 'Rouran' tribe which is somewhat indigenous to that area where the war in the film is happening. He is meant to be one of the main villains in the film and shows his masculinity with his warrior leader energy and his determination to avenge for his father's death and regain his land. Scott Lee, who plays 'Bori Khan' mentions that his masculinity shines through in his determination to empower his tribes people and his strength as a leader.
" He impacts 'Mulan' as she is an issue that comes up and interferes with his advances for revenge and empowerment. But indirectly, I feel he inadvertently pushes 'Mulan' to reveal her true self by pushing her to a corner where she really had no choice," Lee said.
You can watch 'Mulan' on Disney Plus for subscribers who purchase premium access for $30. More information on this and how to subscribe can be found on #GoldOpen via this link: https://linktr.ee/goldopen .
AsAmNews has Asian America in its heart. We're an all-volunteer effort of dedicated staff and interns. Check out our new Instagram account. Go to our Twitter feed and Facebook page for more content. Please consider interning, joining our staff, or submitting a story.