By Lillian Bit, AsAmNews Contributor
Rapper China Mac reacted with both compassion and concern following the arrests of two teenagers accused of setting an 89-year-old woman on fire in Brooklyn.
The grandma, who is now known to be a feisty survivor, put out the fire by pressing her back repeatedly against the wall to snuff out the flames. She then went to the police precinct to report it and says they told her to go home and call 911.
China Mac personally has met with the victim and organized two rallies calling for justice on her behalf.
The teens arrested on Sept 8 have now been charged with third degree assault-both misdemeanors. No hate crime charges have been filed. When I asked China Mac his response to the arrests, he said the juvenile system will fail the two 13 year olds as it failed him.
China Mac speaks from experience of being in group homes starting at age 8. He went on to juvenile detention and to upstate detention places and then to Rikers All that time he said he met the same people all along the way through the system which kept them all there. He feels the system of incarceration was based on profit and that the more inmates they had the more money they made. Mac feels the system is not helping these kids, but making them worse. The solution should be creative punishment in community service. Yes they should be punished, he says.
First Mac believes the two minors should begin by meeting with grandma. He feels she would probably be open to it because he met her and she is a well read and current with news. Mac said grandma was eager to go to the protest march and would have if she were physically able. Mac wants to give her the opportunity to meet with the boys and question them about why they would want to slap her and set her on fire.
China Mac feels the boys would learn from their situation by both facing the victim and serving a sentence of community service.
"I don't like seeing people go to jail," China Mac told AsAmNews.
"I'm not pro jail and not pro system because the system is broken. Someone spends 3-4 years in jail and won't change and they come out worse."
Some have labeled China Mac anti-police and criticized him for leading chants like "f*ck the police" during his rallies.
He says he is not pro cop or anti cop.

"Abolishing the police makes no sense. Police are not the problem, they are a fingertip of the problem. The problem is they are following the system which is a broken system. No we should not abolish the police, otherwise crime will surge," said China Mac. "Not all police are bad but they are similar to a gang that must follow a code of rules and regulations. We need to be part of the solution to change the system and the police are the fingertips of that system. They just follow the rules of the system."
William Lex Ham, who organized the protests with China Mac, told AsAmNews said "the police did their job but we still need to elevate the Grandma crime to a hate crime. Asians are not treated equally and we will still fight to have that done. If it doesn't then we have to make sure the laws need to be changed. Asians are not included in the making of laws and legislation and we must change that. The Asian community believes we are the targets of racial attacks and we must stand up and fight back."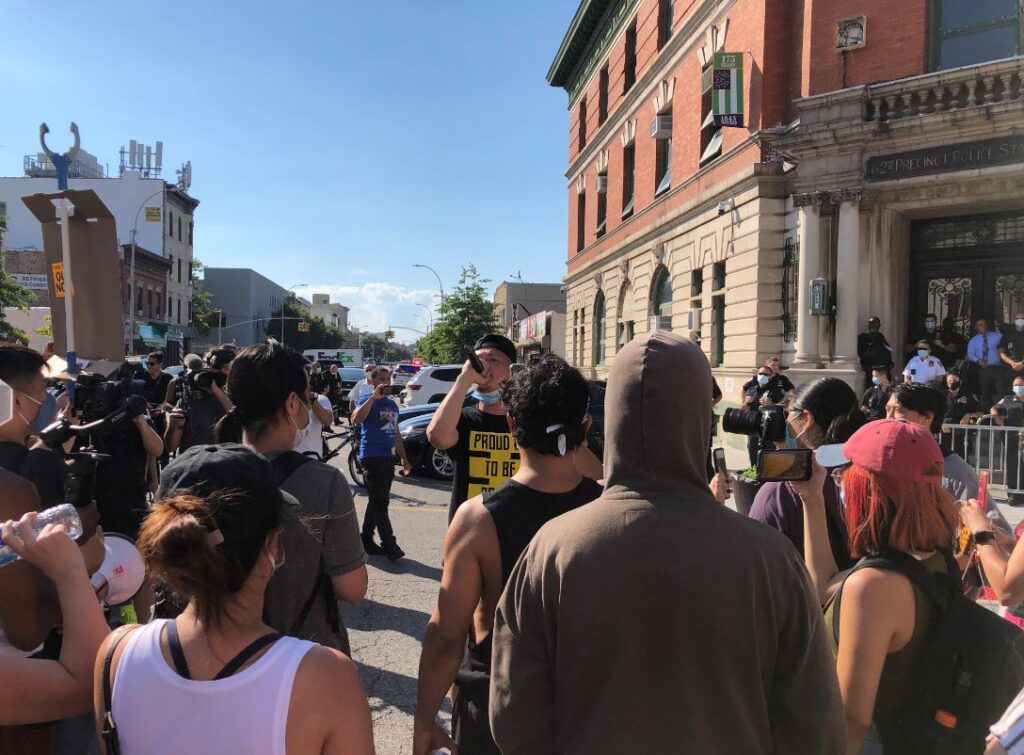 2,500 racial crimes against Asians this year have been reported to StopAAPIHate, a reporting site set up by Chinese for Affirmative Action, Asian Pacific Planning and Policy Council and the Asian American Studies Department at San Francisco State University.
Two days after his second protest, a 25 man muliti-lingual Asian Hate Crime Task Force was announced. In addition reward money was set up totaling $30K by HomeCrest Community Services, MCJin and most recently the addition of $15,000 from actor Daniel Wu.
"We don't need a special police hate task force for Asians because we should all get the same treatment," Mac said. "If a community has a hate crime committed against it every community should get the same equal treatment as other communities. It shouldn't be how many people got together to put pressure on the police to make this happen."
The "activators", which Mac and Ham like to call themselves, is a term to activate other people to become activists in all the communities they visit – the communities to help spark their activism. China Mac and William Lex Ham finished a protest rally in Los Angeles this past weekend in over 100 degree temperature and still managed to get over 200 marchers to join them on a holiday weekend. They will take their continuing quest to San Francisco in Sept 12 and meet at City Hall and march to Chinatown. They expect the turnout to be big there.
AsAmNews has Asian America in its heart. We're an all-volunteer effort of dedicated staff and interns. Check out our new Instagram account. Go to our Twitter feed and Facebook page for more content. Please consider interning, joining our staff, or submitting a story.