Sikh American express their patriotism before the 1st anniversay of 9-11. By Corky Lee
By Raymond Douglas Chong, AsAmNews Staff Writer
Corky Lee, a freelance photojournalist, is widely known across America as "the undisputed, unofficial Asian American Photographer Laureate." Since 1970, through his iconic photography, Corky has recorded the historical and daily moments of the Asian American journey thru its hued tapestry. With sacrificial passion, Corky has pursued Photographic Justice for all Asian Americans.
Queens
Corky is a second generation Chinese American from New York City. Born in 1948 and raised in the Queens borough of New York City, he led a simple life with his dad, Yin Chuck Lee, and his mom, Ping Hung Jung, as their eldest son.
In 1929, Yin Chuck Lee arrived at America as a "paper son" – an illegal immigrant. He was from Toishan county in Kwangtung province. During World War II From 1943 to 1946, the Sergeant served with the 14th Air Service Group of the famed Flying Tigers, the 14th Air Force.
After his stint with the United States Army, Yin Chuck Lee operated two branches of a Chinese hand laundry in Queens, with ma working as a seamstress. They lived behind and above the main laundry. While growing up, Corky saw the civil rights movement and Asian American movement.
In 1961, Corky attended Van Wyck Junior High School in Queens. During an 8th grade American history class, he was studying the Transcontinental Railroad. He carefully explored the official photo of The Day of Golden Spike, May 10, 1869, marking the completion of the first Transcontinental Railroad linking the nation at Promontory Point in Utah. The Central Pacific Railroad from west and the Union Pacific Railroad from the east met on the High Desert near Salt Lake.
Corky was deeply puzzled by the exclusion of Chinese railroad workers in the official photo. Over 12,000 Chinese from Sye Yup region of Kwangtung province in Cathay had labored from California thru Nevada to Utah midst the high Sierra Nevada and dry deserts. It was a catalyst that ignited Corky's passion for Photographic Justice.
History — at least photographically — says that the Chinese were not present
Corky attended Jamaica High School. He then graduated from Queens College with a bachelor's degree in American History in 1970. He first worked as a community organizer for Chinese Americans in New York City.
Photojournalism
Fifty years ago, Corky developed an extraordinary passion for photojournalism.
He sold his first photo to the New York Post in 1975 with a front page photo of a police brutality protest by the Chinese community.
"I had to think that every time I take my camera out of my bag, it is like drawing a sword to combat indifference, injustice and discrimination and trying to get rid of stereotypes," he told AsAmNews.
With his mastery of American history, Corky's photos vividly reflected the sensitivity and sensibility of the Asian American experiences.
I believe my past deeds reflect a strong sense of bringing to light the heart and soul of Asian Pacific America – from roots to reality. During the last quarter century, I was guided by a light, one that burned bright, one that kindled my spirit and was my muse. Unfortunately that light has been extinguished.
But I realized that there are supportive souls in the community that will provide new light and inspiration, and they will guide me to ensure that Asian Pacific Americans take their rightful place in society and keep the movement going forward.
Lee's work has gained many followers whose enthusiasm for his work is as strong as Corky's passion.
"Corky's work documenting the APIA community for over five decades speaks to his commitment on getting Asians in the picture," Karen Zhou, Executive director of Homecrese Community Services said.
"Corky is a unique individual," said Shirley Ng, a community advocate and journalist. "More than a tour guide, like a walking Asian American history textbook, he has a wide AAPI knowledge. So much you had to think he was a professor of Asian American Studies. His photography captures the injustices and the triumphs of Asian Americans. It is his personal mission to foster an understanding of our people and we thank him for it."
My life's mission can be described as 'Photographic Justice." Rectifying omissions in American history one photograph at a time. We do matter. America better get used to it.
Photographic Justice
Corky said the term photographic justice came to him when he gathered with 400 plus attendees in Promontory Summit, Utah in 2003. It was the site of the completion of the Transcontinental Railroad.
11 years later, he returned the day before the 145th anniversary of the Railroad.
"So what is going to happen tomorrow, I will commit an act of photographic justice that did not happen 145 years ago. This is a way for Chinese Americans as well as Asian Pacific Americans to reclaim a part of their history that have been long forgotten and neglected," he said.
On May 10, 2014, at the Golden Spike National Historic Site, he recreated the famous photo but this time with Asian Americans in it.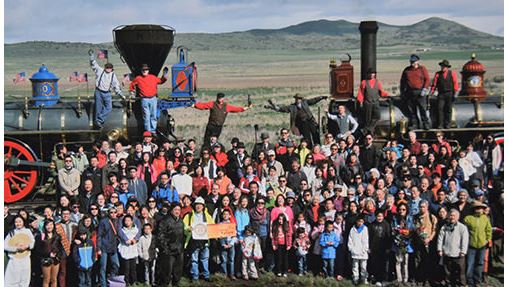 Corky shouted to a group which included descendants of Chinese railroad workers, "All the Asian Americans and Chinese, we are not visitors. We are Chinese Americans. We are Asian Pacific American. So let me hear it."
Alice Bernstein, journalist and Aesthetic Realism Associate, wrote "How Corky Lee's Mission of "Photographic Justice" became a Movement."
"I want everyone to know the legacy of photographer Corky Lee, whose work for over a half a century preserves the cultural heritage, challenges and contributions to our nation by Pan Asian Americans from over 40 countries," she wrote.
She recalls her husband who was also a photographer saying that whenever news broke in Chinatown, Corky could be counted on to be there.
Corky recreated his iconic 145th anniversary photograph of the Transcontinental Railroad for the 150th anniversary.
"His mission had become a movement, and on the 150th anniversary of the Transcontinental Railroad, Corky Lee's vision brought together hundreds of descendant representing the rich diversity and history of laborers of all races-Asians, Native Americans, enslaved people, free Black people, Irish, Italians and more. Corky Lee's 150th anniversary photograph and all that led to it, represent the power of ethics the world is looking for now."
Film
Jennifer Takaki, filmmaker, is producing the upcoming film, Photographic Justice: The Corky Lee Story. "This film is a timely and intimate portrayal of a photographer on a quest to ensure that the rich tapestry of Asian American life – its struggles and celebrations – is preserved and documented in mainstream media."
Jennifer is deeply impressed by Corky's focus to record the Asian American inspiration as his calling.
Corky is an inspiration to Asian Pacific Americans of all ages but I think what is especially important is that he connects to the younger generation whose identity and culture is under attack in these uncertain times.
– Jennifer Takaki, Filmmaker
Tribute
After half-century, in the pursuit of Photographic Justice, Corky Lee, of Queens, is our impassioned champion for the Asian American community.
AsAmNews has Asian America in its heart. We're an all-volunteer effort of dedicated staff and interns. Check out our new Instagram account. Go to our Twitter feed and Facebook page for more content. Please consider interning, joining our staff, or submitting a story.