By Louis Chan, AsAmNews National Correspondent
Students have until tomorrow to prove there's a need for an Asian American Studies minor at George Washington University in Washington, DC.
After campaigning for a minor since 2017, students were informed ten days ago by the administration that they had until October 26 to show there's widespread community support for a minor.
"AAS matters because GW claims to value diversity. Yet time and time again, through controversy after controversy, GW has offered little respect to its BIPOC students," Asian American Student Association Historian Grace Bautista told AsAmNews. "It is our duty as Asian Americans to reckon with the ways in which we have been historically oppressed. Asian American studies is an interdisciplinary field that can benefit all students in understanding these aspects of our existence."
Students have collected some 2300 signatures in support of the minor and plan to submit them to the administration tomorrow. They are urging students, alumni and community members to sign the petition before tomorrow's deadline.
In addition, they have organized a robust social media campaign.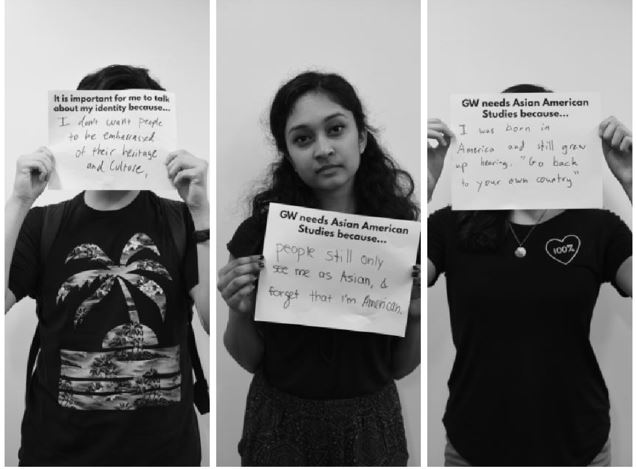 "The Asian American Student Association at AASA is currently running an Instagram campaign where we post using the hashtag #storiesworthtelling. We include personal reasons on the importance of an Asian American studies minor," Julia Pitrowski, AASA Freshman Representative, told AsAmNews.
AsAmNews reached out to a spokesperson for George Washington University Saturday for comment, but have not heard back.
Students say their proposal is revenue neutral and don't understand the hesitancy of the administration to implement a minor.
"The proposal calls for a "cost-free" program plan, which means that it would contain classes in the curriculum that already exist at GW. Therefore, the university would not have to hire new professors for the new program," Fredrick Flores, GW Philippine Cultural Society Vice President and Asian Pacific Islander Desi American (APIDA) Alliance member, said to AsAmNews.
This summer, AAPI student organizations created the GWU Asian Pacific Islander Desi American (APIDA) Alliance, a coalition of AAPI student orgs across campus, to support Asian American Studies.
Administrators reviewed the proposal in the fall, but due to COVID-19, tabled it.
Faculty organizers held a town hall on Asian American Studies on October 16 when Bautista says the administration suddenly imposed tomorrow's deadline.
She says AAPI students feel silenced.
"We have students whose families were interned in Japanese internment camps during World War II, or who are first-generation immigrants, or who were adopted or are multiracial and grew up somewhat culturally disconnected," Bautista said. "There is not one monolithic Asian American experience. Asian American studies reminds us how vital it is to examine the many stories of our diasporic community."
AsAmNews has Asian America in its heart. We're an all-volunteer effort of dedicated staff and interns. Check out our new Instagram account. Go to our Twitter feed and Facebook page for more content. Please consider interning, joining our staff, or submitting a story.