If you're searching for a last-minute gift for a special Asian American in your life — or yourself — look no further. The staff of AsAmNews have pulled together 12 amazing holiday gift ideas, all of which represent our badass AAPI community.
ALL ABOUT KAMALA
Kamala Harris: Rooted in Justice ($17) is a picture book about pretty much the most prominent Asian American at the moment. Written by Nikki Grimes and illustrated by Laura Freeman, it outlines the story of a young daughter of an Indian American mother and Jamaican American father who would become Vice President-elect of the United States. Children will learn where the future vice president got her values and inspiration to run for the second highest office in the land. Want more? Pair it with another picture book, Kamala and Maya's Big Idea ($17), written by Meena Harris, the niece of Kamala Harris. Or bundle it with Superheroes Are Everywhere ($17), written by Kamala Harris herself.
—Louis Chan
DECEIT AND OTHER POSSIBILITIES
A collection of short stories by Vanessa Hua, Deceit and Other Possibilities $16) won the Asian/Pacific American Award for Literature when it was first published in 2016. Reissued this year with new stories, this paperback explores themes of immigration, identity and belonging, and should appeal to the avid readers on your gift list.
—Ellen Lee
I AM ASIAN
I AM ASIAN ($15.99 for paperback, $9.99 for Kindle edition) is a collection of 50 life stories written by 50 people who share "what it's Like to be Asian." This touching and relatable collection reminds us that we are not alone in life's journeys as Asian individuals. It's perfect for those who may need a pick me up during these unprecedented times.
—Barbara Yau
THE GREATEST HITS OF BRUCE LEE
Perhaps no big screen star had a greater impact on my life than Bruce Lee. For the first time you can enjoy all five of his greatest movies in one blu-ray DVD collection: Bruce Lee's Greatest Hits ($75). The set includes all four of his Golden Harvest Hong Kong films: The Big Boss, Fist of Fury, The Way of the Dragon and Game of Death. Most importantly, it includes his best film ever — the classic Warner Bros hit, Enter the Dragon. It's hours of nonstop action with a few grunts thrown in, in a way only Bruce Lee can deliver. 
—Louis Chan
AWESOME ASIAN AMERICANS
Awesome Asian Americans: 20 Stars Who Made America Amazing ($17) highlights the accomplishments of 20 athletes, celebrities, scientists and other bad ass Asians. It's full of colorful illustrations by Juan Calle and stories by Oliver Chin and Phil Amara, all done with an eye toward the kids in our lives. Those highlighted in Awesome Asian Americans are the role models many of us didn't have as children.
—Louis Chan
Since 2016, Kim's Convenience has arguably been one of the best comedies on television. It features an all-Asian cast and focuses on such issues as the gap between generations in the Korean community and the importance of the Korean church. It stars Paul Sun-Hyung Lee of Mandelorian fame, along with Jean Yoon, Andrea Bang and Simu Liu, soon to star in Marvel Studios' Shang-Chi. Only on Canadian television and Netflix, you can see for yourself what all the hype is about by grabbing this DVD box set of Seasons 1 and 2 ($20).
—Louis Chan
These beautiful art posters (starting at $20 each) depict Asian American resilience by public artist Amanda Phingbodhipakkiya, who recently made news with her "I Still Believe in our City" art series display at a New York City subway station. Vibrant and meaningful with proceeds going to the non-profit organization Womankind, these one-of-a-kind prints can beautify the homes of community activists and art lovers alike.
—Barbara Yau
LETTERS TO A YOUNG BROWN GIRL
Barbara Jane Reyes' Letters to a Young Brown Girl ($16) speaks to young women who may have been deemed unattractive or too foreign. It's a collection of poems to answer the othering so many Filipino American girls and young women of color have faced.
—Louis Chan
HOT ASIAN MEN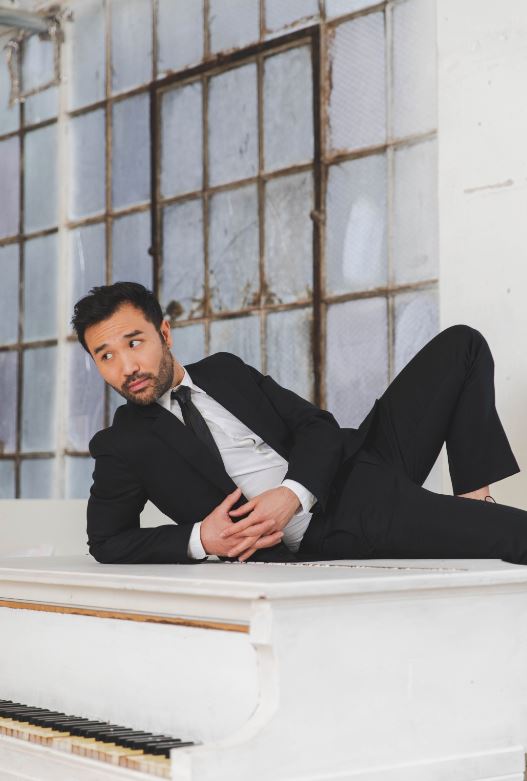 Start the new year with a hot Asian guy — who can also sing! — with the 2021 Broadway Asian Men Calendar ($20). A project by Unapologetically Asian, with part of the proceeds benefiting Send Chinatown Love, the calendar features leading men such as Marc DelaCruz (pictured), the first Asian actor to play the title character in Hamilton on Broadway.
HONOR AND DUTY: THE CHINESE AMERICAN WW2 VETERANS
Honor and Duty: The Chinese American WWII Veterans ($100) by E. Samantha Cheng tells the story of 20,000 men and women who put patriotism and honor up front to serve in the U.S. Armed Services. This is a part of America's Greatest Generation, which until now has not been told. Its release is timed with this month's awarding of the Congressional Gold Medal to these brave and unheralded heroes.
—Louis Chan
Featured image by Kira auf der Heide from Unsplash.
AsAmNews has Asian America in its heart. We're an all-volunteer effort of dedicated staff and interns. Check out our new Instagram account. Go to our Twitter feed and Facebook page for more content. Please consider interning, joining our staff, or submitting a story.