Netflix photo
By Shirley L. Ng, AsAmNews Staff Writer
We're excited to have Kevin Kreider of Netflix's Bling Empire as our Zoom guest. Kevin plays himself, a Korean adoptee, model and actor from Philadelphia in the unscripted (so he claims) Netflix reality show based in the Los Angeles area.
I first met Kevin in 2014 and wrote a story about his skateboard journey across America during a self finding expedition after experiencing alopecia areata, a disease that causes hair loss. Since then, his black locks have grown back. Whew.
The show follows the cast of ten and their lavish lifestyles- jet setting in Paris to go shopping or purchasing a Ducati Motorcycle on the fly, because you never know when a zombie apocalypse may occur. There are lavish parties, drama queens and good wholesome emotional moments between friends too. The show was in production during 2019 pre-pandemic. You won't see anyone wearing masks and social distancing.
Right after Bling Empire's release on January 15, social media was abuzz. What? An entire Asian cast of billionaires? Yes. According to reviews on social media, some people ate it up and some spat it out. Ouch.
Here are some of my friends comments about Bling Empire.
Daniella LaBocca: "I watched a few episodes in quarantine and rich-people reality tv isn't really my cup of (oolong) tea. Butttt….Kevin is clearly the best part of the show and it's obvious! And he could not be cuter."
Justin Mendoza: "OMGGGGGG. I'm on episode 5. Looking forward to watching the rest of this!"
Brittany Lew: "I felt the struggles of being an adoptee and losing family a member were related to any viewer. It was also fun to watch."
Danny Wong: "It is terrible, but Kevin is a good looking guy. I think I can take him in basketball."
Wenli Jen wrote, "I totally binge-watched the show in one day. "
Helen Lee Cardo wrote, " LOVED IT! I did think it was over the top, but filthy rich people are about showing status from their goods, yes shallow, but still a good portrayal of their rich, carefree lifestyle. I think all of us can relate to Kevin. "
Of the ten cast members, most of you will identify with, you guessed it, Kevin. I say most, because he's a model and has single digit body fat. Not many of us has friends that are models with six pack abs.
Kevin may not be your average guy friend physically, but he is a likable guy who could be your friend. He's appears easy-going with some innocence about him as the newcomer in town, while trying to navigate the fast paced life in LA. He doesn't have the same cash flow nor did he have his own apartment. However, that's changed and he did find his own place after production concluded.
Cast member Kane Lim, is Kevin's 31-year-old friend and on and off screen. He helps Kevin navigate the lives and relationships between the wealthy cast. Lim's family owns several shopping malls in Singapore and Thailand.
Bling Empire is currently a huge hit in Singapore. I must admit the first episode was painful for me to watch, but I endured a few more episodes. Kevin does criticize me for not watching the entire series. I personally don't watch reality shows, but I did watch several episodes and enjoyed most of it. I was more interested in scoping out nuances of Asian culture in the episodes and I do find it in Christine Chiu's Lunar New Year party that looks more like a royal street festival and Cherie Chan's red egg party for her baby, but mind you these are way over the top parties.
During the Zoom, Kevin and I spoke about how Asian masculinity fits in the show and how is it possible for an Asian man to convey that without taking off his shirt. Bling Empire's plus side, according to Kevin, is that it's not a show portraying Asians as struggling immigrants over and over again. Well, he's right about that and these billionaires, even if immigrants, are definitely not struggling.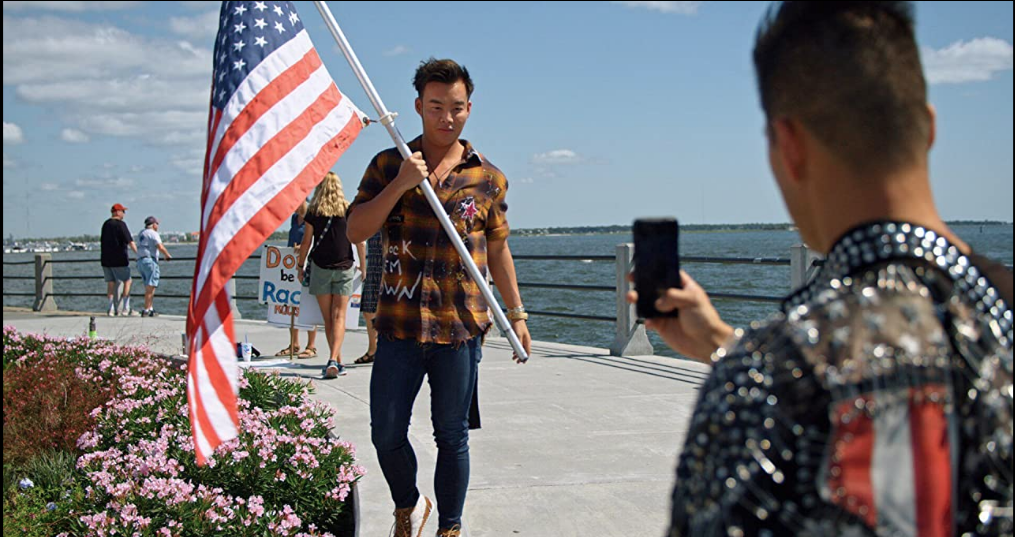 We speak about the episode where he takes a trip to Charleston, SC on a whim with Kane in search of Kim Lee's biological father. Kim is Vietnamese. She's a model and a professional DJ that gets paid $50,000 per gig. You'll also see Kevin cry as he finds closure in his search of his biological mother too. Now that's the kind of reality I can relate to, not Kane's enormous shoe collection which looks like the Saks Fifth Avenue shoe department. I also can't relate to buying diamonds and having body guards with me when it's time to return jewelry to the safe deposit, but I can relate to wanting to build lasting relationships, being honest, loved and even hated.
I'm not giving away anymore from the interview, so check it out above and drop us a comment.
AsAmNews has Asian America in its heart. We're an all-volunteer effort of dedicated staff and interns. Check out our new Instagram account. Go to our Twitter feed and Facebook page for more content. Please consider interning, joining our staff, or making a financial contribution to support us.